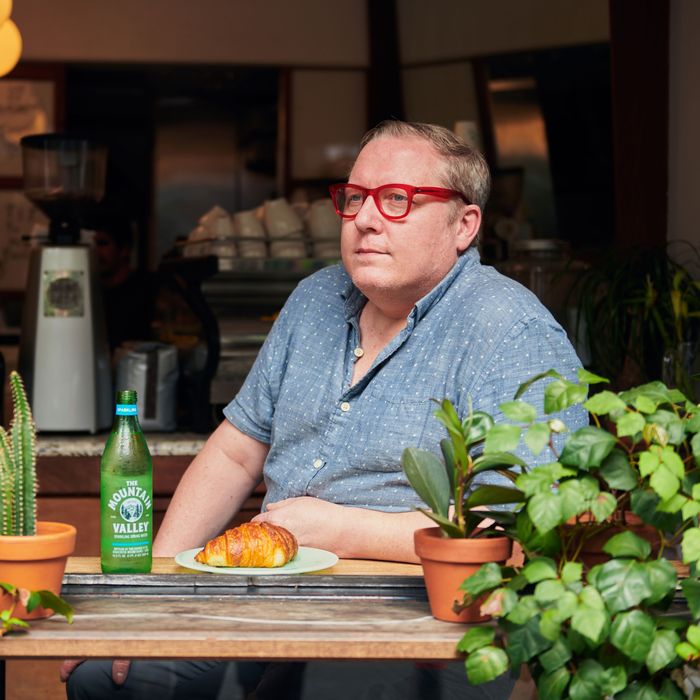 "I found myself at El Rey — it's near my apartment, so I can hit it easily — and enjoyed a croissant and their diablo chicken bowl."
Photo: Christian Rodriguez
For seven years, bartender Sother Teague made an outsize impression on New York's cocktail world with his tiny, bitters-centric Amor y Amargo. This summer, he expanded with Blue Quarter, also in the East Village, and Windmill on the Lower East Side. He then published his book, I'm Just Here for the Drinks. One of the bartending scene's most jovial characters, the former chef once worked for Alton Brown's Good Eats and now hosts Heritage Radio's "The Speakeasy." He's also a bon vivant who's always up for a good time: 3 a.m. hot-dog runs to Katz's, seafood spreads at Cervo's paired with "hammock beers," or his version of church — Sundays at his favorite bar, Bar Goto. Read all about it in this week's Grub Street Diet.
Thursday, October 4
I had been in London for a whirlwind 48 hours — only slept for 6 hours and went straight from the World's 50 Best Bars after-party to the airport. Though it doesn't make perfect sense that Amor y Amargo was named No. 74 out of 50, it's still an honorable distinction.
In an effort to sooth my body from all the travel, I made my way back to the Lower East Side to Minca Ramen Factory for some of New York City's most authentic ramen. The name is something of a misnomer, given that the spot is small, typically cramped, and slightly dirty. But they crank out massive bowls of ramen! I started with a radish salad dressed with sesame peanut dressing and got spicy miso ramen.
I always get that salad. It's hard to describe, sort of shredded daikon radish stacked really high in a bowl that's way too small, so it sticks way up like a crazy shredded meringue. They drizzle on the dressing. It's this, wet, refreshing, sweet, savory, crunchy thing. Once you get to the bottom, a bunch of water has leaked out of the daikon, and it makes this peanut-y, sesame-y soup that you drink at the end.
The prices are extremely reasonable, but be advised, Minca is cash only.
With body and mind restored, I took a disco nap to recover from the flight and clocked in to work at the bar at 4 p.m. I spent the night there making drinks.
After my shift, I walked over to the bar Good Night Sonny. It was a brisk walk to First Avenue at St. Marks Place. It's also a great neighborhood bar that serves stellar late-night fare until 3:30 a.m.! (Getting good food that late is harder than New Yorkers act like.) On any given night, you'll find several of the city's best bartenders gathered to enjoy something, anything besides a bodega sandwich. I moved here from New Orleans, and people were like, "Oh, New York is the city that never sleeps." I got here and was very disappointed to find out that it was absolutely not true. Thanks, Frank Sinatra.
As for me, I had half a dozen oysters, steak tartare, and a frosty, cold 16-ounce bottle of Budweiser chased by a neat pour of Old Overholt Rye whiskey. A boilermaker is absolutely my after-work drink. There's always a frosty beer involved; it's the Windex of the night to clear my mouth after all the bitters. Whiskey to finish the job.
Friday, October 5
Friday afternoon, I stopped by Black Seed Bagels for the tobiko. I always get a bagel (I chose salt) with smoked salmon, tobiko cream cheese, and butter lettuce. Salty, smoky, fishy, and chewy. It's everything I want in a bagel. Plus, it's substantial enough to get me through my shift at the bar.
I'm a traditionalist in a lot of ways. But the tobiko cream cheese drew me to it, for the same reason I'm almost always a salt-bagel person. I think that comes from years of being a chef and bartender. It's palate-busting; my palate is crushed. Salty fish eggs in cream cheese, that's great.
After work, I walked toward home in the Lower East Side, and along the way made a stop at Katz's for a frankfurter. I think a lot of New Yorkers forget (or possibly aren't aware) that Katz's is open 24 hours on both Friday and Saturday. It's usually not the madhouse you typically get at the later hours. After a couple of savory and snappy-skinned hot dogs (at $3.95 each), I made my way home.
Saturday, October 6
You might be wondering where the caffeine is. I don't drink coffee. This wasn't always the case. When I was still in high school, I worked the overnight shift at Waffle House in my home town of Panama City, Florida. I was still going to school, and I'd just drink tons of shitty Waffle House coffee to stay awake, so I could go to school right after. I'd be so jacked up that I couldn't even go to sleep after school and before going back to work, so I'd just drink more coffee to stay awake. It was a vicious cycle. Even to this day, if I have a bite of coffee ice cream or tiramisu or something like that, I get the shakes.
Anyway, I found myself at El Rey — it's near my apartment, so I can hit it easily — and enjoyed a croissant and the diablo chicken bowl. It's charred chicken on brown rice with yogurt and a pickled egg. Lots of protein to satisfy and fuel my afternoon of work.
On Saturdays these days, I work behind the bar at my newest spot, Windmill. It's the only one of my bars that serves food, so I usually take advantage of that and eat dinner on the job. This night, it was skewers of shishito peppers, pork-belly-wrapped enoki mushrooms, and duck hearts.
Sunday, October 7
Finally, my day off!
If I'm not working and I'm in town on a Sunday, you'll find me on the corner stool at Bar Goto. I refer to it as church. Kenta Goto and I are friends; Matt Resler, another friend, works there on Sundays. I do stay there for a long time and kind of hold court. My friends all know that's where to find me, so it's usually a rotating cast of people for me to catch up with. Sometimes nobody shows up, sometimes I have 20 people hanging out there.
Usually, I get there at opening and have a bunch of delicious drinks and cold Asahi. At some point, I usually have a Gibson, which I've discovered over time is, I hate to use the word, my favorite cocktail.
To eat, miso chicken wings, the cauliflower "tots," and the celery, which I believe is currently the best bar snack in the city. Seriously. Don't sleep on the celery. It's the best because it has the things you want in a bar snack, with one glaring omission that's probably best to be omitted. It's salty, it's savory, it's crunchy, it's juicy, and it's not fried. It's not overly aggressive with any major flavors, so it encourages me to keep drinking.
A lot of things we do are proximity-based, especially in New York. It's just two blocks away from where I live. But I also do think that it's the best bar in New York, and I've been saying that for over two years. It's not just because I go there. I go there because I love it.
Dinner led me to Le French Diner. Perfectly executed French fare in an extremely intimate setting, only 19 seats! I always start with a glass of sparkling wine and the oeuf mayo, a soft-boiled egg served cold with homemade mayonnaise, sea salt, and chives. I also had grilled octopus with thick aïoli followed by hanger steak and potatoes dauphinoise. The steak was coated with a shallot sauce that was outstanding.
Monday, October 8
My first meal was at Maiden Lane. It's a neighborhood favorite specializing in imported tins of seafood. I'm fascinated by the quality and variety that they bring in.
The best approach here is to get a spread of things to nibble and share. The shrimp ceviche was tart and fresh, dressed with some avocado and simply served with saltines. I also had a bowl of olives, Brussels sprouts dressed with smoke trout vinaigrette and pickled onions, and, of course, a tin of seafood. I chose the Cambados or "tiny fish," which are the beautiful and delicate little sardines in oil served with bread, butter, and sea salt. This place was a great find.
Monday nights I spend with my best friend, who isn't in my industry. We met at OTB for dollar oysters and the weekly fried-chicken dinner. We caught up over a few beers and a whiskey or two. It's good to have some rituals in your week. I do a lot of things regularly: OTB on Mondays, church at Bar Goto, Katz's probably twice a month. If someone were trying to poison me, it wouldn't be hard.
Tuesday, October 9
I had a meeting at Heritage Radio Network where I do my weekly radio show. The studio is located inside Roberta's, so we made it a lunch meeting. Man, I wish I could say I didn't, but I probably do eat at Roberta's every time I go to Heritage, which is often a couple of times a week. So, I've had every, every, everything on the menu.
Got my usual order of the romaine salad dressed with Caesar dressing, fresh mint leaf, Parmesan, and toasted walnuts. Had to get one of the pizzas, too, so I got the Shroomsday Device with funky Taleggio, oyster mushrooms, scallions, pickled onions and, cream.
For dinner, I found myself at Cervo's. Started with savory fried sourdough bread with green tomatoes and white anchovies. Then ate a lot of seafood: salty, crunchy fried shrimp heads with pimentón, Louisiana white shrimp cooked a la plancha with tangy butter sauce, whole seared Boston mackerel with aïoli, and fried hake with crushed potatoes, cherry tomatoes, and puréed herbs. Drank tiny seven-ounce bottles of Coral lager, which stayed super cold, to enjoy all the seafood with.
I'm not a beer connoisseur in any way. I drink cocktails, whiskey, and what everyone calls "lawnmower beers." I call them "hammock beers" because I don't want to do all the work of mowing a lawn.