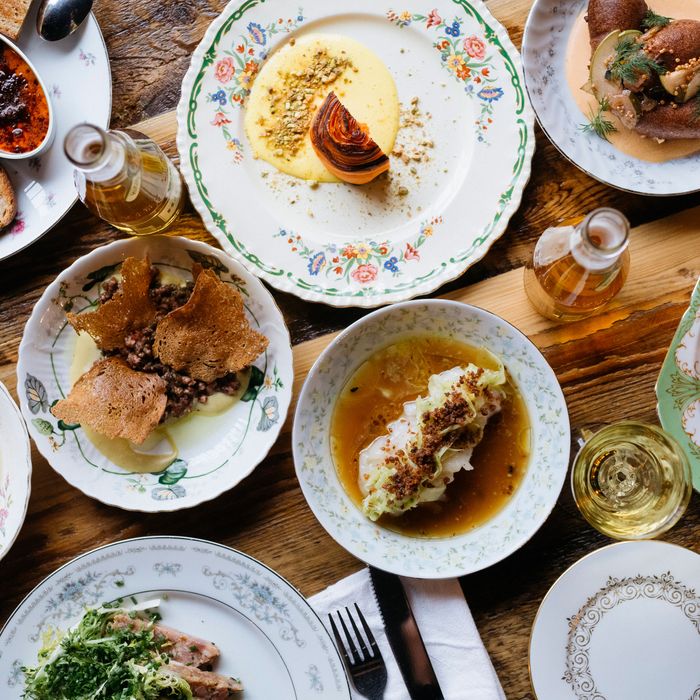 A supper spread at Detroit's Lady of the House, where mismatched plates are just one way to put diners at ease.
Photo: Marvin Shaouni
When she opened Lady of the House last fall in Detroit, Kate Williams didn't want her plates to match. Her family was clearing out a storage unit at the same time she was looking for a way to make her new space — a Tigers bar turned Irish pub turned Williams's soon-to-be-acclaimed restaurant — look more homespun. "My aunts told me, 'We found all of great-grandma's dishes. Do you want them?'" she recalls. They became the restaurant's first dinnerware set. Williams, one of Food & Wine's 2018 Best New Chefs, estimates that, now, 90 percent of the servingware at Lady of the House, one of GQ's 2018 Best New Restaurants, is made of mismatched hand-me-downs. The idea, she says, was to do everything she could to turn her restaurant into its own kind of escape. She doesn't want diners to feel like they're eating in a business; Williams wants them to feel like they're in her dining room.
The late restaurant critic Jonathan Gold once wrote that the "first responsibility of any great restaurant is to keep you in the bubble, the soft-serve cocoon of illusion where you forget the world exists for anything but your pleasure." When someone sits down to dinner, the thinking goes, the problems of the real world should disappear, even if it's only for an hour or two.
This is not a new or novel idea, but for many operators, it's become increasingly difficult to achieve that goal as the news becomes ever more oppressive, divisive, and terrifying. "I can't imagine a more miserable time to be alive!" says John Currence, the celebrated Mississippi chef. "The average household income has never been higher, the economy is great, the market is thriving, yet we all deeply hate half of the country." Just last week, Currence himself quit Twitter and Facebook, which he likens to 24/7 road rage. "Things got too toxic," he says, conceding: "I've definitely done damage to my business by participating."
Currence and Williams are among a group of chefs who told Grub Street that — in the current, anxiety-ridden era of, say, world-ending climate change, a president who publicly attacks an adult-film star, famed restaurant owners being regularly outed as predators, and a thousand other things that make us miserable — they're working harder than ever to simply make their guests feel welcomed and relaxed.
"We thought a lot about Irish hospitality," Williams says (her great-grandparents immigrated from Ireland). "Plenty of my diners and employees vote different from me. We're also in a racially dynamic neighborhood, in a city that doesn't have many female restaurant owners." The menu features several shared entrées that signal this is not a stuffy, fine-dining temple. (Baby pictures of the staff also adorn the walls.) And first, guests are welcomed, in the traditional Irish fashion, with tea, and Irish rarebit–spiced crackers.
This doesn't mean that the owners and chefs themselves are turning their backs on their own political views ("I'm not gonna stop being vocal about LGBT rights, minority rights, or other rights in general," Currence says), but there is a renewed emphasis on making sure everyone feels happy. "We're really in the business of creating memories," says Houston chef Justin Wu. "If you need an escape, it's our job to feed you something that reminds you of better times in the world."
In 2012, Wu opened Oxheart a tasting menu–only destination that won him nationwide acclaim. He closed it last year, right after winning a James Beard Award for Best Chef in the Southwest. As he explains, he'd hear critiques like, "I love Oxheart, but I can't take my parents there." "That just broke my heart," Wu says. "All I ever wanted was a place I could bring my friends to, and Oxheart kind of spiraled out of control." So last year, he opened Theodore Rex, which he's described as both "more approachable" and "intensely personal." It's named after his nephew, focuses on simple shared plates, pipes in trip-down-memory-lane '90s R&B, and features furniture that "wouldn't be out of place in your house," like banquettes upholstered in comfy quilts. "Our regulars will come in and say, 'I haven't had the greatest day. It'd be great to have a glass of wine and tomato toast, and not be judged for spending $18 and leaving,'" Wu explains, pointing out that his tables are busy and customers linger longer. "I hear a lot of, 'Thank you for being this to the city; thank you for lightening things up a little bit right now.'"
As others have noted, this emphasis on relaxation echoes the comfort-food boom that spread across the country in the wake of 9/11, and studies have indeed shown that comfort food does indeed flood the brain with positive memories, of parents and caregivers and a time when every day didn't bring the threat of a stranger harassing you on Twitter. Moreover, these "pleasurable" foods can actually attenuate the stress responses in our brains, sometimes for days. Everyone could use more of that, but it's hard to also not see this as a correction to the chef worship that defined the food world for the last decade-plus.
With a few established exceptions, it's difficult to imagine too many new operators convincing diners to endure a three-plus-hour tasting menu that challenges their palates (and their wallets) in the service of demonstrating a single chef's grand vision. In fact, restaurant visits are at a 28-year low, and the smart restaurateurs are signaling to their diners that they care about their opinions and experiences more than ever. Consider David Chang's Momofuku empire, just a few years ago it was famous for policies that were not exactly guest-friendly: no menu substitutions, no photos, no backs on the chairs. Things have changed since then. At Momofuku's new L.A. restaurant, Majordomo, guests get comment cards asking, quite pointedly, "How did we do?" And, in a true sign that comfort is the new goal, the chairs at Ssäm Bar even have backs now.