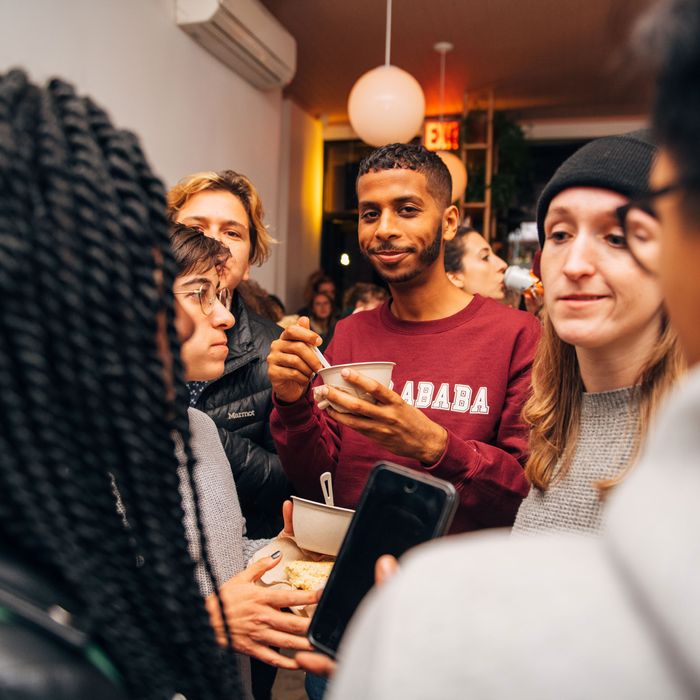 Soup: It's what's for dinner.
Photo: Christian Rodriguez
Liz Alpern spent last weekend officiating a gay wedding in New Hampshire, attended a baby shower for a family member, and then gunned it back to Brooklyn to host the latest edition of her ongoing charity series, Queer Soup Night, at MeMe's Diner in Prospect Heights. Any other person would struggle to be "on" after an entire weekend spent celebrating other people's joy, but not Alpern. As the dining room filled to capacity with queer people, she zipped back and forth, making sure everyone was enjoying themselves and had gotten their requisite bowl of soup with a side of corn bread.
"Liz creates community," says Jen Martin, who manages Queer Soup Night's social-media presence and helps decide what organizations they'll work with. "And it's so important to us that people feel that they're a part of this."
At this particular gathering, it's nearly impossible to move around with ease, but not one of the attendees — many of them female-identifying or nonbinary individuals who prefer the pronouns "they" and "them" — seems overwhelmed or dissatisfied, despite having several reasons to be. That morning, the New York Times had published a story about the Trump administration's plans to "define gender as a biological, immutable condition determined by genitalia at birth" under Title IX. But except for a mention of the policy that attracted half-hearted boo's, the energy at Queer Soup Night remained high, even upbeat, with people excitedly chatting and laughing over cocktails, wine, and beer from the bar.
"I think it's just great to be around a wider range of queer people than I usually get to hang out with," says Abigail Hess, a reporter at CNBC who frequents these events, which take place one to three times a month. "It's nice to be in a setting where people aren't drinking or dancing, necessarily. They're just having a wholesome bowl of soup."
Here's how the Queer Soup Night model works: Almost every month, Alpern, Martin, and their third partner, Kathleen Cunningham, find a venue and recruit a chef or two to make whatever they want, as long as it's soup. Admission is always free, but guests are encouraged to donate whatever they can to that night's charity, which in the past has included the Audre Lorde Project, the Center for Anti-Violence Education, and, most recently, the Third Wave Fund, a 20-year-old philanthropy organization focused on gender-based justice. So far, the trio has raised more than $15,000, and on November 11, the organization will head to Manhattan for the first time to benefit the New York Transgender Advocacy Group.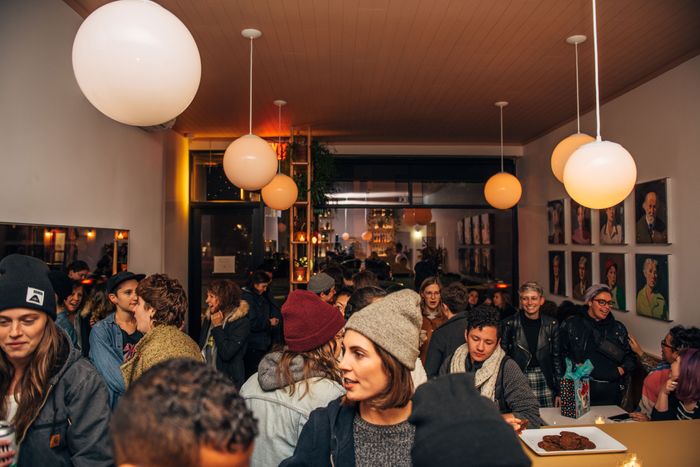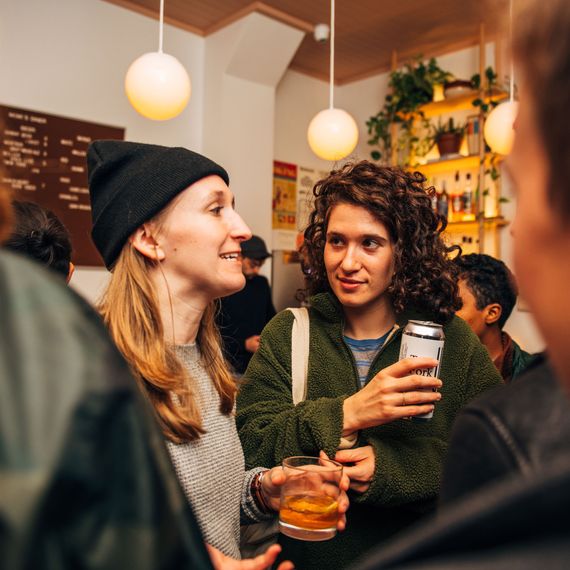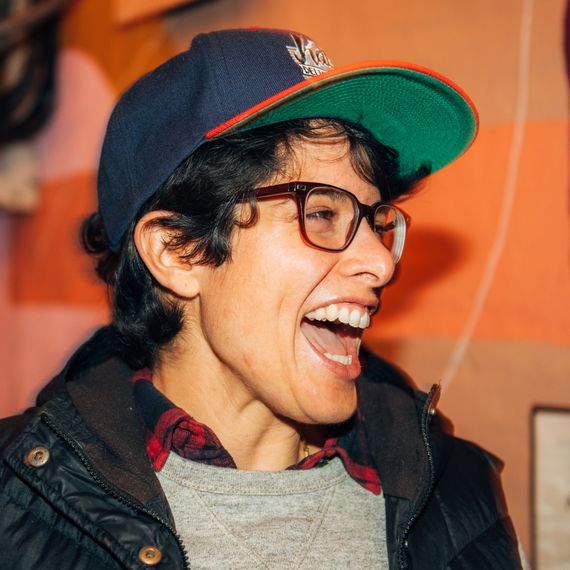 "Soup really makes sense financially because the chefs generally donate the ingredients," Alpern explains. "We offer to reimburse them, but a lot of times they're like, 'It's soup! It didn't cost me that much money.' Plus, it allows us to showcase different cultures and different styles of cooking."
This week, Carla Perez-Gallardo and Hannah Black, the chefs behind Lil Deb's Oasis in Hudson, New York, whipped up a chorizo noodle soup with a shrimp- and pork-based broth, while Bill Clark and Libby Willis of MeMe's provided a vegan-friendly pumpkin chili. Also helping out was Gabriella Vigoreaux, the culinary director at Carroll Gardens' Smith Canteen, who contributed a Puerto Rican malanga soup to a previous event. Ever since, Vigoreaux has volunteered her time to the organization.
"I lived in Manhattan for my first six years and there was literally just Cubbyhole and the Stonewall Inn on Fridays, but they never had the vibe that I wanted," says Vigoreaux, who identifies as a lesbian. "It was always too much and there was nothing like this. Now, I have friends who are like, 'I'm gonna go to Queer Soup Night! I'm single!'"
Early on, Alpern, Cunningham, and Martin experimented with paid tickets, but realized that it undermined the ethos of what they were trying to achieve. "We found that when we had a paid ticket, it really limited the people that are able to attend, and that's the opposite of what we're going for," Cunningham says. "We're trying to identify where the holes and the gaps are in our community. How can we lean into that and invite more people that fill in those spaces?"
Like so many new charity- and activism-minded organizations, Queer Soup Night is a direct response to the rise of the Trump administration. (In fact, the first gathering coincidentally took place on the same night as the president's infamous travel ban.) But just because the event was borne out of a harrowing and divisive time in our political history doesn't mean it won't matter if and when things start trending in a more positive and inclusive direction. "I think that in the good times, it'll be an even bigger celebration," Martin says.
"The issues that we are addressing have generally been around long before Trump and they'll be around long after Trump," Alpern adds. "Right now there is a sense of urgency, which certainly fuels people, but I think people will always need community and always want to feel like they can contribute. And there's always something worth contributing to. That is for damn sure."
And it helps that everybody speaks soup. "It doesn't matter what culture you're from, soup is your comfort food," Alpern says. "And that's the feeling that we try to create when people walk in. We want them to feel like I'm home, I'm with good people, I feel safe, I feel comfortable. I can relax right now."
Gesang, a consultant and frequent attendee who goes by their last name, puts it this way: "If I'm going to spend $10 or $20 on a meal, at least it'll go to a good cause," they say. "I've tried a lot of stuff here that I end up loving because it's low stakes. It's a foodie event without the pretension and without the inaccessibility."