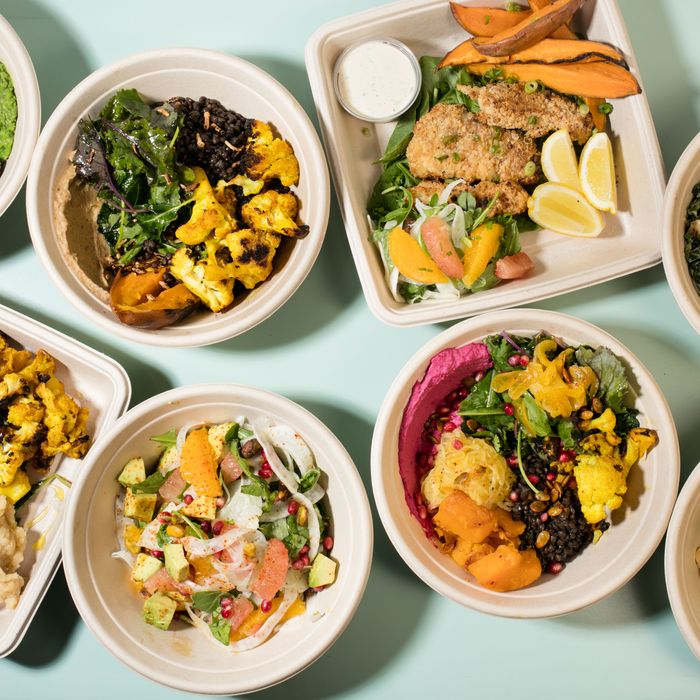 Queer Eye's archduke of avocados, Antoni Porowski, has lent his name to a reboot of the West Village's Village Den, the 36-year-old greasy spoon that closed earlier this year and reopens, sort of, this week. Porowski was recruited for the project by the Metric restaurant group's Lisle Richards and Eric Marx, who operate the Wayfarer and opened Kola House with Pepsi.
This new-look Village Den isn't exactly a retro-chic diner. Instead, it's a counter-service, fast-casual joint where the food is, in the parlance of the times, "clean," meaning this spoon, by design, will not be greasy. Porowski worked with the Wayfarer's Chris Shea on the menu, and they took a lean-cuisine approach. Calories, carbs, protein, and sugar are listed for each menu item, and a couple of shakes reference the keto diet (the Cake & Bake Keto and Awesome Almond Keto) that informs the menu.
There is also avocado, of course, as in a tartine on "health bread" and in the Greenwich breakfast bowl with sweet-potato hash browns. The almond Caesar is made with a creamy almond vinaigrette, and the meatballs are turkey, honey roasted, and served with cauliflower rice in a bowl.
It's not clear that anyone actually misses the days of Swanson dinners, but the Village Den also has a section of "nostalgic" TV dinners, what you might call Healthy-Man Selects. Each comes with a choice of sides, so you can pair macadamia-crusted fish sticks with roasted purple potatoes and braised lentils. And while Porowski's avocado obsession made him a meme, he seems to have as much enthusiasm for turkey, which also shows up in the form of a glazed meat loaf and in stuffed cabbage with pine nuts.
Village Den, 225 W. 12th St., nr. Greenwich Ave.; 212-691-0303