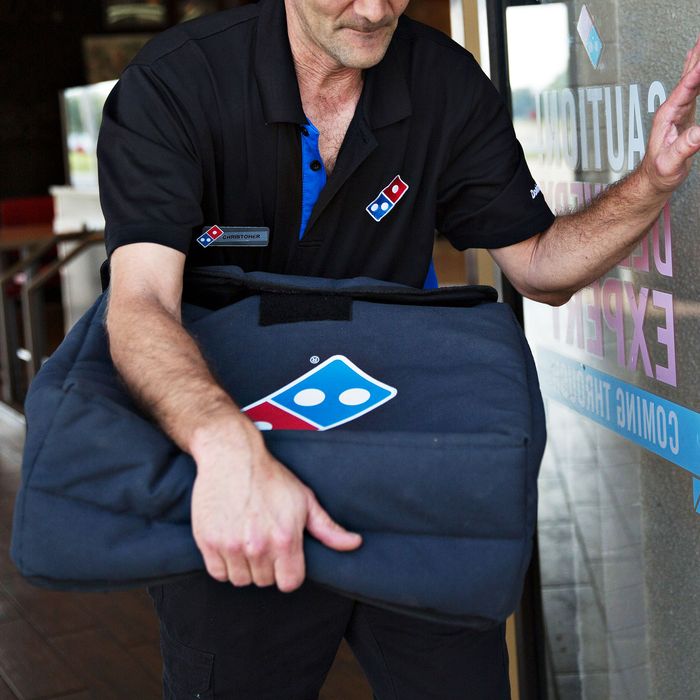 Photo: Daniel Acker/Bloomberg via Getty Images
A Wisconsin pizza-delivery guy became a hero after saving a woman who'd allegedly been kidnapped by her abusive ex-boyfriend.
According to WTKR, Domino's employee Joey Grundl was delivering a pizza to a home in the Sheboygan area and was met at the door by Dean Hoffman and his ex-girlfriend. While Hoffman paid for the pizza, Grundl made eye contact with the woman who pointed to her black eye and mouthed "help me" and "call the police" to Grundl before going back inside.
Grundl drove back to the Domino's restaurant and quickly called police, telling them, "I had a delivery. It was a middle-aged couple. The woman clearly had a black eye. She pointed to it, and I swear she mouthed 'help me.'" Upon arriving at the house, authorities learned that Hoffman had apparently forced his way into the woman's home, beaten her, and used her phone to tell her family not to check up on her.
Hoffman was arrested without incident and has since been charged with kidnapping, false imprisonment, strangulation and suffocation, felony intimidation of a victim, and burglary of a building.