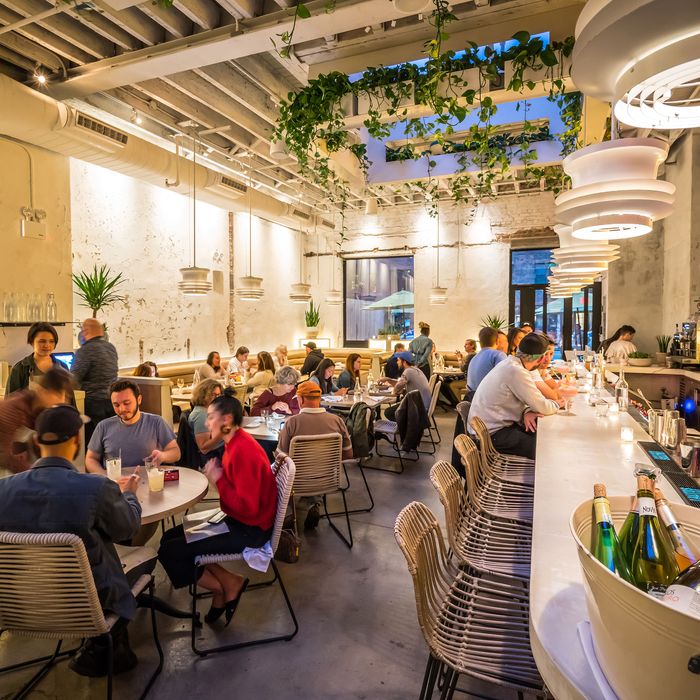 Oxomoco.
Photo: Noah Fecks/© Noah Fecks
You could be forgiven for thinking, when you first situate yourself in the airy, skylit dining room of Oxomoco, a new Mexican restaurant in Greenpoint, that you're not really in Greenpoint at all. The whitewashed little building — which appeared this past summer like a kind of cheery apparition among the jumble of old brick structures along Greenpoint Avenue leading down to the river — looks like the kind of tropical, margarita-guzzling venue that you'd come across in one of the fancier tourist precincts of Tulum, say, or near the beach in L.A. There are green parasols set up over the café tables outside and little garden boxes planted with flowering cactus. Twanging psychedelic guitar sounds echo around the space inside, which features green vines hanging from the rafters in metal boxes, great moon-shaped leather banquettes, and dining chairs roped with pieces of beige twine. "The inspiration is supposed to be somewhere in Mexico," said our loquacious waiter, as he brought a tray of frosty tequila drinks to the table, "but I like to think of this as Luke Skywalker's childhood home."
This fanciful venture is the brainchild of the chef-restaurateur Justin Bazdarich who operates the popular Brooklyn (and now, also, Lower East Side) wood-fire-pizza joint, Speedy Romeo. Wood fire, it turns out, is one of the central themes at Oxomoco, too, although this time the specialty of the house — aside from the usual barrage of margaritas, guacamole, and mountains of salty, thirst-inducing chips — is that ancient Mexican art of open-fire cooking called barbacoa. The building of large fires is constrained among the towers of Manhattan, of course, but out here in the relatively wide-open spaces of the city's great barbecue borough, Bazdarich and his cooks can let their imaginations run wild. The great steel grills in the back of the room (which used to be a plumbing warehouse, for the record) are stocked with stacks of burning cordwood from lunchtime until late in the evening, and during the course of the day, almost everything on the menu is thrown onto it, from whole chickens and chunks of flank steak and marinated lamb to the delicate leaves of romaine lettuce used in the house Punta Verde Caesar salad.
The soft, smoky cherry tomatoes in our guacamole tasted like they'd spent time on the grill too, and so did the tight little bundle of gently charred carrots that formed the base for the subtle, steamy tamal, which was topped with a decorative swatch of corn husk and poured with thin, warm mole colored with fresh green garlic. There were the usual crudos in this surprisingly sophisticated wave of small-size plates (try the hamachi touched with peaches and hibiscus), and a variety of garden salads, including one tossed with heirloom tomatoes, cucumbers, and chunks of cool queso. But the most popular items at our table, by far, were the tostadas, which the cooks warm on the grill, then spread with chunks of beef tartare (dabbed with a pinkish mayo laced with crushed grasshoppers), tangy, dill-flavored helpings of shrimp ceviche, and wheels of yellowfin tuna marinated in soy and dappled with black and white sesame seeds, in the manner of the famous Mexico City seafood restaurant Contramar.
The masa tortillas used in these tostada creations are pounded out every morning at Oxomoco using traditional mill stones and kernels of organic blue corn brought in from Oaxaca. These soft, pliable creations form the basis for the excellent (though at up to $18 for two, not inexpensive) house tacos, of course, that chef de cuisine Matt Conroy, who spent several formative years working in Alex Stupak's Empellón empire across the river, builds in all sorts of inventive ways. We sampled tacos made with blocks of crunchy shrimp tempura garnished with Thai basil and tangles of cucumber slaw and an uncanny vegetarian chorizo made with a spicy mash of crushed beets and crispy potatoes. For traditionalists, there are tortillas filled with plump, just-sizzled pork cheeks, or ribbons of lamb barbacoa pulled fresh from the grill, although if you call for that old favorite, the taco al pastor, you'll find it contains tender pieces of chicken, instead of the usual pork, all intermingled with bits of charred pineapple and crispy chicken skin.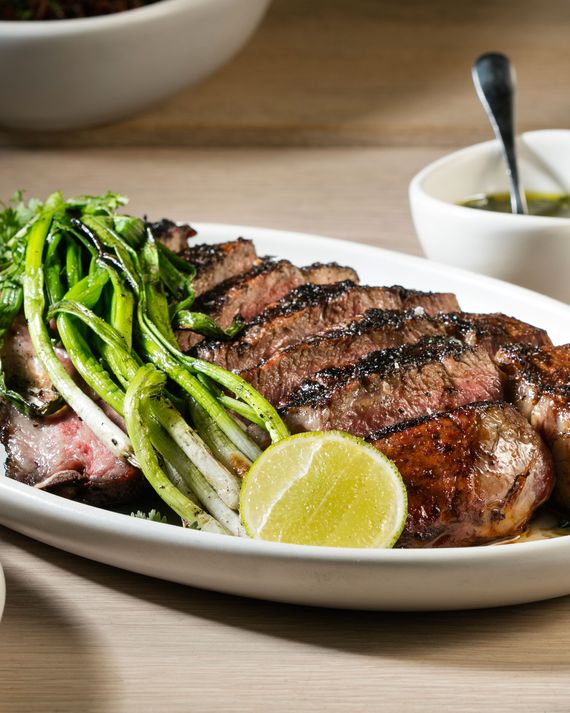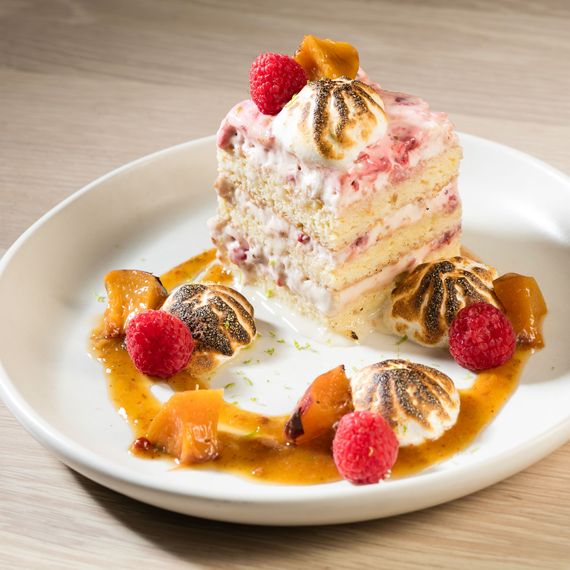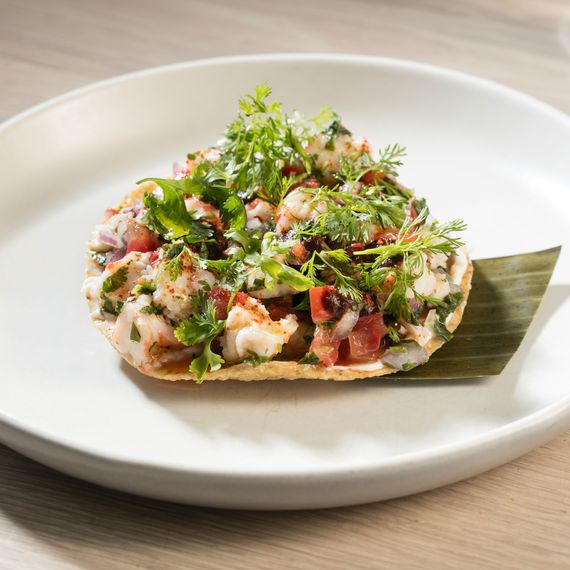 As usual in a first-class Mexican kitchen, these creations are enlivened with a cavalcade of sophisticated, labor-intensive salsas and moles, most of which are ground, mixed, and chopped in-house on the day of service. Farm-raised branzino probably wouldn't be my fish of choice if I sat down to dinner at a seaside restaurant in the Yucatán, but it works well enough here thanks to the slathering of hoja santa paste, which is applied while on the grill, and a lustrous yellow amarillo mole, made in the classic Oaxacan style with plenty of lard. The exceptional house chicken (pollo a la brasa) works even better, thanks to an elaborate cooking process (it's smoked, caked in a dark, honey-flavored pastilla paste, hung over the flaming grill until tender, and finished in the fryer for an extra crunch), and so does the opulent, well-aged carne brava bone-in rib eye, which emerges from the kitchen with a variety of trimmings (pay attention to the chimichurri, and the chorizo-laced refried black beans) and a warm stack of tortillas tucked in a linen napkin.
You may not have room for a taste of Oxomoco's raspberry tres leches multilayered cake after ingesting these sturdy barbacoa specialties, but I'm happy to report that like the rest of the deceptively accomplished desserts at this deceptively fine restaurant (try the delicate flan-like hoja santa curd topped with strawberries), you can order it at lunchtime "brunch" (served every day), when there's plenty of time after your meal for a restorative afternoon nap. Several of the taco fillings (chicken al pastor, the beet chorizo) are available in rice-bowl form at brunch, and the dinnertime rib-eye steak has been replaced by the only slightly less-imposing hamburguesa pambazo, which is covered in a deliciously messy mass of smoked onions, salsa macha, and melted cheese. The satisfying brunch options include fat "three egg" burritos stuffed with deposits of bacon, kale, or chorizo, and a generally immaculate version of chilaquiles that the kitchen constructs with spoonfuls of crema and salsa verde, a thatch of gently softening tortilla chips, and a perfectly fried egg.
Oxomoco
128 Greenpoint Ave., nr. Manhattan Ave.; 646-688-4180; oxomoconyc.com
Open: Brunch and dinner, daily.
Prices: Appetizers, $12-$19; entrées, $12-$99.
Ideal Meal: Guacamole and chips, classic margarita, assorted tostadas and tacos (shrimp ceviche, chicken al pastor, lamb barbacoa), grilled "carne brava" steak and/or grilled chicken, hoja santa curd with strawberries.
Note: The elaborate house cocktails (there are four kinds of margarita) have been composed with the help of the noted mixologist Eben Klemm, although purists might wish to dive directly into the well-chosen "Agave Spirits" list.
Scratchpad: One star for the tacos and the room, one star for the best of the grilled barbacoa, and one star for the drinks and the desserts.