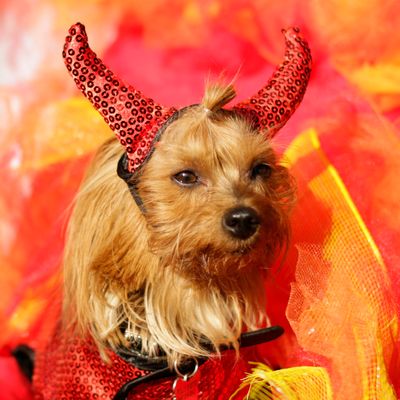 Devil doggo.
Photo: Eduardo Munoz Alvarez/Getty Images
Halloween comes but once a year, yet this year, its midweek arrival means at least five nights of spooky fun. Here are 24 ways to party this year.
1. Get very ghoulish.
Kick off Halloweekend tonight with the annual screening of Nosferatu at the Halloween Extravaganza at the Cathedral of St. John the Divine. Afterward, stand back for the procession of ghouls, created by the Ralph Lee's Mettawee River Theatre Company.
2. Hit up a haunted house.
Perhaps you're looking for some spooky-house action. You can visit the tried-and-true massive phantasmagoria that is Blood Manor, which has moved its den of ultra-high-tech UV lights, animatronics, and gore-filled makeup to Broadway. Or try New York City College of Technology's haunted-hotel-themed Gravesend Inn for $10. Also $10, the walk-through Ridgewood Asylum, in the spacious bar the Deep End. Enter at your own risk.
3. Or just pretend you're hitting up a haunted house.
Get the feel of a haunted house without (many) scares at Nightmare Machine, the phobia-themed Instagram walk-through. Take photos in a slaughter room or get itchy when the creepy-crawlies take over.  Don't get too complacent, though, as ghouls will come out when you least expect them.
4. Pet some pups in costume.
The best kind of parade is a doggy-costume parade. The Halloween-loving hound dogs come out this Sunday at Fort Greene Park at the 20th annual Great PUPkin Dog Costume Contest. Last year, there was an overwhelming number of puppy Handmaid's Tale (Tail?) costumes. Maybe this year it'll be Sharp Pupjects?
5. Channel the ghost of Houdini.
Investigate the untimely death of a celebrated illusionist in the new immersive play, The Girl Who Handcuffed Harry Houdini. Everyone's a suspect, as the play takes place throughout three floors of a Prohibition-themed East Village townhouse.
6. Dance your way into darkness.
For its last hurrah, Videology goes all in with Dario Argento's Suspiria, transforming into the Tanz Dance Academy of Freiburg with specialty cocktails served by witches and dancers, a raffle for the new soundtrack by Thom Yorke on vinyl, and back-to-back screenings of the 1977 version. It all starts at noon on Saturday.
7. Dress up for a fancy ball.
Tonight and Saturday, You Are So Lucky and MATTE Projects will throw one of their epic masquerade balls, converting an abandoned three-acre location in NYC for "How Did Our Dreams End Up Like This." Some 125 performers, musicians, and DJs explore the spirit of dark and light in the multisensory experience.
8. Try to stay alive at a Murder Mystery.
An unidentified skeleton has been found at the Mount Vernon Hotel, and in this Halloween Murder Mystery, it's up to you to collect clues and solve the case … if you dare. Reservations are available for tonight and Saturday.
9. Taste some gourmet candy options.
It's not Halloween without sweets, and Kreuther Handcrafted Chocolate has the creepy, fancy goods, with special Halloween Eye Balls filled with caramelito whipped ganache, Tahitian vanilla marshmallow, and speculoos cookies. They're $6 a piece.
10. Take a trip to the Merchant's House Museum.
The Merchant's House Museum is always a good bet for Halloween happenings. Check out its new exhibition, "A Good Death: 19th Century Lessons in Dying Well," take a candlelight ghost tour (some at midnight), spend an evening listening to the chilling tales of Edgar Allan Poe, and more.
11. Do the Monster Mash.
There's no shortage of parties to choose from. If you'd like one hosted by G-Eazy, head to Marquee on Saturday. Also on Saturday is the themed Rub dance party at the Bell House. On Wednesday, the House of Yes has the Gala of the Gone, with tarot readings and Ouija boards, among other things, while Sunday in Brooklyn has an '80s-themed Glow party with food and drink specials. Start looking for some spandex.
12. Vogue.
The Madonnathon at the Highline Ballroom makes your costume decision easy: Just pick your favorite era and go, then possibly get to express yourself onstage with the band if your outfit wins a prize. If you opt for the cones, just try not to poke someone's eye out.
13. Get spooked by some stories.
The Bowery Boys: New York City History podcast wants to bring the dead to life, and they're doing it this Sunday and next Wednesday at Joe's Pub through spooky stories. Hear NYC urban legends like you never have before: with professional sound effects.
14. Prove your love of Hocus Pocus.
Show your appreciation for all things Bette Midler & Co. with a Hocus Pocus trivia night, Monday at Taco Electrico. It's free, but reservations are recommended. On Wednesday, see actors re-create the movie (with lots of booze) at a Drinking Game NYC Presents: Hocus Pocus on Halloween at the Brooklyn Bazaar. And if you just want to see the movie, catch a free screening at SVA, also on Wednesday, in honor of the 25th anniversary of the movie.
15. Dia de Los Muertos for a cause.
On Sunday at Flora Bar in the Met Breuer chef Ignacio Mattos hosts a Dia de Los Muertos dinner with a percentage of the proceeds donated to Edible Schoolyard NYC. The three-course dinner includes cocktails, plus live mariachi.
16. See a big-ass pumpkin.
Last weekend may have been Giant Pumpkin Weekend at the New York Botanical Garden, but on display through October 31 is the biggest pumpkin grown in 2018, a 2,528-pound megagourd grown by Steve Geddes of Boscawen, New Hampshire. They say it's the weight of two grizzly bears. We'll take their word for it.
17. Scare it all off.
You can dress up, but the ladies onstage will be taking it off in scary style at the Wasabassco Halloween Costume Party and Burlesque show this Saturday at City Winery.
18. Do the time warp.
Don your best corset for the Rocky Horror Picture Show Live Karaoke Revue and Halloween Extravaganza, Wednesday at the Bell House. Come early to sign up to sing your favorite tune, and stay for film clips, a costume contest, and two full karaoke sets, with proceeds benefiting the Center for Anti-Violence Education.
19. Have a Mahaloween.
Tiki and spooky go together (spootiki?) at this rummy "Mahaloween" celebration at the Polynesian, with themed drinks, games, and an island-fantasy costume contest with prizes, including a private "Rum 101" session and tiki mugs. It's a pirate's dream.
20. Try some chilling ice cream.
Through Halloween, the Republic of Booza is offering a couple of spooky options: the Dracula's Bloody Mess, a white chocolate rocky road with marshmallows, chocolate chunks, almonds and a sour cherry bloody swirl; and the Choc-o'-Lantern, pumpkin booza with ribbons of dark-chocolate ganache. Beware of chilling brain freeze.
21. Learn from history.
Brooklyn is the home to ghosts, both alive and dead, and this Halloween, the Brooklyn Historical Society focuses on the latter, with Boroughs of the Dead founder Andrea Janes. Plus an exploration of funerary traditions with funeral director Amy Cunningham, and more, all free.
22. Reimagine the end of life.
Death is a big part of Halloween, but it doesn't have to be scary. From Saturday through November 3, the Reimagine End of Life New York festival features more than 350 events exploring death. Go to a seminar on Jewish practices around death, write a six-word memoir, go to a Morbid Anatomy open house, plus much, much more.
23. Drag up your night. 
See Aja and Valentina from Drag Race plus a live performance from Trina in this "Godmother" Halloween blowout presented by VFILES on Halloween night. Plus DJs and a marching band and whatever else they can dream up.
24. Love a parade.
All the ghouls come out for the 45th annual Halloween Parade, which begins at 7 p.m. on Wednesday. This year's theme is I AM a Robot, and you can gain access to a special VIP Robot section in the parade for $25. (Tom Cruise costumes not accepted, probably.) Are you man? Or machine?