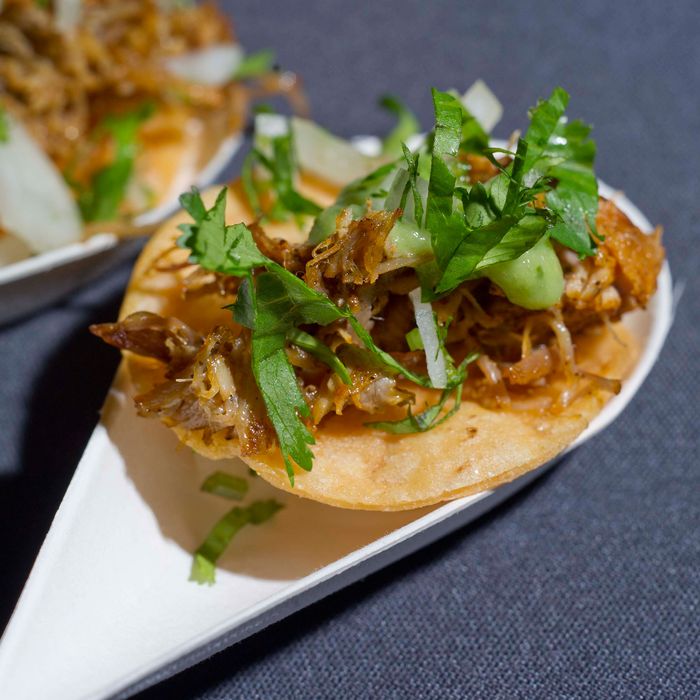 Salvatation Taco's mini carnitas tacos from last year's event.
Photo: Jed Egan
In case you missed it: New York Taste returns this month on Monday, October 22, to the Waterfront on the West Side and, as usual, the lineup of bites and drinks from some of the city's finest culinary stars is one you won't want to miss.
This year's dishes include a satisfying lasagna from the Don Angie team, lamb sausage with tabbouleh, harissa, and yogurt from Tribeca's Little Park, a coffee and cream sundae from Oddfellows Ice Cream Co., pulled pork sliders created by Pig Beach, an effervescent rum cocktail from the bartenders at Pegu Club, and much, much more.
Those looking to attend can buy tickets here. $125 general admission tickets include unlimited tastings and an open bar, while $225 VIP tickets include access to a special preview hour, a private VIP lounge, and a very exclusive gift bag valued at $200 plus a complimentary three-month New York by New York membership. Check out the full list of participating chefs below and see you in two weeks!
Neal Harden (abcV)
Samantha Chen (Aquavit)
Christopher Engel (Aureole)
Kenta Goto (Bar Goto)
Laetitia Rouabah (Benoit New York)
Dan Barber (Blue Hill)
Nicolas Houlbert (Bluebird London New York)
Marco Canora (Brodo Broth Co.)
Gabe Orta and Elad Zvi (Broken Shaker New York)
Alex Guarnaschelli (Butter)
Ariane Daguin (D'Artagnan)
Dana Pollack (Dana's Bakery)
Angie Rito and Scott Tacinelli (Don Angie)
Dave Arnold and Don Lee (Existing Conditions)
Greg Proechel (Ferris)
Alfred Portale (Gotham Bar and Grill)
Miro Uskokovic (Gramcery Tavern)
Samantha Davis (Henry at Life Hotel)
Jacques Torres (Jacques Torres Chocolate)
Douglas Kim (JeJu Noodle Bar)
Laurent Tourondel (L'Amico)
Marie-Aude Rose (La Mercerie)
Guillaume Ginther (Le Coq Rico)
Daniel Rose (Le Coucou)
Louis Bayla (Little Park)
Salvatore Marcello (MAMO Restaurant)
Jason Pfeifer (Manhatta)
Nick Tamburo (Momofuku Nishi)
Masaharu Morimoto (Momosan Ramen & Sake)
Sam Mason (Oddfellows Ice Cream Co.)
Greg Baxtrom (Olmsted)
Tom Valenti (Oxbow Tavern)
Bill Yosses (Palais by Perfect Pie)
Rory Macdonald (Patisserie Chanson)
Audrey Saunders (Pegu Club)
Corey Chow (Per Se)
Matt Abdoo (Pig Beach)
Michael Lomonaco (Porter House Bar and Grill)
Chintan Pandya (Rahi)
Joe Ng (Red Farm)
Dale Talde (Rice & Gold)
Georgette Farkas (Rotisserie Georgette)
Mina Newman (Sen Sakana)
David Rashty (Tetsu)