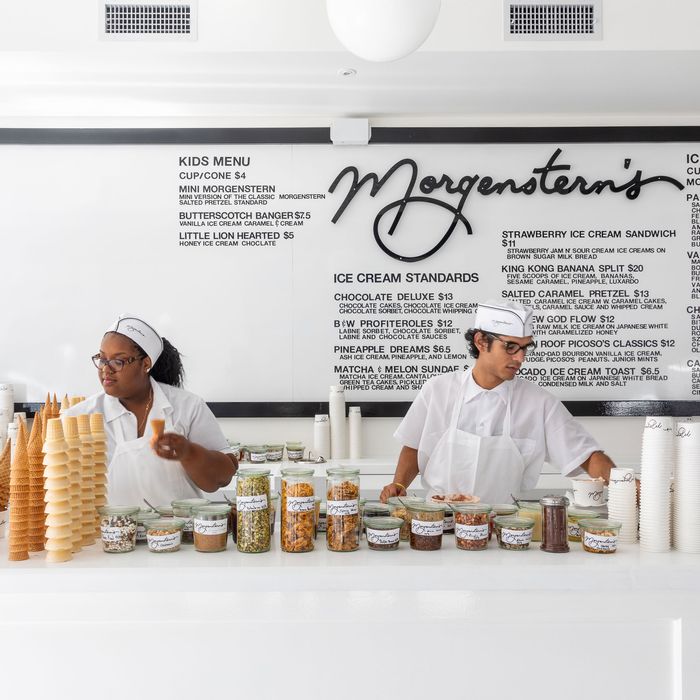 Nick Morgenstern is opening the ice-cream shop of his dreams. For the last nine years, the pastry chef and restaurateur has been largely (if not solely) fixated on making the perfect scoop. He ran a cart outside the Fort Greene restaurant General Greene before leaving it and opening a series of downtown spots, including his widely acclaimed scoop shop Morgenstern's Finest Ice Cream. But now Morgenstern is topping even himself, starting Friday at 4 p.m., with his second and flagship Morgenstern's. Sprawling by comparison to the original, it will offer a whopping 88 flavors of ice cream.
Almost instantly after opening four years ago, the original Morgenstern's became a favorite of New York's ice-cream cognoscenti for its retro aesthetic and innovative flavors. The scoop man and his crew take an obsessive approach to flavor — five variations each on vanilla and chocolate, for example — and a "why can't this work?" approach to ingredients, as in flavors like a punchy salt-and-pepper pine nut, a mix of banana curry, and an unusual burnt sage. All of which is to say that, at this location, Morgenstern is going all-in on his grandest ice-cream fantasies.
"It's just the breadth of the menu combined with the ingredients we can use and the way we can create the flavorings for those ice creams; it just allows us to do a lot more with everything," Morgenstern says. "There was no way we could go give you that experience in that other store, not only because it was too small but because the facility wouldn't have allowed us to, you know we were hindered quite a bit."
Morgenstern says the menu likely won't get any bigger, but flavors will be added or subtracted based on what customers like. To start, expect 39 brand-new flavors — like a classic peanut-butter cup, vanilla with black-pepper molasses, peaches n' clotted cream, banana-kalamansi, pistachio–black currant jelly — and sorbets like Brazil nut with tonka. Given the dizzying array of flavors, Grub thought it was only proper to give a proper glimpse of all of them.
Strawberry is as much a classic as vanilla or coffee. There are five flavors here: a regular smooth and delicious, sour cream and brown sugar, pistachio pesto, milk-chocolate swirl, and passion fruit.
Why stop at a mere five varieties of vanilla? This location offers seven, including vanilla chip, French vanilla, black pepper, honey Madagascar, black-pepper molasses, bourbon, and angel food.
There's a trio of raspberries in cheesecake, long pepper, and raspberry-sherbet dip, offered in a cone.
Like vanilla, Morgenstern wanted to do more with his chocolate. There's salted; bitter; a very dark, dusty gianduja; regular chocolate that can be made into the rockiest road; Szechuan with Sichuan peppercorn; and olive-oil chocolate orange.
Have a soft spot for your hometown parlor? You'll find plenty to like in the American classics: There's chocolate-chip cookie dough, cookies 'n cream, cherry-chocolate chip, butter-pecan blueberries 'n cream, rum raisin, mint chip, peanut-butter cup, and rainbow sherbet (front row).
If you're in sorbet season, you have options. There are the fruity ones, like raspberry-lychee, black currant, mango-chili, strawberry-guava, apricot, kiwi, and coconut. Or maybe you're nuts for pistachio shisho, Brazil nut tonka, or honey almond. If you're feeling cheesy, though, you'll want to go for labne.
This is Morgenstern's. Simple salted caramel is not going to cut it. You'll find salted pretzel, butterscotch, caramel-chocolate dip, sesame, and cinnamon whiskey.
Many would argue that coffee ice cream is the best ice cream. If you are of that camp, you won't have to eat any other flavors but the Vietnamese coffee, mocha, coffee crisp, coffee caramel, and the vegan coconut espresso.
Here we have both the trifecta of peach flavors — Melba, peaches n' clotted cream, and peach-pumpkin — and the citrus options, which include cardamom-lemon jam, lemon curd–poppy seed, Seville orange-pineapple, grapefruit sherbet, and yuzu Yamazaki.
Have tropical tendencies? Maybe go for the pineapple-pandan, papaya-guava, mango–passion rice, avocado, coconut chip, or durian-banana.
Along with that durian-banana, there are five other banana flavors. Get nutty with the macadamia praline, vegan with the banana agave, or have a charred chocolate, banana curry, or banana-kalamansi.
Morgenstern's has its own set of classics: the parlor favorites. These include the salt-and-pepper pine nut, chocolate-oat, Fernet-black walnut, black-ass licorice, American egg, raw milk, green-tea pistachio, and burnt sage.
Are you nuts for nuts? So is Morgenstern, who serves here Picoso's peanut praline, mascarpone-salted hazelnut, toasted almond and date, macadamia–passion fruit, and pistachio–black currant jelly.
The final category is the aptly named miscellaneous. They are all carb-based: popcorn, bread, and French fry. (If only you could get fries for dipping in the French-fry ice cream.)
Morgenstern's, 88 W. Houston St., at La Guardia Pl.; 212-209-7684