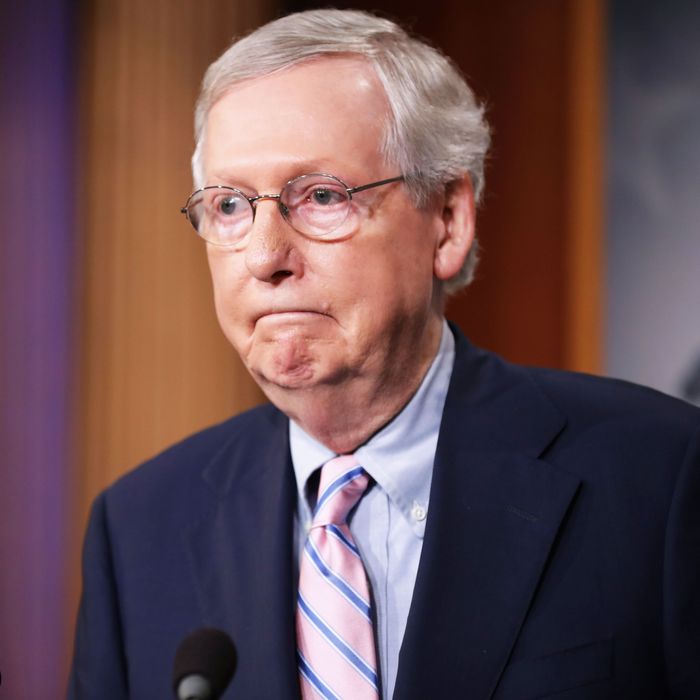 Mitch McConnell.
Photo: Chip Somodevilla/Getty Images
It's not so rare for restaurants to become political battlegrounds, but that trend has definitely peaked in 2018, with Mitch McConnell becoming the latest politico to have his dinner interrupted by protesters.
On Friday, McConnell was eating at a restaurant in Louisville, Kentucky, with his wife, Department of Transportation head Elaine Chao, when a group of men confronted the congressman. According to CNN, one of the men said, "Why don't you get out of here? Why don't you leave the entire country?" after apparently throwing McConnell's leftovers out of the door.
In a video obtained by TMZ, the confronter clearly became the confronted, with many of the patrons at the Louisville restaurant shouting him down. (McConnell appears to sit in silence.) The next day, McConnell's press secretary issued a statement, saying that McConnell and Chao "appreciate those who spoke up against incivility" and "hope other patrons weren't too inconvenienced by left-wing tantrums. As the leader often says, the Senate will not be intimidated by the antics of far-left protesters."
The owners of the restaurant in question, Havana Rumba, also addressed the incident: "We deeply regret the incident that took place at our restaurant this weekend," reads a statement to WLKY. "We strongly believe everyone should feel welcome and safe in our restaurants. It was Friday night in the middle of the rush and our staff was caught off guard as the incident developed quickly. Once we were aware of the situation we acted quickly and efficiently to assure that everyone was safe."