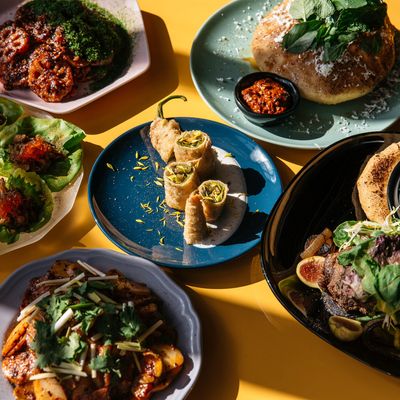 The spread in Bushwick.
Photo: Scott Heins
There are some New York restaurants where the legend grows far larger than their tiny, cramped kitchens. Mission Chinese Food is one such place. It's not so much a restaurant as it is the foundation of an entire lifestyle. Chef and owner Danny Bowien has used it as a launching pad into the worlds of fashion, art, and SoulCycle. Yet all the while, Mission Chinese Food, the restaurant, has remained as popular as ever — New York critic Adam Platt named it the second best Chinese restaurant in New York — and this week, Bowien expanded with a brand-new Mission Chinese Food in Brooklyn.
While the Manhattan Mission Chinese Food looks like a trippy banquet hall, the Brooklyn version is a spacey canteen. "Psychedelic" is often used to describe Bowien's cooking, and his new restaurants' aesthetic mirrors that. More stripped down with exposed pipes and unfinished walls, this space is heavy on neon, glowing at night like you're inside the Orb.
The restaurant is located in a 24,000-square-foot former warehouse that's also home to the sprawling music venue Elsewhere, but despite the new look and location, the opening menu will be familiar to any fans of the restaurant. To start, it will be shorter than the one in Manhattan, and the restaurant, as a whole, will be rolled out piece by piece. Lunch will come with time, during which they'll serve rice-based set meals, a takeout window will serve food to go, and next spring they'll open a 74-person bar with snacks. ("We want to get a tandoor for the roof when we open up there," Bowien says.) They'll serve plenty of the restaurant's own signatures, like the salt cod fried rice, green tea noodles, thrice-cooked bacon, kung pao pastrami, and the bombastic mapo tofu. Bowien has promised that he'll expand even more beyond the sort-of-Sichuan food he's known for.
"This is definitely a return to form for Mission Chinese — to Sichuan food, stuff that's not ultracomposed, like stir-fries and a landscape of something," the chef explains. But he's also pulling from other influences. "I love bread. There's a place called Café Kashgar I eat at a lot; there's this sesame bread," he says. "And I'm definitely into Himalayan food, a lot, and I love Korean-Chinese. Like jajangmyeon, we'll probably serve that for lunch."
Take, for example, a new sourdough naan, served with burned buckwheat honey-butter and sheep's milk cheese, that defies any simple explanation — it's just Mission Chinese–style cooking. Other new appetizers are reinterpretations of Chinese dishes: classic cumin lamb gets turned into tartare with salmon roe and served in lettuce cups. There's also a mala green chili stuffed with bacon, shrimp, and pickled mustard greens (as well as a vegetarian alternative), and a new preparation of fried rice cakes, made with lotus roots, seaweed, and Sichuan pepper.
The new restaurant has been a long time coming, but in a way its existence is still a surprise. The opening comes after what was a rougher-than-usual year for Bowien: He faced lawsuits from a disgruntled investor in his shuttered Mission Cantina and employees who alleged discrimination at Mission Chinese Food. (Additionally, Bowien's former chef-de-cuisine, Angela Dimayuga, who in many ways became the main face of the Mission Chinese culture, left to take a new gig with the Standard. Through it all, though, Bowien says that he looks at the restaurant like a reset.
"I really did enjoy it. I've been through a lot of huge hurdles in my personal and professional life over the last year," he says. "I think that's been informative … The opening night, we were all like, 'Wow, this is crazy; this is the best opening we've ever been a part of."
Mission Chinese Food Brooklyn, 599 Johnson Ave., nr. Scott Ave.; 718-628-3731