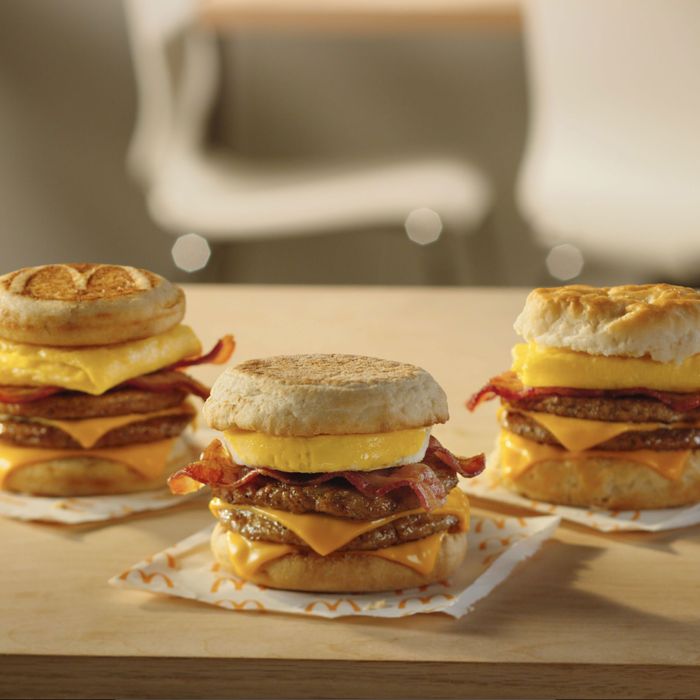 When you gaze long into the Triple Breakfast Stack, the Triple Breakfast Stack also gazes into you.
Photo: Courtesy of McDonald's
Breakfast has become an unlikely battleground in the fast-food world, and with the stakes getting ever higher, McDonald's is planning on dropping an A-bomb.
Business Insider got ahold of internal documents that reveal that the fast-food giant will soon introduce three gut-busting menu items that have been dubbed Triple Breakfast Stacks, which could be a reference to either the "3 times the meat" that the sandwiches will reportedly contain, or the triple bypass that you will need after eating one.
According to the leaked documents, the sandwiches will feature half a McMuffin, McGriddle, or biscuit, then an egg, then bacon slices, then a sausage patty, then a slice of cheese, then another sausage patty, then another slice of cheese, and the second half of the McMuffin, McGriddle, or biscuit. "This will be a popular choice for meat lovers and people looking to grab a hearty breakfast on the go," the description reads.
The Triple Breakfast Stacks mark the first time that McDonald's has expanded its breakfast menu in more than a decade. And it's been a few years since the chain decided to serve its breakfast menu all day long to great success. Apparently, the limited-time Stacks will hit stores in November.