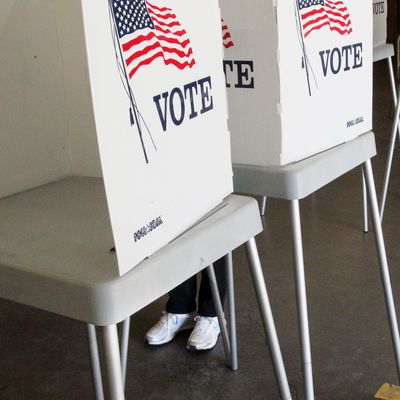 Restaurant-industry workers face unusual hurdles in the effort to get to the polls.
Photo: BILL WECHTER/AFP/Getty Images
Voter turnout has dipped to its lowest point over two decades, but Election Day still isn't a holiday. For many people, simply finding the time to go to the polls can be a struggle, but this year, in the wake of a midterm election where margins are close and so much is at stake, restaurateurs across the country are taking action to boost voter turnout among their employees.
A number of companies like Walmart, Lyft, and Patagonia have announced measures to encourage employees to vote, but for workers and operators in the restaurant industry — where margins can be razor-thin and labor is notoriously difficult to find — the barriers to voting are uniquely high. The work is hourly, those hours are long and odd, and many of the people who work in restaurants are immigrants, people of color, and low-income individuals — groups that have historically been subject to voter disenfranchisement.
A number of states' laws mandate that employers give workers time off to vote, but that time doesn't always have to be paid, and there are often limitations on timing and the types of industries to which the rule applies. Adding to that, many hospitality-industry veterans say the issue isn't as simple as offering their employees the necessary time off.
In Sacramento, former bartender Kevin Dowell, now a marketing manager at Fords Gin, remembers feeling too exhausted after a late-night shift to get to the polls before they closed. So this year he's renting a van to drive bartenders to vote before their shifts start.
The national Middle Eastern fast-casual chain Cava recently announced that it will offer two hours of paid time off for employees across its nearly 70 locations to vote on Election Day. Cava co-founder Ted Xenohristos says that voting isn't otherwise a priority for many of his employees: "If we ask them, 'When are you going to vote?' they are like, 'When do I have time? I have kids and three jobs.'"
Other restaurant owners reported similar issues. Andrew Chau, the co-founder of the bubble-tea chain, Boba Guys, in New York and California, asked his staff members if they would realistically use paid time off to go vote. "They were all like, no," he says — so he decided to reward people for voting by offering a bonus hour's worth of pay.
Emily French-Dumont, the director of operations at Cultivar in Boston similarly tries to incentivize voting. She says most of her daytime employees go straight from work at the restaurant to another job. "If I don't give them time, how can I tell them that voting is important?" she asks. "If I want people to vote, I have to enable them to vote." She offers up to three hours of (unpaid) time off, and anyone who votes will be entered into a raffle to win a Visa gift card.
For a restaurant like Cultivar to give staff time off in the middle of the workday isn't as simple as sending out a memo, either — it requires significant planning ahead. French-Dumont says she'll have to call her evening cooks to come and cover extra shifts during voting hours. Samantha Lee, co-owner of the Chicago taproom and brewery Hopewell Brewing Co., will offer its employees two hours off to vote, and doing so will require Lee to alter her entire production and distribution schedule (Tuesday is typically her busiest day).
Even at the large, established restaurant company Union Square Hospitality Group (which will give employees three hours of paid time off), founder and CEO Danny Meyer says that because each restaurant is operated independently, managers will have the added challenge of staying in constant communication with their employees who are voting and making sure there are enough people to cover busy shifts. He says the company also considered closing restaurants on Election Day, "but if I close our restaurant for a day or a meal I will never get that back," he says. "People won't be able to earn money."
To Ksenia Artemyeva, the people operations manager at USHG's Maialino and Gramercy Tavern, the extra time off is a game changer. This month marks not only the start of the busiest time of the year for the restaurants, but it is also her first time voting, as she recently became a U.S. citizen. "I didn't realize that everyone is registered to vote at a certain place, and you can't just go anywhere," she says. It means a lot to her "to have the opportunity to go and vote and not worry about running late to work."
Union Square Hospitality Group also put together a task force that made posters in both English and Spanish to help the staff learn how to register, and distributed prestamped envelopes. The other owners who spoke with Grub Street say they've also taken steps to help their staff members. At Hopewell, Lee has encouraged employees to vote early, since that option is available in Illinois, and worked with the ACLU to put on a number of voter engagement events. Cava partnered with the organization Vote.org to provide employees with state-by-state breakdowns on when to register, polling hours, locations, and absentee ballots.
Of course, awareness doesn't guarantee a boost in turnout, but French-Dumont, for one, believes that the number of issues (immigration, minimum wage) relevant to restaurant workers that are in play during this election will ultimately be enough of a motivation. "All these things greatly impact us," she says. "We don't want our employees to vote a specific way, but we want them to feel empowered and have the knowledge to do it."