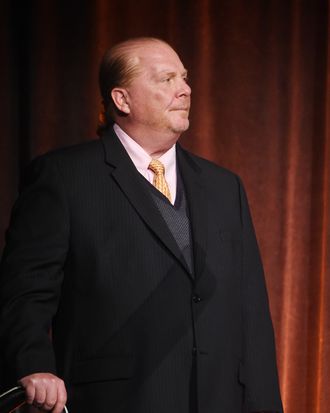 Mario Batali.
Photo: Jamie McCarthy/Getty Images
In the wake of the #MeToo movement, nearly a dozen prominent men in the food and beverage industry have been accused of sexual assault, harassment, and abuse. But many aspects of the stories have come in fits and starts as more victims speak up and the accused negotiate ownership of their companies, take on legal battles, and, in some cases, deny the charges against them.
With the news that Mario Batali has been bought out of his ownership stake in B&B Hospitality, we're reminded that the constantly moving parts of his story and other men's have made it difficult to paint a comprehensive picture of whether any real change is being affected within an industry where sexual harassment and assault remains rampant. In an effort to bring an iota of clarity to the situation, Grub has compiled a detailed list of the accused chefs and business owners, the allegations against them, and the aftermath. Unsurprisingly, while many of these men's reputations have taken a serious hit, their wallets and their businesses haven't.
That said, women within the industry aren't staying quiet. Groups like Women in Hospitality United and the New York Women's Culinary Alliance have made fighting sexual assault and harassment in the industry a part of their bottom lines, while tools like the National Sexual Assault Hotline remain as vital as ever. Whatever the fate of these men, there's certainly no going back now.
Mario Batali
Restaurant Group: Batali & Bastianich Hospitality Group
Accusations
On December 11, four women accused the celebrity chef of inappropriate touching dating back some two decades. Batali admitted that the accusations "match up" with his behavior, issued an apology, and stepped away from the day-to-day operations of his company. In the days after, further accusations from five more victims came out and Batali was linked for the first time with sexual misconduct at the Spotted Pig, co-owned by restaurateur Ken Friedman, who had also been accused of sexual assault and harassment.
Aftermath
Batali was fired from ABC's The Chew (which was canceled soon after) while the Food Network discontinued efforts to revive Molto Mario. Eleven days later, Eater published a follow-up report in which several staffers claimed that harassment and abuse were rampant within the entire B&B empire. In response, the company announced that it would rename the group, create a new leadership structure that would put chefs Lidia Bastianich and Nancy Silverton in greater positions of power, and focus on bettering the company's work environment. A 60 Minutes segment on Batali and Friedman later confirmed that the NYPD was actively investigating Batali for rape. After the segment aired, B&B issued a statement that Batali would fully divestfrom the company by July 1.
In late May, Joe Bastianich told 300 Las Vegas employees that B&B's three restaurants in the city would close on July 27 after Las Vegas Sands Corp. opted to end its relationship with the group. On May 30, a group of women outside of the hospitality industry came forward to accuse Batali of groping them and forcibly kissing them, among other things. In August, one of these women sued Batali for an alleged assault in Boston. On March 6, 2019, Batali was bought out of all his shares in B&B Hospitality and began the process of giving up his minority stake in Eataly USA, a process that was completed in August 2019.
In May 2019, Batali pleaded not guilty in the case against him in Boston.
Thomas Carter
Restaurant Group: Matter House
Accusations
On August 9, Eater published a report where more than 30 former employees of Matter House (the group behind Flora Bar, Estela, and Café Altro Paradiso) alleged rampant verbal and mental abuse by co-owner Thomas Carter. Among the accusations leveled against him are reports that he made sexually suggestive comments about female employees' bodies and personal lives, often berated male and female employees alike, and generally created a "culture of fear."
Aftermath
A day after the Eater story, Carter announced that he would step away from the restaurants "to reflect and continue the leadership and workplace training that has resulted in vast improvements in my choice of words and in our culture over the past year." On December 21, Matter House announced via a report in the Times that chef and co-owner Ignacio Mattos had successfully bought Carter out of his ownership in the restaurant group after the two came "to a mutual agreement to part ways." Accordingly, "Carter has resigned from all of his positions and will no longer be associated with the restaurants or management company."
Mike Isabella
Restaurant Group: Mike Isabella Concepts
Accusations
On March 19, the Washington Post reported that Chloe Caras, a former manager at Mike Isabella Concepts, had filed a lawsuit against the company, accusing Isabella and his business partners of subjecting her to "extraordinary sex-based hostility and abuse" before firing her. A former pastry sous-chef, who described the environment at MIC as degrading to women, also told the Post that Isabella kissed her on the cheek without her consent and often used words like "bitch" and "whore" in reference to women in the workplace. Isabella and his partners denied all accusations. In all, 25 employees talked to the press, many of whom declined to go on the record in fear of violating their NDAs.
Aftermath
Following, the Post story, Isabella was dropped by his PR firm, his image and name were scrubbed from a handful of events and websites, and the Restaurant Association of Metropolitan Washington blackballed Isabella from its annual RAMMY Awards. Around the same time, chef Michael Rafidi, who ran MIC restaurants Arroz and Requin, announced that he would leave the company on April 22, saying only that he wanted to focus on opening his own restaurant. Shortly after, the Washington Nationals closed two Isabella restaurants within the team's ballpark. On May 7, MIC settled the Chloe Caras lawsuit for an undisclosed sum.
In September 2018, news broke that MIC had filed for Chapter 11 bankruptcy after closing a handful of restaurants over the summer. In an interview with the Post, Isabella blamed falling profits at his restaurants on "bad press" following Caras's accusations, though he said he was "taking full responsibility for everything that has happened." In a Chapter 7 filing made on December 11, Isabella blamed several news outlets, including Grub Street, for "incessantly report[ing] on Mike Isabella's failures as a chef and business man."
"Under the present circumstances, I am facing the sad realization that I no longer believe that any restaurant associated with my name can recover from the negative press that has enveloped me for nearly the entirety of 2018," Isabella wrote in court documents. In February and March, equipment, decor, and more items from the chef's restaurants were put up for auction by a bankruptcy court.
John Besh
Restaurant Group: Besh Restaurant Group (now BRG Hospitality)
Accusations
On October 21, an eight-month-long investigation into New Orleans celebrity chef John Besh revealed rampant sexual harassment within his restaurant group. Female employees alleged that Besh himself subjected them to unwanted sexual advances, sexual assault, and gender-based discrimination. In all, 25 former and current employees came forward with stories of abuse, including two women who filed formal complaints with the federal Equal Employment Opportunity Commission, citing the company's lack of an HR department. Besh denied all allegations of assault against him while admitting that he engaged in an extramarital affair with one female employee.
Aftermath
Two days after the report, Besh stepped down from the Besh Restaurant Group. Over the next few months, he was quietly edited out of episodes of Top Chef and Iron Chef America while American Public Television pulled the chef's shows, Chef John Besh's New Orleans and John Besh's Family Table, off the air. As of today, Besh remains a co-owner of the renamed "BRG Hospitality," though there are reports that he is in the process of divesting. In October, Eunice, a Houston restaurant that he's a partner in, opened with no mention of Besh. A few weeks later, the John Besh Foundation removed his name, adopting the name Made in New Orleans instead and hiring local nonprofit expert Lauren Darnell as the foundation's new executive director.
Within BRG, server-turned-chief operations officer, Shannon White has taken over as CEO of the company. One of her first edicts was to create an anonymous tip line for employees, which resulted in the firing of four managers and a dozen other employees for inappropriate behavior.
In February 2019, Besh was bought out of all his shares in Johnny Sánchez, a popular Mexican restaurant he co-founded with chef Aarón Sánchez. The new ownership group plan to rename the restaurant as well.
Johnny Iuzzini
Business: Consultancy Sugar Fueled, Inc.
Accusations
Shortly after Thanksgiving 2017, four former employees accused the celebrity pastry chef of sexual harassment, including groping and verbal abuse during the final two years of his tenure at Jean Georges. In a statement, Iuzzini said, "I am shattered and heartbroken at the thought that any of my actions left members of my team feeling hurt or degraded," though he went on to deny parts of the allegations. In early December, four more women stepped forward, including two who said Jean Georges management knew of Iuzzini's behavior as early as 2004, while another woman said that she filed a lawsuit against the company in 2010 after Iuzzini "physically threatened her."
Aftermath
After the second group of women came forward with allegations against Iuzzini, ABC abruptly canceled The Great American Baking Show, on which the pastry chef was a judge, after airing three episodes of the show's third season. Later, ABC shared a Facebook Live interview with the winner of the canceled season, Vallery Lomas, who said that "unfortunately, because of the actions of Johnny Iuzzini, we are not able to broadcast the show as was originally planned," adding that "as a woman I have experienced harassment myself, I have experienced disrespectful comments, and I know firsthand the pain those comments and those actions can cause." At press time, Iuzzini maintains control of a bean-to-bar chocolate factory that he launched last year, as well as a regular presence on social media. In December 2018, The Great American Baking Show returned, with Iuzzini replaced by reality-TV chef Sherry Yard.
Ken Friedman
Restaurants: The Spotted Pig, Salvation Taco, White Gold Butchers, and others
Accusations
In December 2017, ten women came forward to accuse Ken Friedman of sexual assault. They also said that they asked Friedman's frequent collaborator chef April Bloomfield for help, but nothing changed. In the same report, Mario Batali, an investor in the Spotted Pig, was accused of sexual harassment and assault during various parties held on the restaurant's third floor. While Friedman disputed how some of the interactions were characterized, he publicly apologized.
Aftermath
Shortly after the story went public, Friedman took an indefinite leave of absence from the management of his restaurants. Meanwhile, Bloomfield issued a statement saying that she referred employees with complaints to an outside mediator, adding, "Nonetheless I feel we have let down our employees and for that I sincerely apologize." In March, chefs Erika Nakamura and Jocelyn Guest left White Gold Butchers, which closed a few months later. In May, it was revealed that Bloomfield and Friedman were actively working to dissolve their partnership, handing Salvation Taco at the Pod 39 Hotel over to Alex Stupak of Empellón, while in Los Angeles, several key employees left the duo's restaurant Hearth & Hound. GFI Hospitality, the company that recruited Friedman and Bloomfield to open the Breslin and the John Dory, both in the Ace Hotel, handed control of the restaurants over to Bloomfield, and in October 2018 sued Friedman for allegedly mismanaging funds at both restaurants.
In June, chef Gabrielle Hamilton and her wife, Ashley Merriman, announced that they planned to take over the Spotted Pig, but in September, the pair shared the news that they were backing out of the deal after the group couldn't agree to the terms of the deal. A day later, April Bloomfield gave her first interview since the accusations against Friedman, saying that she was also a victim of his behavior and that "I failed a lot of people." Since breaking with Friedman, Bloomfield has closed their L.A. restaurant Hearth & Hound and will also close The John Dory Oyster Bar.
On December 18, 2019, Friedman agreed to a $240,000 settlement with 11 victims brokered by the New York attorney general's office. Additionally, Friedman agreed to pay 20 percent of his profits from the restaurant to victims over ten years or 20 percent of the earnings should he sell his stake in the restaurant or sell the restaurant itself. Friedman was also barred from any day-to-day role in operations or management at the restaurant.
Charlie Hallowell
Restaurant Group: Analog Food Conspiracy
Accusations
In December 2017, San Francisco chef Charlie Hallowell was accused of sexual harassment and verbal abuse by 17 former employees. Hallowell issued an apology, calling his behavior "unfiltered and often completely inappropriate," before stepping down from day-to-day operations of AFC and no longer receiving a salary. Three months later, 14 additional employees of Hallowell and his business partner Richard Weinstein levied charges against the pair, saying that calls for a systematic change at the company went unanswered long before allegations were made public.
Aftermath
Hallowell hired an attorney to conduct an internal investigation and recruited a female COO, Donna Insalaco, to lead the restaurant group. Over the summer, Hallowell and Weinstein sold their restaurant, Boot and Shoe Service, to a former employee after seven chefs and managers resigned en masse in protest of the men's continued ownership. Another report claims that the pair planned to sell their restaurant, Penrose, as well, but that deal never went through. After announcing over the summer that he planned to return to work, Hallowell shared a 12-point plan for his reentry that included making Insalaco a co-owner and managing partner after ousting Weinstein, hiring a third party HR company, and a monthly event where Hallowell will be dropped into a dunk tank (seriously), among other things. In late October, Insalco and Hallowell opened their newest restaurant, Western Pacific.
In her first-ever newsletter as the restaurant critic for the San Francisco Chronicle, Soleil Ho stated that she has no plans to review Western Pacific or any of Hallowell's restaurants. "I don't have to go anywhere I don't want to go," Ho wrote. "I consider my refusal to grant publicity to chefs like John Besh, Mario Batali or Charlie Hallowell as another line that I won't cross, for both public and my personal health."
Jeremy Tooker
Company: Four Barrel Coffee
Accusations
In January, two former female employees filed a lawsuit against third-wave coffee chain Four Barrel Coffee and its owner, Jeremy Tooker. The two women, plus eight other employees, publicly accused the company of creating a hostile work environment, selling sexually explicit merchandise, and summarily dismissing HR complaints. Tooker was individually accused of groping, forcible kissing, and other sexual misconduct.
Aftermath
The weekend after the accusations came out, Tooker divested his 50 percent stake in Four Barrel. In a short-lived attempt to rebrand, co-owners Jodi Geren and Tal Mor temporarily changed the shop's name to Tide and announced plans to turn the company into a 100 percent employee-owned venture; they also settled the lawsuit with the two former female employees. At the end of January 2017, the pair announced that after losing 50 percent of their wholesale business, they would move their roastery from Oakland to San Francisco while also laying off seven employees. The company currently pays for counseling for employees and has established an external HR department. Mor and Geren have yet to fully divest from the company, and as of today, ownership of Four Barrel had not been shifted to employees.
Randall Goldman
Company: Patrick Properties Hospitality Group
Accusations
In late February, eight former employees of Randall Goldman, the CEO of Charleston's Patrick Properties, stepped forward to accuse the local businessman of sexually suggestive behavior that included unsolicited back rubs, kisses, and late-night text messages. Goldman denied the charges, saying no complaints were ever filed against him. Owners Celeste and Charles Patrick defended Goldman.
Aftermath
A day after the report came out, the board of the Charleston Wine + Food festival voted unanimously to oust Goldman. Meanwhile, through their attorney, the Patricks said that their company "is committed to a safe workplace, will investigate any complaint, and will take appropriate action whenever warranted." Over the next week, Goldman resigned as CEO and as a member of the James Beard Foundation's National Advisory Board and the Greater Charleston Restaurant Association.
Mike Ray
Restaurants: Normandy Farm Bakery and One Broad
Accusations
On October 26, Ray's event space, One Broad, hosted a cocktail reception for an organization showcasing four female-owned businesses in Charleston, SC. During a photo op, Ray stepped in front of the camera, pulled his pants down to his ankles, and exposed himself.
Aftermath
Three days later, Ray announced that he would step away from his day-to-day duties and seek counseling. In a statement to the press, Ray said, "I know that I am better than my actions. I hope to recover and come out a much better and healthier person." On October 31, he was charged with indecent exposure by local police.
Eric Korsh and Junsoo Bae
Restaurants: Union Square Hospitality Group's North End Grill and Gramercy Tavern
Accusations
On March 9, former and current employees of Gramercy Tavern and North End Grill accused former sous-chef Junsoo Bae and former executive chef Eric Korsh of inappropriate touching and comments, as well as verbal abuse. Staffers said that despite filing complaints with HR about Korsh and Bae, leading to an internal slap on the wrist for both chefs, no real action was taken until Korsh and Bae were fired in late 2017 along with other male staffers.
Aftermath
Days after the report, Korsh left his job as the executive chef at Racines NY, a wine bar in Tribeca. In a statement, Korsh said, "I sincerely apologize to those colleagues who I made feel uncomfortable through my actions. As I plan the next phase of my career, I am committed to building and maintaining respectful establishments with no tolerance for unprofessional behavior." At press time, Bae's employment status is unknown.
Julian Medina
Restaurants: Toloache, Yerba Buena, and Tacuba
Accusations
In August 2017, Olga Ramos, a bartender at Medina's restaurant Toloache, accused the chef of blackmailing her with a sex tape that was recorded without her consent while the two were reportedly having a four-year affair. After the relationship ended, Ramos says Medina harassed her on the job and showed up at her house drunk, leading her to file a lawsuit seeking $500,000 in damages.
Aftermath
A few weeks after Ramos's allegations were made public, the case was voluntarily dismissed with prejudice, which may mean that the two parties agreed on a private settlement. Since the allegations, Medina has announced that he will open a new restaurant on the Upper West Side and another at La Guardia Airport.
This post will continuously updated with new information.