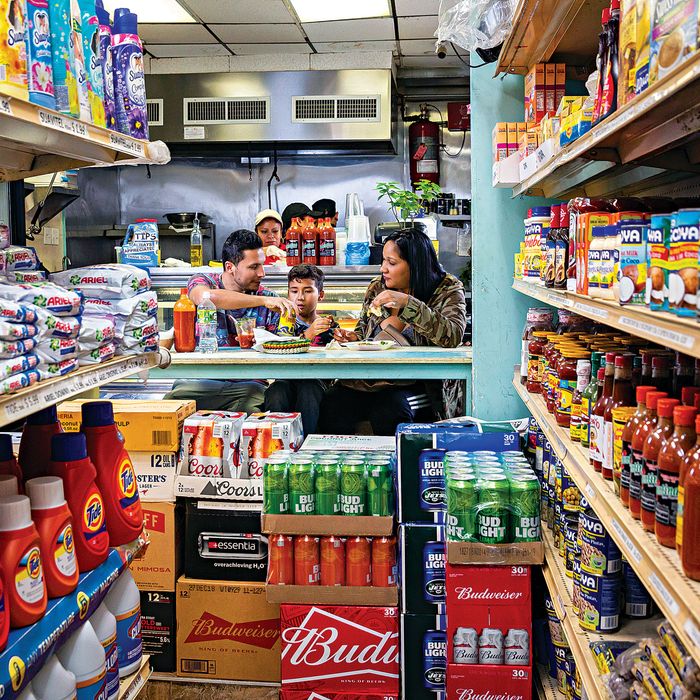 Behind the laundry detergent, Veracruz-style seafood cócteles and octopus tacos at La Esquina del Camarón Mexicano.
Photo: Natan Dvir
Does food taste better if it's hard to find? Is supper more satisfying when obtaining it requires Sherlockian intuition and the tracking skills of a seasoned bloodhound? For intrepid gastronauts, the answer is yes: The journey is the reward. But the cheap, simple, soulful grub at the hidden places that follow would hold its own even if it were dished up from some slick spot in the middle of Rockefeller Plaza at Christmastime. By "hidden," we don't mean faux speakeasies and underground supper clubs but establishments that are secluded by necessity rather than artifice — ones that trade visibility for affordable rents and are easy to overlook unless you seek them out. These often-makeshift kitchens turn up in unexpected places, from Hindu-temple basements to Garment District loading docks. Even if initially intended to serve a specific community, they welcome outsiders, both to share their culture and turn a profit. You might have to head upstairs or downstairs or squeeze behind some grocery shelves, but you'll be rewarded with a view and a taste of the city that you might never have known existed.
Spiritual Suppers
"Are you here to pray or dine?"
Stuffed cabbage, borscht, vareniki, and pampushki are not unusual things to chance upon in the East Village, even if the number of Ukrainian and Polish restaurants in that neighborhood has dwindled over the years. You don't, however, expect to find them — especially in such fine form — behind a door hidden beneath a stairwell that leads to a homey basement dining room. (Just look for a blue-and-gold banner written in Cyrillic letters, then down.) This is Streecha, a crackerjack Ukrainian kitchen set up to raise money for the St. George Ukrainian Catholic Church across the street. Most of Streecha chef Dima Kovalenko's customers are hungry expats freshly released from Sunday Mass, but everyone is welcome here. In fact, on Friday mornings, a little group of volunteer vareniki makers, traditionally elderly women, gather in the kitchen to prepare 1,500 of the righteous potato-stuffed dumplings for the week ahead. "Everyone is welcome to come by and make the vareniki, too," says Kovalenko.
"Are you here to pray or dine?" the welcoming presence seated by the door of the Hare Krishna Temple off Flatbush Avenue intones in a mellifluous voice as you enter. If your answer is the latter, he directs you downstairs to Govinda's Vegetarian Lunch, a modest steam-table affair that has operated weekdays for over a decade out of the temple's banquet hall. (Friday-night dinner service launched last month.) Though proceeds benefit the temple, your whopping $12 Indian-accented "complete meal" doesn't come with a side order of proselytizing. Instead, you can expect a tray heaped with a hearty main (if it's Thursday, that means eggplant parm, satisfyingly crusty and cheesy and vaguely nutty from the chickpea-flour breading); warming, mildly spiced curries (cauliflower-and-potato; string-bean-and-carrot); two or three fresh salads; a cup of soup, like split-pea dal; and a mound of turmeric rice and pinto beans that will see you through winter, or at least the first cold snap. It's comfort food with a veggie co-op flair, served in a refreshingly calm environment that, with its soft spiritual music and ban on loud cell-phone conversations, is the antidote to noisy-restaurant syndrome, not to mention the perpetual cacophony just outside the temple walls.
More authentically Indian vegetarian fare awaits at the Hindu Temple Society of North America's Temple Canteen in Flushing, a citywide destination for dosas, uttapam, idli, vada, and the rest of the South Asian vegetarian oeuvre. It's a huge subterranean space, full of families, church members, and culinary pilgrims, all drawn by the excellent food and no-frills setting. You order at the counter, where menu items flash on overhead screens; then, while you wait for your number to be called, you can peruse the displays of used devotional books, Indian DVDs, and even a pair of his and her golf clubs someone's hoping to dispense with. The light is harsh, the chairs folding. But once you retrieve your cafeteria tray from the open kitchen, you are transported by the crispness of the dosas, rolled or folded or embedded with chiles; the soft, appealingly greasy chew of the pancake-like uttapam; the creamy tang of yogurt rice. And if there's ever been a brighter, more vivacious coconut chutney served in a church basement, we don't know about it.
From a distance, nothing about the embassy-like facade of the Norwegian Seamen's Church indicates it's open to the public, and in fact, you need to be buzzed in. But once inside, you'll find a café space in front of the chapel, its shelves stocked with imported foodstuffs, and a central table set up with a platter of soft round waffles, bowls of jam, and a pot of coffee to which you're invited to help yourself. There should be no mistaking this Turtle Bay retreat for Starbucks, though — you will likely be cheerfully accosted by visiting Norwegians staying in the dwellings upstairs, assorted pastors, and other sunny Scandinavians who are as eager to find out what brought you there as they are to share every detail about the culture, the cuisine, and the history of the organization, which goes back 150 years and has outposts everywhere from Singapore to San Francisco. Beyond the daily waffles, there is porridge on Saturdays and a belt-loosening buffet lunch the first Wednesday of the month (recently it starred Norway's national dish, the rustic cabbage-and-mutton stew known as farikal). If you take a liking to the particular roast of coffee, you're in luck: It's not some rarefied Scandinavian brew, but Kirkland Signature Colombian, available at Costco.
With only a discreet sidewalk chalkboard advertising its presence within, coffee is also a prime attraction at the midtown café and reading room of the Church of Sweden in New York. Or maybe it's the things you want to eat while you're drinking coffee: puffy cinnamon buns; flatter, moister cardamom buns; coconut-crusted chocolate balls; and the green-and-chocolate marzipan candies called vacuum cleaners. (The church staff — two pastors, an educator, an administrator, and an organist — along with a ringer parishioner rotate the baking duties and acquit themselves well.) There's also bags of Swedish sweets that line the shelves of the canteen in the rear of the reading room, which resembles a warm, high-ceilinged library in some private club, filled with tall, blond humans dandling their small, blond babies. In fact, there is a distinct family spirit on display here, as befits a place where transplanted Swedes go to schedule baptisms, weddings, and other rites of passage, and take the opportunity to tuck into excellent egg-and-anchovy smørrebrød while they're at it. The best time to come, though, is on the second Thursday of the month, for the traditional Swedish pairing of split-pea soup and pancakes–which happen to be the specialties of the organist and the junior pastor, respectively.
The Adaptive-Space Bakery
Classic French breads and artful cakes and cookies behind generic office-building façades, and a doughnut shop in a car wash tunnel.
If sweets are the ultimate impulse purchase, it might seem counterintuitive to open a bakery where passersby can't see it. But that's undeniably part of the charm of Burrow, a petite glass-fronted patisserie in the back of the lobby of a 20th-century tea factory–turned–co-working space in Dumbo, now home to digital-media companies and the Brooklyn Bridge Fencing Club. Chef Ayako Kurokawa initially intended the location to be merely a production kitchen but opened it to the public in 2014, and has become known for her idiosyncratic, artistic takes on classic French desserts with Japanese and American twists. The main attractions are cookies and cakes, elegant tiered constructions of cream and mousse and sponge in flavors like chestnut and green tea. Do not miss the miracle of perfection that is the gâteau Basque. The décor, with its carved-wood display case and antique-shop touches, is as quirky and personal as confections like cheese-stuffed madeleines and smoked-salmon loaf cake.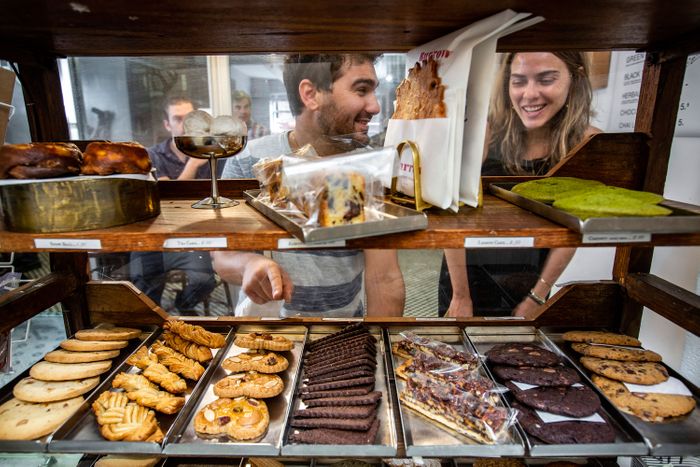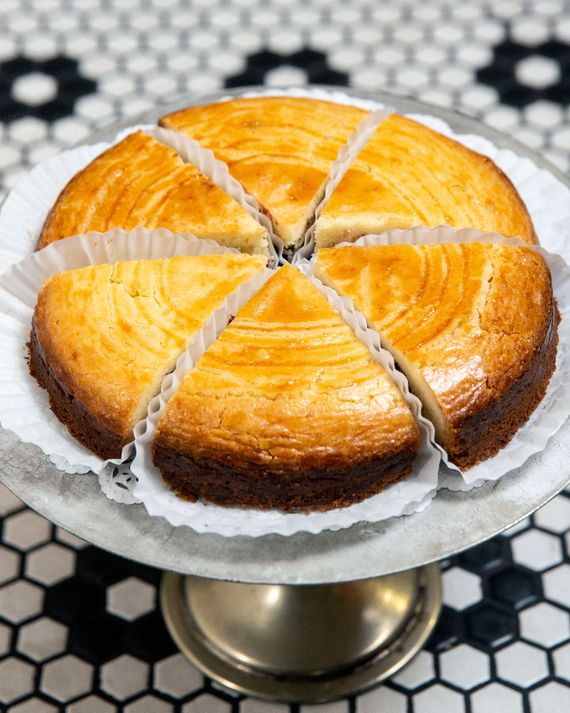 Burrow's Manhattan equivalent is Arcade Bakery, which gracefully occupies a Tribeca office-building corridor that fell dormant after its main lobby was resituated. Baker Roger Gural had intimate knowledge of the unused space, as his family manages the property and he had once lived there, and — influenced by Japan's tradition of tucking all sorts of commercial spaces into obscurely located nooks and crannies (see: Jiro Dreams of Sushi)–he transformed it into a one-of-a-kind retail shop and café. Naturally-leavened loaves are sold whole and sliced for grab-and-go sandwiches; buttery breakfast croissants and babka perfume the air; and baguette dough finds new life as chewy-crisp crusts for Neapolitan-style pizzas that can be preordered online. Gural and his architects even brainstormed a seating strategy that circumvented the hallway's sloping floors—wood-paneled cubbies with drop-down tables.
While it's true that Underwest Donuts can be found at any number of coffee shops these days, it's still a kick to procure them from the original source, a doughnut shop ensconced within a '50s-era automated-tunnel car wash along the West Side Highway. As soon-to-be-spotless cars chug along the car-wash conveyor belt, you can watch the doughnuts as they're similarly hustled through a Belshaw Adamatic Donut Robot — the same kind of Rube Goldberg device they use at Dreesen's in East Hampton. The arrangement isn't as random as it sounds: Doughnut maestro Scott Levine's father-in-law owns the place. Though all the basic flavors and then some are covered, we're partial to halva, which has tahini in the batter.
Loading Dock Lunches
Rice, beans, and rolling racks of designer duds.
For 25 years, Quito, Ecuador, native Tony Molina has been slinging rice and beans at El Sabroso, the Latin American lunch counter he runs in the Garment District. Five days a week, Molina wakes up at 5 a.m. to get to Manhattan from his home in Jackson Heights in time to prep for the lunch rush. That there's a lunch trickle let alone a rush is impressive, considering that (a) El Sabroso is virtually invisible from the street, with signage as inconspicuous as those fading old-timey ads from the early-20th century that linger on brick buildings around town. And (b) the six-stool, one-table restaurant is located behind a pair of prison-strength metal doors at the end of a windowless freight hallway. Also: The floors are concrete, the plates are Styrofoam, and the brick walls are covered with diamond-pattern brushed-aluminum panels. In other words, no one in search of lunch has ever mistaken El Sabroso for Sweetgreen. And yet, like clockwork, a hungry noontime mob appears. What draws this crowd? Roast pork, chicken stew, and braised goat, among other meaty comfort-food dishes all served with heaping helpings of the aforementioned rice and beans ($7 to $8.50). It's good, cheap, soulful stuff that will fix you up. If you detect that certain maternal quality often found in the finest home cooking, it's no wonder: Molina credits a Dominican woman he worked with at a restaurant in Queens when he arrived in New York in 1972 with teaching him how to cook like a team of Latina grandmas. Another female colleague who worked with Molina at El Sabroso sold him, for $450, her recipe for the joint's much-talked-about secret-weapon hot sauce that she had kept to herself until she retired a few years ago. Does Molina ever dream of opening a restaurant with more natural light and fewer freight elevators? "I never even think about it," he says. "I love it here, and so do my customers."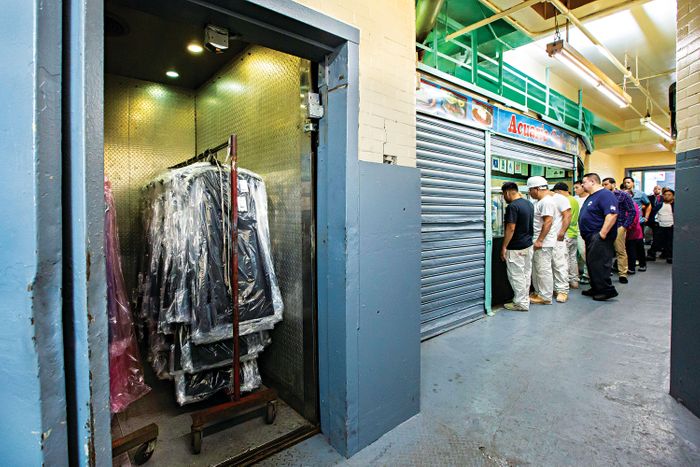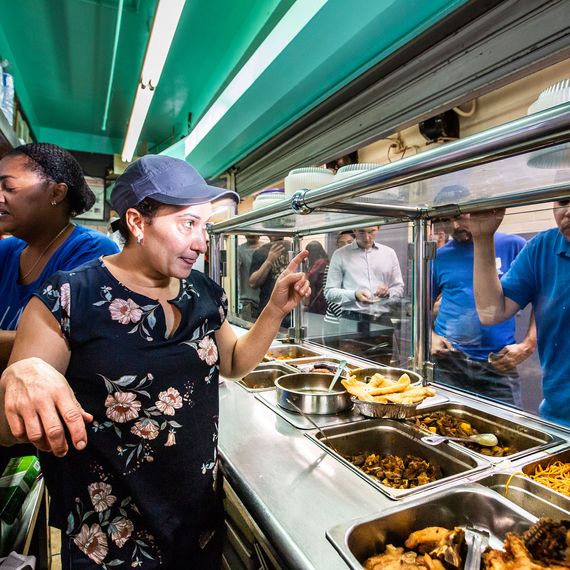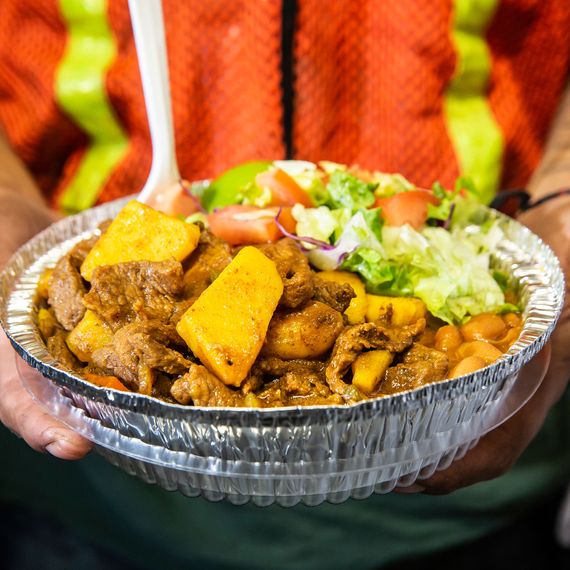 The other great, tucked-away place to eat in the immediate vicinity has no outer signage whatsoever. Just look for the open freight-entrance doors or the steady flow of traffic through them, and you've arrived at Acuario Cafe, a rival Latin lunch counter that, like El Sabroso, offers a calm refuge from the frenzied street and shares a similar philosophy regarding interior design: brick walls, concrete floors, and a Loading Dock Gray color scheme. High chairs line wall ledges; up above hang pictures of anonymous celebrities, plates of food, and, most reassuringly, the city-bestowed A letter grade, not merely tacked or taped to the wall but framed like a dentist-office diploma and prominently positioned next to a dusty photo of what appears to be a young Sofia Vergara in a bikini. The man responsible for this shipshape operation is Rodolfo Perez, who opened Acuario in 1991 to feed his fellow garment workers, and has seen his clientele change with the neighborhood. Now, you're just as likely to rub elbows with a tourist camped out at one of the block's three spiffy hotels as with a truck driver, construction worker, or security guard. Everyone's there for the same thing: a tinfoil container loaded with rice (white or yellow, which sells out first), soupy legumes (pinto beans or lentils), and the kind of Dominican-style comida intended to fill the belly of the guy who pushes Z-racks through garmento-mobbed streets all day as if training for an Olympic sport. The counter ladies are as cheerful as they are efficient, and will give you a rundown of the steam table's stewed, roasted, and fried plats du jour without holding up the proceedings. The fried fish has a loyal following, as does oxtail stew, but even vegetarians can find midday sustenance with a helping of berenjena, or eggplant, cooked down to a saucy pulp.
Back-of-the-Bodega Binges
In Queens and Brooklyn, convenience shops with serious culinary chops.
As long as New York has had its version of the convenience store, it's had shopkeepers savvy enough to sell prepared food along with the everyday necessities of urban life. Korean delis had their maximalist kitchen-sink salad bars; Latino and Yemeni bodegas, their flattop ninjas able to effortlessly memorize the quirks of regulars' orders and customize everything from the essential egg on a roll to the city's own improvisatory chopped cheese. Lesser known, perhaps, are the bodegas that hide makeshift kitchens and a table or two behind cramped shelves stacked with Goya beans and Tide detergent. One such is Jackson Heights's La Esquina del Camarón Mexicano, a tiny slice of Veracruz in the shadow of the elevated 7 train. Here, Pedro Rodriguez puts the lessons he learned as a child in Mexico City, from a Veracruzana cook, to excellent use. His claim to fame are the Mexican-style seafood cócteles he began selling on an Elmhurst sidewalk several years back—plastic cups filled with chewy octopus and firm shrimp in a sweet and briny tomato-based sauce seasoned with clam juice, olive oil, and a touch of orange. But over the years, as he worked out an arrangement with the Indian owners of the Roosevelt Deli Grocery Corp. and built a kitchen in its rear, he's expanded his menu to include coastally inclined antojitos: superb fish tacos filled with flaky fried or grilled sea bass; shatteringly crisp flautas stuffed with a mash of dogfish and crowned with crema; and, best of all, steaming empanadas with more of that sea bass buried below a few velvety wedges of avocado. Seating is restricted to a single communal table and window benches, and the cozy arrangement encourages diners to bond over their seafood snacks. "Food has to have flavor," one discriminating gourmand from Flatbush pronounced recently as he passed the bowl of housemade salsa roja. "If it doesn't have flavor, I won't be back." Needless to say, this wasn't his first visit.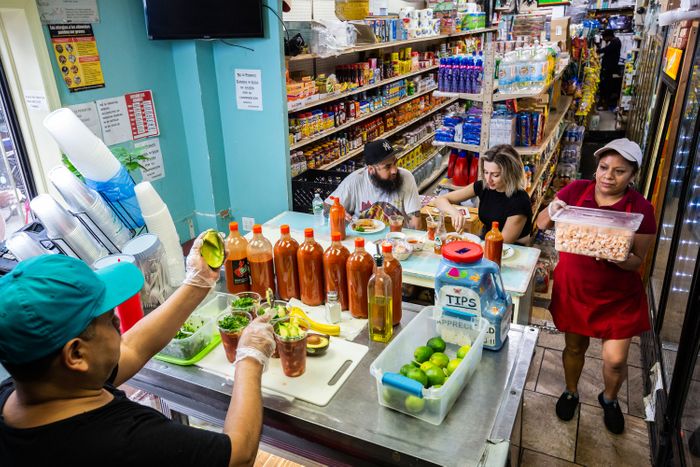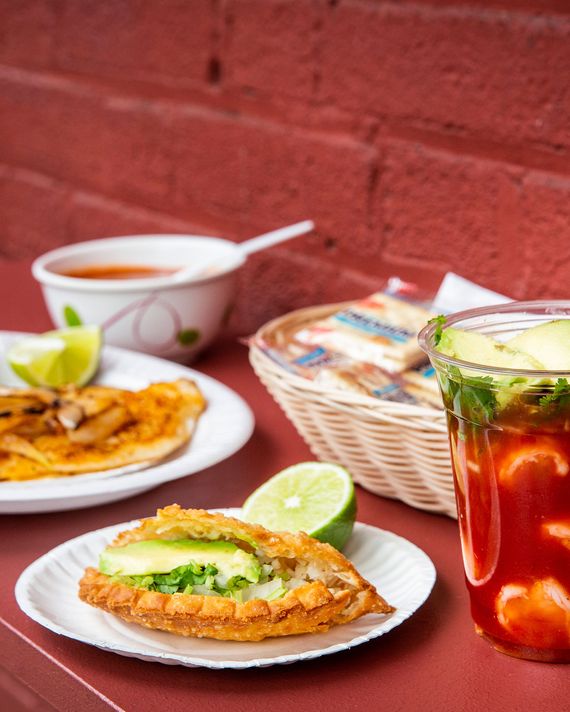 If La Esquina has cornered the market on the bodega fish taco, a quick stroll east brings you to its meaty counterpart at Cinco de Mayo Food Market, which is less a bodega than a mini-Mexican-food emporium, replete with overflowing sidewalk fruit stand, pastry cases, bulk-bin beans, carniceria, Day of the Dead paraphernalia, and—squeezed inconspicuously between the butcher case and the dried-chiles display—weekend taqueria. "When it's not available every day, people look forward to it," says partner Juan Morales, channeling the marketing savvy of a pop-up chef or a Smorgasburg vendor as he manned the jury-rigged comal taquero one recent Saturday. Like a veteran pastrami slicer at Katz's, he proffers morsels of meat on butcher paper for prospective customers to sample: tender barbacoa in both lamb and goat form; crisp-edged carnitas; that excellent grab bag of pig parts called asadura. The meats are rich and unctuous, and made more so when swaddled in tortillas dipped into a reservoir of rendered tripe fat for extra flavor. Even the garnishes impress: whole charred chiles and spring onions, radishes for crunch and bite, and zesty salsas.
You'll find many of these same garnishes nearby in the back of the San Antonio Farm & Grocery, a place that evolved from an unassuming greengrocer into an all-purpose bodega, with juice bar up front and secret taco stand in the back. Only here, they're arranged on an impromptu toppings bar so diners can dress their own. It's a nice touch, but since the garnishes monopolize the taqueria's sole table, most business is takeout. One curiosity is the arroz y huevos taco, which cook Luciano Flores says is very popular in Mexico City, but if you're not in the mood for Mexican rice and a halved hard-boiled egg inhabiting your corn tortilla, you can opt for a chorizo-like pork sausage, chile relleno, or the salted beef called cecina, a favorite of Flores's brother Valentino, who manages the store and says that customers have been discovering the weekend taqueria by word of mouth. "I think that's the best advertisement."
In the ideal scenario, these impromptu cocinas grow so popular they spawn independent restaurants, which is what has happened down in Williamsburg, under another elevated-train line (the J/M/Z in this case), at the Mexico 2000 Deli Grocery. Two years ago, the owners opened a full-fledged cantina a couple doors down, but many customers still prefer the quasi-concealed intimacy of the subway-car-narrow bodega, with its modest eight-seat rear dining nook and an extensive menu that goes way beyond tacos to offer tamales and atole at breakfast, and daily specials like Saturday's superlative pork chops, drenched in a tangy tomato sauce.
Sometimes this process can work in reverse. Take, for instance, the case of Warung Selasa, an absurdly small and unadvertised setup in the back of an Indonesian grocery in Elmhurst called Indo Java, which sits above and below the Elm Spa massage parlor and Advani's Pest Control School, respectively. Anastasia Dewi Tjahjadi, the multitasking Warung Selasa chef and co-owner of the grocery, used to run a nearby restaurant called Java Village, where she gained a devoted following. When Java Village succumbed to a rent increase and closed in 2015, Tjahjadi began working as a private chef. This did nothing to alleviate the suffering of her former Java Village customers, who were deep in the throes of Indonesian-comfort-food withdrawal. So Tjahjadi, a kind soul, started cooking for her public again, but in the back of the grocery and only on Tuesdays (her day off), naming this makeshift operation Warung Selasa (warung means food shack or stall; selasa means Tuesday). On that day, Tjahjadi arranges two trim yellow tables and four folding chairs next to the Indomie instant noodles and gets to work in a kitchen whose compact dimensions would greatly interest the folks at Guinness World Records. The hours are roughly 11:30 a.m. to 8 p.m., and the menu is limited, by which we mean there's only one dish — whatever Tjahjadi is in the mood to cook. Recently that was longton sayur, a massive, murky, deceptively complex bowl of coconut-curry soup that did a good impression of an all-you-can-eat buffet, having been fortified with rice cakes, shredded chicken, stewed beef, curried tofu, green beans, carrots, and a deep-fried egg. At $10 it was a great bargain, and practically enough food to tide us over until next Selasa.
Deal, Then Dine
Finding a square meal and serenity amid market madness.
Everyone says the Tibetan momo (dumpling) specialist Lhasa Fast Food is located behind a mobile-phone store in Jackson Heights. Not so. In fact, it lies behind what seems like a whole gang of mobile-phone stores as well as the Tony Moe Unisex Beauty Salon, a Prahbu Money Transfer operation, SN Vajra Jewelers, a laptop-repair shop, and the Galilee Multi Services, should you be in need of a travel planner, immigration advice, or a quickie divorce. All these pint-size places reside in a claustrophobic cluster behind floor-to-ceiling glass-wall partitions separated by a twisty aisle. The overall effect is like entering a distortion-mirror fun house after a night of heavy drinking. To get to the momos, walk down the main aisle toward the small sign hanging from the ceiling with the name of the restaurant on it. Take a right before the stairs and go through a door, take a sharp left, walk about ten paces, open another door, and behold a 14-seat snuggery with a portrait of the Dalai Lama hanging above the semi-open kitchen in the rear. This is Lhasa Fast Food, home of some of the city's best and hottest Tibetan cuisine: super-spicy cold noodles mingled with bits of crumbled beef; so-called sushi liang-fen (wonderfully chewy inch-and-a-half-wide strips of mung-bean noodles brushed on one side with a fiery chile paste then rolled like cocktail-party pinwheels around little sticks of wheat gluten); and the main event, variously filled momos to dip in a chile sauce so hot it will make your eyes bubble and your earlobes sweat.
With a sign affixed high on the West 47th Street façade and a menu hawker stationed outside, Taam-Tov might be a little less technically hidden than it once was. But this diamond-district mainstay still feels like a secret you have to be in on, along with its regular clientele of Orthodox Jewish buyers, sellers, appraisers, polishers, cutters, and kibitzers. To get there, you enter the block-long mercantile fray, wend your way around a squadron of armored trucks, duck into an unmarked door, and climb two flights of stairs, some of them adorned with the names of the businesses residing above. The Central Asian fare is worth it: rib-sticking Uzbek and Georgian soups, the cilantro-green Bukharan rice pilaf called bakhsh, meaty skewers fresh off the grill (get the ground-beef lula). To balance it out, consider the sleeper sensation that is the garlic-and-tomato salad, bright and lively with a zingy vinaigrette. (Note: The menu lists the ingredients in that order for a reason.) There's kosher wine and pots of tea, and, to the best of our knowledge, the pastry of the day is always an oversize, doughy rugalach. Get one to go and pick up a $1 coffee at Robusta Espresso Bar, truly hidden in the back corner of the glitzy IGT shopping center across the street.
Old-World Outposts
Social clubs and community centers where expats gather for a taste of home.
About the Istria Sport Club in Astoria there is that certain aspect specific to social clubs, nightclubs, haunted houses, and dark alleys — a foreboding that makes you hesitate and ask yourself the following questions: Is it worth it? Can any good come from entering this potential danger zone? Will I, like Spider in GoodFellas, be forced to dance, then shot in the foot? Not to worry. Go ahead and ring the buzzer. Nothing at all to fear about this subterranean soccer-trophy shrine and home-away-from-home to the neighborhood's Croatian, Italian, and Slovenian expats who hail from that Adriatic-coast peninsula. Zlatko Ramic, the friendly host-waiter-historian and former football forward, will escort you to one of two white-linened dining rooms, or maybe, in warm weather, an outdoor table near the bocce court, then conduct a crash course on the menu. You want the hearty bean-and-cabbage soup called jota, the housemade pasta bows known as fusi, and the grilled cevapcici sausages made by the Croatian butcher down the block. Later in the evening, as the sun sinks over the bocce court, Zlatko may even strap on his accordion and serenade you with an old Istrian folk song.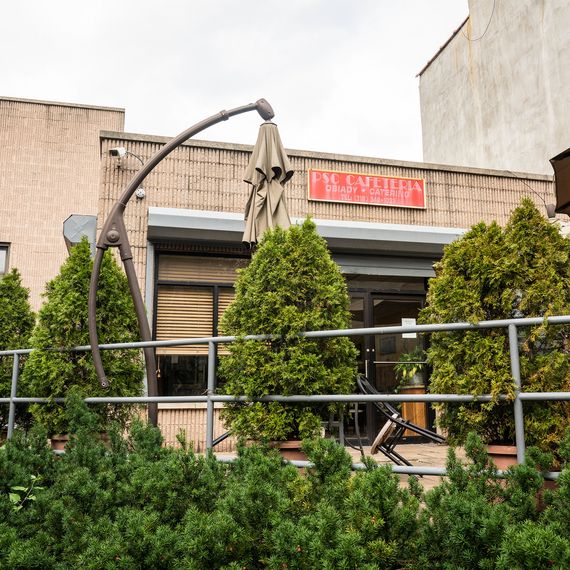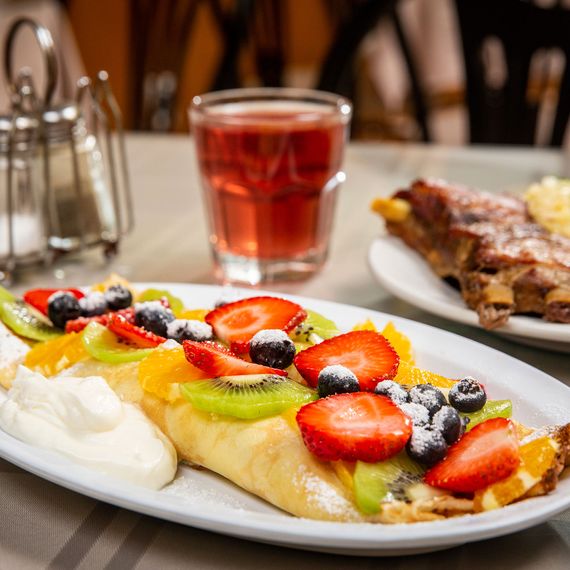 Although you do not need binoculars to spot the Polish & Slavic Center Cafeteria, this concrete bungalow is camouflaged by bushes and an iron gate, and far enough removed from the sidewalk to prevent you from seeing what exactly is going on behind its Venetian blinds. All is revealed when you step across the threshold to discover: twelve tables, one TV, lickety-split service, and a steady stream of hungry, mostly Polish, mostly solo customers. If these folk hoisting in their pierogi and pork-knuckle suppers seem glum, it must be the news from Poland on the television, because in quality, price, and portion size, the PSC kitchen can do no wrong. A soothing mug of hot borscht with a mushroom-croquette sidecar is $6; pyzy z miesem, two spongy meat-stuffed potato dumplings the size of papayas, are $9. Mains including the estimable Gorski mountain cutlet (crispy breaded pork with a fried egg on top) come with mashed potatoes, two salads, and a glass of the fruit drink compot. If you're up for dessert after you emerge from your food coma, you have at your disposal the best cheese blintzes in Greenpoint.
*A version of this article appears in the October 15, 2018, issue of New York Magazine. Subscribe Now!