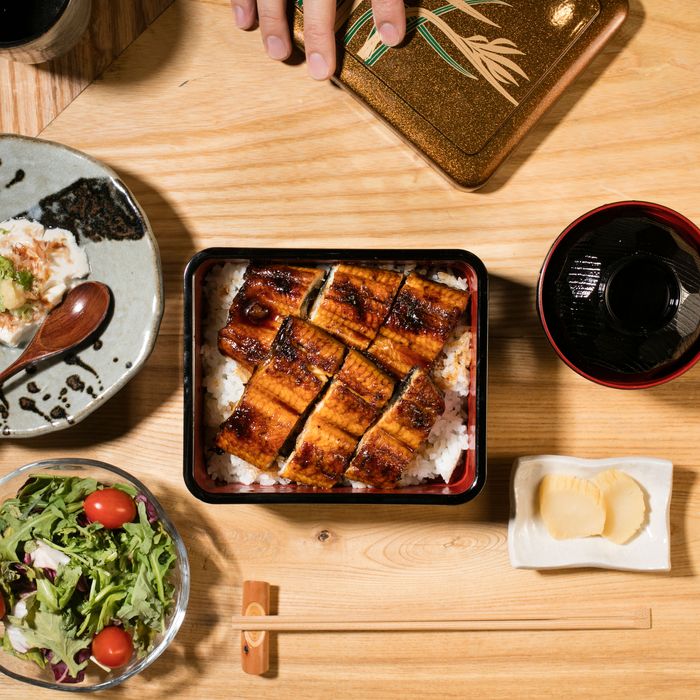 Eel. It's what's for dinner.
Photo: Melissa Hom
Eel is big business in Japan, where over 100,000 tons of unagi, or freshwater eel, are consumed every year. Unagi no kabayaki, or grilled eel with a sweet and savory glaze, even gets a holiday to itself (the Day of the Ox), while there are entire restaurants devoted to the speciality. Chef Okuno Hachibei's relatives have run unagi stands in Japan for the last eight decades, so it makes sense that he's lending his name (and expertise) to a new all-eel restaurant that will open this week in Manhattan.
Opening this Friday, the eponymous Unagi-Ya Hachibei is tucked away like a secret on the second floor of a midtown building. Its stark black walls, slate-gray floor, and red curtains draped along one wall help give it the feel of a canteen run for First Order soldiers, but the owners aren't so sinister: They're the same people behind restaurants like the East Village's late-night spot Ichibantei and have brought Hachibei on as a consulting chef.
Here, the menu consists of one option only: a set meal, available in both regular and large portions ($25 or $45 during lunch, $55 or $75 during dinner), built around unagi no kabayaki. The freshwater eel is butterflied and skewered, dipped in sauce made from Hachibei's own recipe, and grilled while brushed with more of that same sauce. It's served on top of rice, and the rest of the meal is rounded out by a salad, clear soup, chilled tofu with scallion and ginger, and daikon pickles. Down the line, they also plan to introduce beer, wine, sake, and cocktails.
During lunch, only 100 orders of the dish will be served, a move designed to help conserve some of the eel. The European Commission has considered a ban on fishing in the Atlantic, and in 2014, the International Union for Conservation of Nature announced that the American eel was at risk of extinction in the wild. (Eel-smuggling has become a lucrative business.) In Japan, the government found in 2013 that wild eel populations had declined by roughly 90 percent in only three decades and declared the species endangered. Last year, the country's Fisheries Agency said that the cultivation of glass eels (baby eels) had dropped from 15.4 tons to 8.9 tons. All of which is to say that eating eel is as fraught as eating bluefin tuna.
When asked about this situation, a rep for the restaurant responded with a statement attributed to Hachibei acknowledging the issue and saying the restaurant works as "environmentally consciously as possible" with eel farms. "Eating eel is a centuries old tradition and an important part of our culinary heritage that we want to share with New Yorkers," it reads. Grilled unagi is delicious — and hopefully we can manage our tastes for it.
Hachibei, 238 E. 53rd St. 2nd Floor, nr. Second Ave.; 212-888-8003