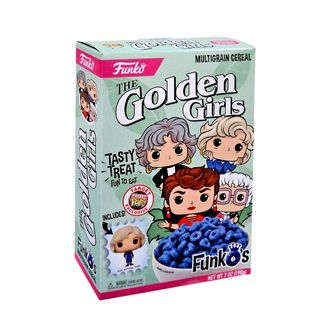 Golden Girls has been off the air for 26 years, but damn if Dorothy, Blanche, Sophia, and Rose don't still have some pull.
Pop-culture company Funko, best known for its cutesy figurines of geek-culture icons like Darth Vader, Stranger Things' Demogorgon, and Wonder Woman, recently released a FunkO's Golden Girls cereal at select Targets — and people can't get enough of it.
According to USA Today, the cereal itself is a multigrain blue loop, but the real attraction is that every $8 box comes with a different Golden Girls Funko figurine. People have taken to tweeting at Target to track down boxes of the cereal while on eBay boxes of the breakfast food are being auctioned for as much as $24, a triple markup. But also, a small price to pay for being a pal and a confidante.