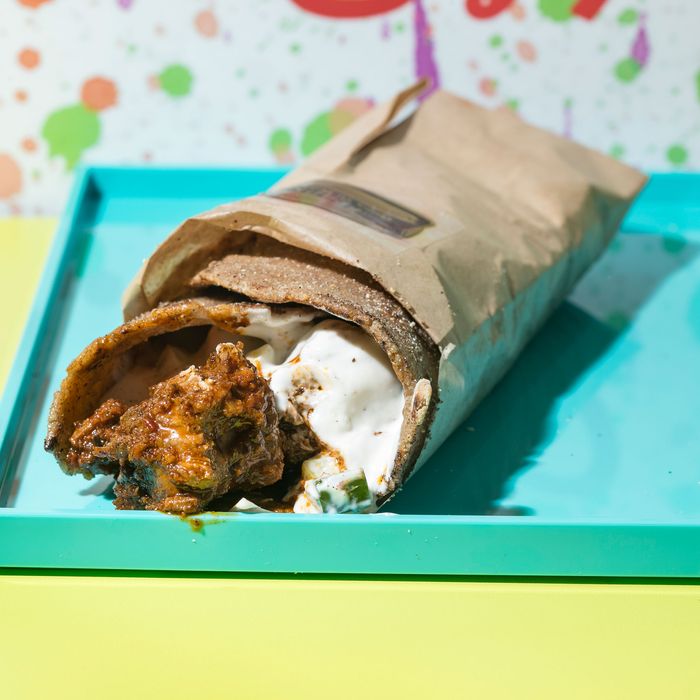 The Rad Rogan with braised lamb, cucumber, and yogurt curry.
Photo: Melissa Hom
One thing that New York could always use more of: Indian street food. Take Mumbai's Frankie, griddled flatbread that's wrapped around fillings like spiced potatoes and cauliflower or a whole lot of paneer. There are YouTube videos on how to make the proper Frankie masala, and the food's originator, Tibbs Frankie, has spread to other major Indian cities like Delhi and Hyderabad, as well as abroad. In New York these days, the dish can be found uptown at Roti Roll Bombay Frankie and, as of today, in Soho at Frankie Goes to Bollywood.
The cheekily named, '80s-inspired fast-casual spot is the work of a restaurant industry veteran named Yasir Chaudhry, who spent the last 25 years working at places like Picholine. Most recently, he was the general manager at Floyd Cardoz's Paowalla, which was converted this year into Bombay Bread Bar. (The Mumbai-born Cardoz himself once peddled Frankies from a cart outside his much-missed Tabla.)
Chaudhry's Frankies aren't entirely traditional. Namely, when it comes to the flatbread, which is gluten-free and made with a mixture of chickpea, lentil, and rice flours that's bound by puréed roasted potatoes. The fillings favor classic dishes, as in the Awesome Aloo with its cauliflower-potato hash, crispy chickpeas, and tamarind chutney; the Positively Palak's creamed-spinach curry with boondi (sweetened fried chickpea flour) and mango pickle; and the Rad Rogan's braised lamb, cucumber, and Kashmiri yogurt curry. Should you need to round out your meal, there are a couple of sides, like pakora; desserts including beignets dusted with cardamom-powdered sugar; and drinks like spiced jeera lemonade.
Frankie Goes to Bollywood is clearly a place built with expansion in mind (there's a merchandise section on the website), and there's no reason why the Frankie couldn't become popular in New York. This is a city that loves its carbs. In Chaudhry's case, it might be a question of whether New Yorkers take to the gluten-free bread he's devised. Either way, take a look at the food and get ready to check it out soon.
Frankie Goes to Bollywood, 204 Spring St., nr. Sixth Ave.; 646-869-1600