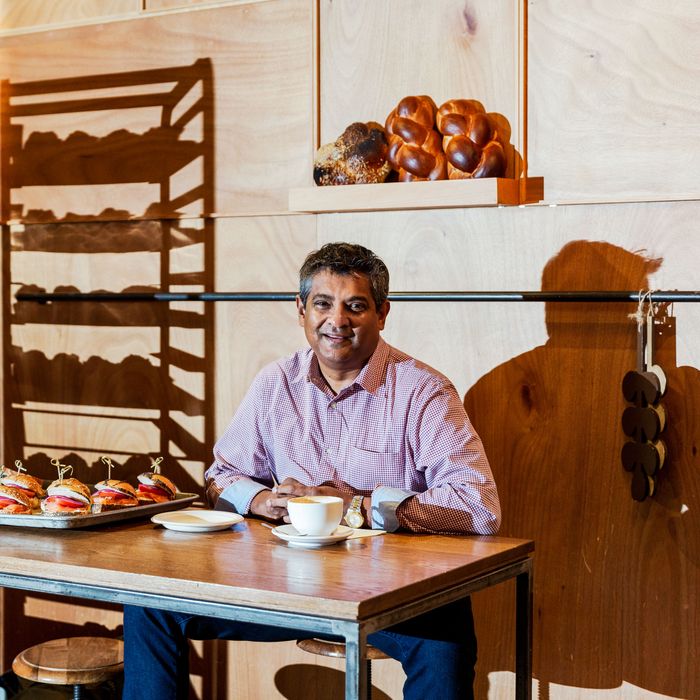 "I promise you, I can eat that babka anytime," says Floyd Cardoz.
Photo: Mark Abramson
Floyd Cardoz changed the way New Yorkers, broadly speaking, think about Indian cuisine with his oft-remembered restaurant Tabla and his current spot, the Bombay Bread Bar. Along the way, he also became one of the most famous chefs in the country, thanks to his many TV appearances and two cookbooks, One Spice, Two Spice and Flavorwalla. Of course, he's also something of a star in India, where he runs the Bombay Canteen and O Pedro in his hometown of Mumbai. This week, Cardoz was on the tail end of a Mumbai work trip — where he diligently ate as many of his favorite foods as possible — and headed home to New Jersey where he made some breakfast sausages for his sons and feasted on dim sum. Read all about it in this week's Grub Street Diet.
Thursday, October 18
Woke up at 7 a.m. to the incessant honking of the rickshaws and cars — I can't believe the noise pollution in Mumbai! I can hear it over the fans and two air-conditioners. Began to catch up with the news, including the NFL games. (The Times gave the Giants a one percent chance of making the playoffs. I give them 0 percent, even though I'm a die-hard fan.)
Moving on! I made myself an Illy double espresso with milk and sugar. Why is the sugar so much sweeter here?!
It was my last day in India, so I had to get my fix of Indian "khana." I hadn't eaten much fruit this trip, so I corrected that with custard apples that I had picked up the day before. These bring back memories of growing up in Bandra, a suburb of Mumbai, and picking them from the neighbors' yard. We liked them so much that we oftentimes picked them too early, as we would try to be the first kids in the neighborhood to get them. This one was huge; the work to spit out the multitude of seeds was worth it. Its creamy texture along with the sweetness of custard and the slight hint of acid made it so good. I have this obsession with fruit in India: Even these days, when I go in April or May during mango season, I'll eat mangoes every single day because I know I won't get the same ones here.
But as my mom says, "Cold breakfast is no breakfast," so I went to one of Bandra's iconic restaurants, Candies, for "potato chops." For the unfamiliar, these are mashed-potato patties stuffed with spiced ground beef, coated in bread crumbs, and then deep-fried. I stepped out onto Perry Cross Road and walked in the morning heat to this rambling restaurant. On the way, I thought about how this little village has changed since I left it back in 1986.
Still the honking! As I walked, I dreamed of the giant potato chops our family cook made and hoped the ones ahead of me would be the same. Not so lucky. These were smaller, so I got two. It still got me ready for the day. I hopped into an Uber and went to my first stop, my Goan-Portuguese restaurant, to meet with the sous-chef. I'm hoping there is "Poha" for family meal — I wouldn't mind a second breakfast. And … Score! Poha is this amazing, uncelebrated dish from Maharashtra of flattened rice with chili, ginger, cilantro, lime juice, and sometimes peanuts. There was coconut water, too. Not such a bad start.
Then I had to go to my other restaurant to talk to our chef and our pastry chef to plan the holiday season. We decided to have a working lunch of coastal food from Jai Hind, one of my go-tos on every trip, and got the standard order of tisrio sukka (clams with coconut), bombil fry (crispy fried Bombay duck fish), fish curry and rice appams (rice and coconut crêpe) and mutton sukka.
I wanted to stay and work more with my teams, but needed to leave before the evening traffic. It's so bad! I had them make me a fix of their KFC, a.k.a. "Kerala fried chicken," and a Dark Monsoon, which is a Dark 'N' Stormy but with Old Monk rum.
I headed home to pack, and my youngest brother Brett was there with some plantain chips for my kids. Then it was off to the airport to spend 19 hours in transit. I arrived at 8:30 p.m. with time to kill, so I decided to have a bite to eat in the lounge. I just couldn't turn down a mutton curry, rice, and pickle.
I boarded the plane, had a glass of Champagne, and then it was wheels up. In the air, I had a second dinner of delicious kebabs and a Glenfiddich 15. I love Scotch; I have a big collection at home. It was midday in New York, so I took a nap.
Friday, October 19
When we got to Dubai for the layover, it was 2 a.m., and there were tons of people milling around. It reminded me of Grand Central during rush hour. I walked through duty-free and was fascinated by the bling, but I took advantage of the free Wi-Fi and caught up with the team in NYC.
By the time I boarded my second flight, it was dinner time in New York, and I enjoyed another glass of bubbly before we departed. I can't sleep for more than six hours, so I stretched and had a midnight snack of a lamb pie with a glass of Bordeaux. Finally fell asleep and got five hours, which was pretty good, but I woke up to the bad news that I missed breakfast, so I had an Americano and croissant with butter and jam. Mostly, I was envious of all of the people who were still asleep. I watched a couple of Saoirse Ronan movies — I think she's awesome! — and then watched a couple of episodes of Sacred Games and Ozark.
The eating marathon continued with "lunch" at 7 a.m.: smoked salmon tartare followed by a grilled veal loin with a mushroom gravy and mashed potato and another glass of Champagne. I passed on the dessert, though. You have to stop somewhere, right? The flight finally did.
Back home in New Jersey, I went straight to the Nespresso machine and made a double Dharkan with brown sugar and milk. I needed to go to Patel Brothers in Edison to pick up spices for my restaurant, so I called the owner, who always packs it up for me, so all I have to do is pay, load up, and leave.
I was on my way out when I had a Bombay moment and realized I did not get my batata vada fix. I ran back because I needed batata vada and garlic chutney. These weren't just for me; my boys were coming home. Still, I couldn't help myself and ate one in the car on the way to Manhattan while I immersed myself in all things Bombay Bread Bar.
On the way in, I had to go to the Union Square Greenmarket to pick up ingredients, which was a great excuse to get some chocolate babka at Breads Bakery for home. I think it's one of the best things in the world. I went there five years ago and they were giving out samples. I had no idea what babka was. I ate a piece and I was addicted instantly. I promise you, I can eat that babka anytime. It's incredibly chewy, chocolaty, slightly sweet — I don't want to tell my friends about it.
I got to the restaurant, but it wasn't all work. My first bite back was my favorite: three-chili chicken, a snack I eat every day. It's something from my childhood. When we were kids, we didn't go out to restaurants a lot, once a month with my parents, and when we did, the choice was either South Indian food or Indian-Chinese. One of the dishes was chili chicken, which back then was a dry stir-fry with a lot of those. Fast-forward a couple decades, and it's been changed to this sweet, sour, spicy sauce that looks nothing like the original. I decided to start making it the original way because we had leftover chicken and I thought, Maybe I should make the chili chicken I love so I can eat it every day. It became a big hit on the menu.
Jet lag caught up with me, and even though I knew I shouldn't, I had another coffee. It was a busy night at the restaurant, and when I got home I was glad to see my sons, Peter and Justin, there. The boys had already eaten, but they'll always eat again. (Like father, like sons.) I cooked up pork chops and a cabbage-and-chorizo stew with rosemary. We dug in.
After, I opened a bottle of wine from Costco, enjoyed a bit of a Mah-Ze-Dahr date cake (it reminds me of the one my mom would make), and watched a recording of the Giants game. I can't get over how bad they are!
Saturday, October 20
I woke up and made my double espresso and batata vada. I used WhatsApp to talk to the team and my wife, Barkha, who was in India, and caught up on emails.
I love cooking for the boys when they're home, so I decided to make North Carolina breakfast sausage, cheesy scrambled eggs, and pone, which is sort of like a corn bread.
I do have a sentimental attachment to breakfast because of my work. When I was dating Barkha, we'd meet for bagels and coffee every day at a coffee shop on West 36th Street because I worked from 11 a.m. to midnight. When my boys were young, it was an important thing to me because I was working in the evenings and not around for dinner except on my days off. So I'd make them breakfast every day before school. During the week, at least that was something I could do for them. It was, and still is, a thing for me.
Afterward, I headed into the restaurant. Saturdays are busy since we do brunch, and I also had to prep for the Star Chefs event. I prepped and fried gulab nuts for service. Kheema paos and dosas were flying out during service, and we had a family meal of leftover chorizo biryani. It's my favorite and a family-heirloom recipe; it was the one thing that my father's mother, who was estranged from my family, ever cooked for me. She made it in the house my father helped build.
I left at 7 p.m. to see the Cardoz matriarch, my mom, Boodie, who was in town. I missed her in India, so it was good to see her. We enjoyed a Hibiki whisky before dinner, and a glass of Barolo with the roast chicken, short ribs, and Goan-style spicy pork trotter. My brother Bryan made all of this. He's a really good cook.
Sunday, October 21
Woke up glad that Justin was still here, so we did a Cardoz family tradition: dim sum at Qin dynasty. Couldn't believe the line was so short — we got seated in ten minutes when it normally takes 45. We were missing Barkha and Peter, but I asked Justin what he wanted, and he said, "Let's get all the standards." So, yeah, we ordered way too much for two people. We got our favorites: tripe, chicken feet, sesame balls, black sesame pork ribs, snails, rice in lotus leaf, fried taro, black-pepper short ribs, and tofu skin. Justin loves the tripe stew, so I got one to go for him, and we also got an order of shumai for nostalgic reasons. It was the only thing he'd eat when we first started taking him to dim sum.
We drove back home, and then I went back to work, still tired from the flight.
At the restaurant, I got all the food packed and waited for an Uber. As we drove through Chinatown, I thought about how much it's changed, about going there for dinner at 2 a.m. and seeing it buzzing like crazy.
The event was at Rice & Gold, where one of my old Tabla cooks Jae Lee is the chef. We talked with the other chefs and set up for the event. We served a shellfish bhelpuri, and Jae brought over pork buns and tandoori short ribs that were so good.
I had to go to Hawaii the next day, so I left at 10 p.m. Back home, I tried to figure out what to eat. I pulled a meat sauce out of the freezer, made some spaghetti, and covered it with parmigiano and bottarga.
Barkha normally cooks, but I never know what my schedule is going to be like or whether there will be food, so I keep stocks of stuff in the freezer. I have to eat at home; it gives me that peace of mind. I don't have to worry about anything. I can have my single-malt Scotch, relax, and watch some nonsense on TV.