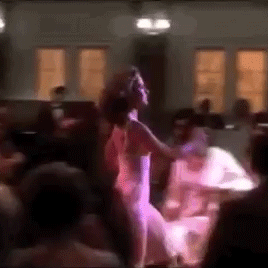 The Holy Grail of lifts.
Photo: Lionsgate
It's nice to see that Dirty Dancing, a 1987 film set in the summer of 1963, still has an outsize cultural impact: Cindy Barrientos, a 24-year-old Florida woman, was recently arrested for, according to a report, "trying to re-enact a scene from the movie Dirty Dancing" inside a wine store.
TCPalm reports that Barrientos and her friend, "two individuals who were believed to be intoxicated and causing a disturbance," walked into a Total Wine & More and began paying tribute to the classic film starring Patrick Swayze and Jennifer Gray before attempting to buy alcohol. After the two were refused service and Barrientos's friend re-entered the store, police were called and Barrientos was arrested for disorderly intoxication.
The report does not specify exactly which scene the two were trying to create, but, come on. It had to be the lift, right?