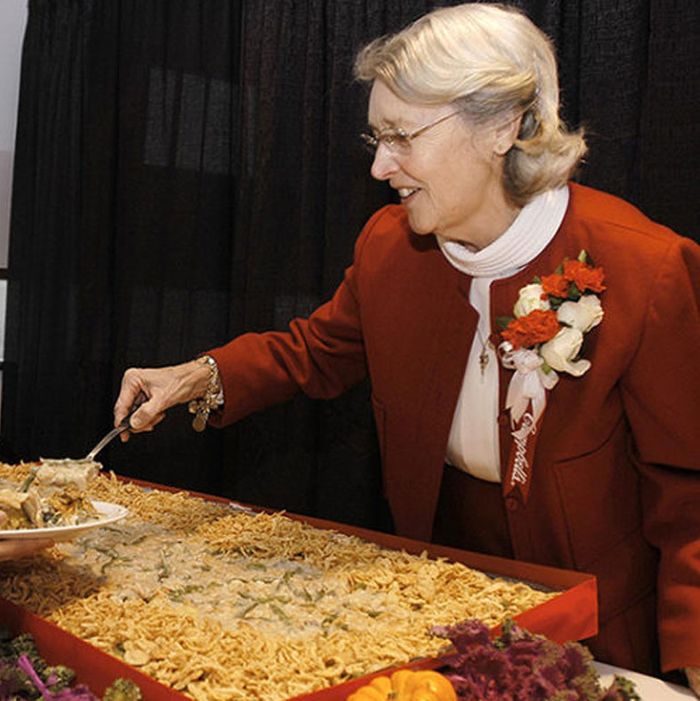 Dorcas Reilly with a huge fan.
Photo: Courtesy of Campbell Soup Company
Dorcas Reilly, who invented one of 20th-century America's classic dishes with her green-bean casserole, passed away on October 15 at the age of 92. The dish (originally known as the green-bean bake) was created in 1955, and like a lot of classics from that era, it was the product of a corporate test kitchen.
A graduate of Drexel's home-economics program, Reilly was a supervisor for Campbell's Home Economics Department. The dish was, after much testing, her team's six-ingredient answer to the AP's request for an easy side recipe incorporating two then-ubiquitous ingredients, Campbell's cream of mushroom soup and green beans. In 1960, five years after green-bean casserole was invented, Campbell's put the recipe on its cream of mushroom soup cans. And in 2002, the company donated Reilly's original recipe card to the National Inventors Hall of Fame.
Since the green-bean casserole's invention, the inexpensive and uncomplicated dish has become deeply associated with the Midwest (a.k.a. the land of casseroles), to the point that people seem to think it originated there. It's as much a part of Thanksgiving as cranberry sauce, and in an obituary for Reilly posted to its website, Campbell's says that in excess of 20 million Americans cook the dish during the holiday. The company has also stated that a whopping 40 percent of its cream of mushroom soup is bought specifically to make the casserole.