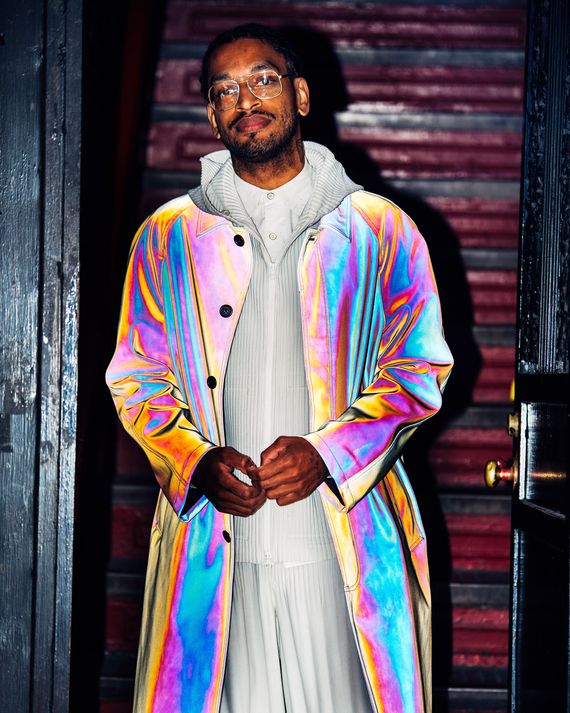 Photo: Christian Rodriguez
Even if you've never heard David Zilber's name, you should know that he's spent the last few years becoming one of the most innovative figures in food. Since 2014, he's worked at Denmark's world-renowned Noma, where he's spent the last two years as the head of the restaurant's storied fermentation lab, unleashing ideas and concocting recipes like squirrel garum, fermented coriander, and banana-bread miso with techniques that influence chefs around the world.
Roughly a year ago, Noma honcho René Redzepi tasked Zilber with distilling all the lessons of the lab into a new book: The Noma Guide to Fermentation, which Publishers Weekly has called "a wildly practical and fascinating examination of one of the world's oldest methods of food preservation." Grub caught up with Zilber on the New York stop of his North American book tour to talk about how, in just a few short years, he's ascended to the top of the fermentation food chain.
You grew up in Toronto. How did you get into cooking?
I grew up with this crazy mash-up culture of Ashkenazi Jewish food and Caribbean pelau and plantains. Codfish and bakes. That's the food of my childhood. Sorrel punch. I definitely grew up with a good appreciation of food. My mom cooked. My dad tried to cook. My interest definitely stems from her.
You started cooking in restaurants at 17, and then worked around Canada. How did that lead to Noma?
I always say, if you're not uncomfortable, you're not pushing yourself. Not that I was getting comfortable, but it was time to move on and see different things. So I sent out just a handful of résumés and a really long cover letter to my favorite restaurants. I just sold myself. I was just like, "If I'm going to get people's attention, I have to stand out." So, I wrote an essay about why you should hire me. Alinea and Saison never got back to me. Noma wrote back.
What were your early years at Noma like?
They brought me over for a trial. They hired me, and I worked in the kitchen. And then I was in the kitchen for about a year before they moved me over. I keep saying, I think my answers to some very basic questions were more detailed than they needed to be, and I kind of got known for being that guy. I remember one night very early on, it was right before the meeting, and the chef and the sous-chef were having a conversation, and I was just within earshot, and for whatever reason they were talking about fruit. And they were like, "Who's that guy who smashes the watermelons?" And I was like, "Gallagher!" And they just turned around, like, "You're a walking Wikipedia — you have the answer to everything." People like that are useful.
So, René noticed and moved you to the fermentation lab?
Yeah, it didn't take long. We sat down one night after service. I thought I'd really fucked something up. But no. They offered me a position in the lab as sous-chef to handle production and make sure it was consistent. But then secretly my predecessor, Lars Williams, was looking for a replacement. He trained me for about a year, and then he put in his notice and handed me the reins. I didn't have an explicit interest in fermentation before I was stationed in the lab, but once I was there, I was definitely primed by my curiosity to just run with it.
Do you ever think about yourself in the context of being a chef of color working at such a high level?
I've definitely gotten into somewhat heated debates with American friends of mine who are obsessed with race. They say, "You have missed opportunities as a human being because you are black." Well, I don't feel that way. I honestly have never felt encumbered by my race, or that I was shorted an opportunity. I've definitely experienced racism, but in ways that are so menial that it's like water off a duck's back.
I am getting a lot of messages on Instagram from black cooks being like "thank you." And even though it might not have been my experience, I totally understand what being a representational figure means. I get what I'm doing for a lot of people out there. And it does feel good.
When did René approach you about turning all of that fermentation knowledge into a book?
I probably worked in the lab for just under a year. René came by while I was doing some research on a computer, and he's like, "We've got to write a book!" It was just him talking ideas for two hours. Then it was decided. He even said it back then: "This can't just be a book that I write. It can't just be my name on the cover. It's time we start highlighting other voices." He said it feels so much better that my name is on this cover alongside his because Noma is not just one person. The cookbook world doesn't normally work that way. It's time that the world of writing cookbooks and restaurant culture actually acknowledged the people doing the work.
How did you go about putting together the book?
I'd worked in the lab for about a year before I was tasked with this. So, a lot of the work that appears in this book is not my work. I was like an investigative journalist. I would interview people who were in the very first versions of the labs, asking, "What did you discover? What did you realize?" And then I filled in the gaps and really went that step further in the science.
I saw that you said that a reporter at Wired really picked up on the ethos of the book, instead of focusing on the weird recipes in the it. What did you mean?
Yeah, I said the principles are more important than the particularities. Yes, it is a book of 75 recipes for products that you can ferment, but the whole point is that it's meant to give you the framework to create thousands. And that to me is something that the Wired article picked up on in a big way. That's how we work in the lab. It's about understanding the principles and then putting it out there. There have been a lot of reviews, like, "This is a gorgeous book. You can do a lot of fun stuff, cool recipes." But there's more than that.
How has the process of writing and promoting the book changed the way you think about your career?
I've always been driven toward the idea that I would one day open my own restaurant, and I would be an auteur getting my vision out there in the form of a tasting menu. Now, I very much sit at a crossroads and am deciding what road to take. It would be so much easier to get all of these ideas that are in my head out, and doing more of this than opening a restaurant and feeding 50 people a night. I could write an amazing volume, work on ideas, dive into a subject, and then just feed it to 50,000 in one shot.