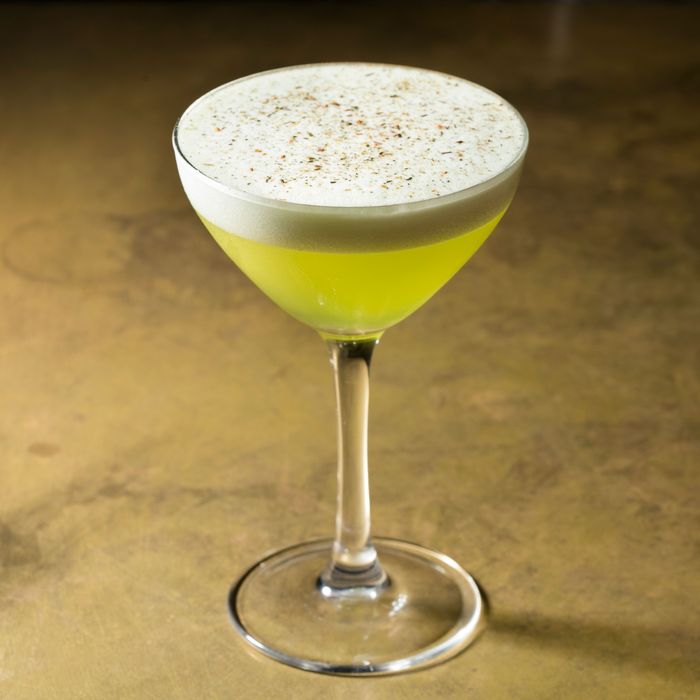 The new and improved Midori sour at Gibson + Luce.
Photo: Melissa Hom
The story of the Midori sour is one of a drink gone astray. Midori itself isn't bad. Sure, it's the color of Hi-C Ecto Cooler, but it's also a subtly flavored melon liqueur that — when used properly — is not unlike honeydew. However, when it's carelessly mixed with sour mix and vodka, as it is in the Midori sour, it turns into a drink that is as sickly sweet as it is blindingly colored.
Of course, we're living in the golden age of talented bartenders saving drinks that have been made badly for too long. If someone can find a silver lining in a Long Island Iced Tea, surely the same can be done for this melon cocktail. And it is possible: At Greenwich Village's Up & Up, the Insanely Good Midori Sour ditches sour mix for the subtler flavors of fresh lemon juice and lime cordial, while calling for gin instead of vodka to add a few layers of floral texture. Meanwhile, drinks site Punch offers a dash of lime juice and an egg white as an easy alternative to the original recipe. The argument isn't that Midori should be thrown out of the bartenders' canon; it just needs a serious makeover.
When it opens for business on Friday night, Gibson + Luce, will take this idea one step further. "Midori's had everything go bad for it," says Luis Hernandez, the bar's head bartender and GM, "but it has an extremely unique flavor, so we thought, Let's make a Midori sour and let's make it good."
Gibson + Luce is the latest step in a major overhaul at Midtown's Life Hotel, where chef J.J. Johnson opened his first restaurant in the hotel's lobby in late August. Directly across from the restaurant, beverage director Pam Wiznitzer developed a series of cocktails designed to complement Johnson's Pan-African cuisine. But at Gibson + Luce, the menu will be completely independent of Henry, focusing instead on the craft-cocktail revolution that's taken hold at bars like the Dead Rabbit and Pegu Club.
For their take on the Midori sour, Hernandez and Wiznitzer play up Midori's delicate melon flavor while cutting through its candylike sweetness with fresh lemon juice, apple juice, and orange bitters. They, too, use gin instead of vodka. The drink, now a light spring green instead of a violent neon, sits beneath a dense cloud of egg white that's also garnished with dried tea leaves. The finished $15 drink doesn't make you rethink the idea of a Midori sour as much as it lets you simply enjoy it.
"There's nothing magical here," Hernandez says. "It's just well-done."
That's the edict that will dictate what drinks Hernandez and Wiznitzer add to the menu at Gibson + Luce. There will be all the telltale signs of a craft cocktail bar — fat-washing, edible bubbles, milk punches, liquid nitrogen, and dried ice — but the idea is to use those techniques to simply improve the drinks. "We're hiding the nerdy stuff, so you can get your drink faster," Hernandez says, "but if a drink is so interesting that a guest has questions, we'll be more than happy to talk technique."