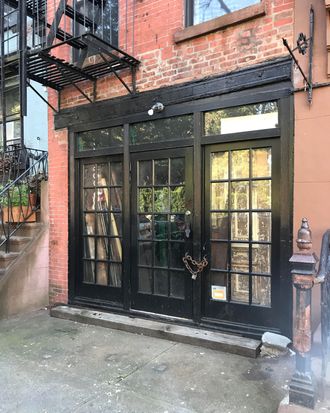 The store will be on a residential street.
Photo: Courtesy of Elizabeth Young
The East Village has Bonnie Slotnick, uptown has Kitchen Arts & Letters, Greenpoint has Archestratus Books & Food, and, soon, South Brooklyn will have its own dedicated cookbook store. On November 26, rare bookseller Elizabeth Young will open Cooking, Cocktails, and Culture at 212 Degraw Street in Cobble Hill. Rather than just be a resource for what's new, Young is creating a place with a broader scope. Rare books will be just one ingredient in her recipe for the shop (first reported on by Fine Books), which will also carry new books, books that aren't quite new or rare, and collectible items.
"I'm trying to bring people who are already interested, to have authors doing their signings and talks for new books, and then introduce them to the older stuff," Young says of the store, which she compares to San Francisco's Omnivore Books. At just 200 square feet, it's smaller than your average one-bedroom apartment. Those events, Young mentions, will be a regular feature of the store, starting on November 29 when author Darra Goldstein will pop by to talk about The Georgian Feast.
As for the books themselves, Young will carry ones by publishers like Tuttle Press, like Japanese Whiskey and Japanese Cooking With Manga, and reprints of iconic cocktail books from Cocktail Kingdom. Along with a whole section of food memoirs and historically significant works like Hannah Glasse's The Art of Cookery Made Plain and Easy, there will be more everyday books that aren't new or old, but that people may remember from growing up.
"I believe that people are going to get their recipes online, but people also want to have an object, especially if it is a good price point then they'll go, 'I've got to have this in my kitchen,'" she says.
Along with the books, Young will carry the ephemera she's collected over the decades. Like old menus and pamphlets, of which she says she has thousands of items dating from the mid-1800s up to the 1960s and '70s. Other collectibles will include culinary-themed sheet music, like the "Strawberry Shortcake Tango," and contemporary zines and other items she bought at the NY Art Book Fair.