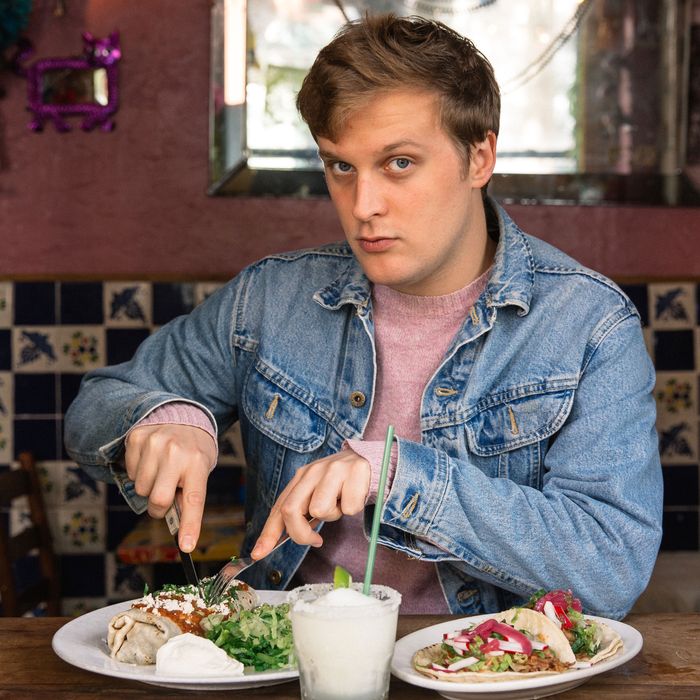 "I love Pequeña so much. They have mastered the frozen margarita, so much so that I order one even though I have therapy immediately after."
Photo: Scott Heins
Two years ago, actor and comedian John Early moved from New York to Los Angeles for a television show, and while the project fell through, he stayed and planted roots. Now, when you do see him over on this coast, it's to tape his TBS show Search Party, in which he plays Elliott, or for various other projects, including next week's Padma Puts on a Comedy Show at the Bell House, benefiting the Movement Voter Project. Though Early didn't have as much opportunity to cook this week as he'd like ("I became obsessed with making pasta at a very young age"), he still found time for copious amounts of cold brew, homemade burgers with radicchio buns ("they are divine"), and pizza passing itself off as an hors d'oeuvre. Read all about it in this week's Grub Street Diet.
Thursday, October 11
I like to start every day with a cold brew and a Propecia. The cold brew comes from Primrose, my neighborhood coffee shop while I'm in town shooting the zero-time Emmy nominated Search Party. It's these temporary pillars of familiarity that create some much-needed structure amid the formlessness of my bicoastal lifestyle. #theunbearablelightnessofbicoastiality #bicoastalvisibility
For breakfast, my boyfriend and I salt some watermelon — just like my very southern dad does, except he's never heard of Maldon™. I'm a little too proud of how meager this meal is. It's no coincidence that this is my very first entry. My daily cold-brew-induced panic begins, and I find myself immediately paralyzed by the performative nature of the whole endeavor. Will I accurately represent myself as the passionate eater that I know myself to be? Will I bring attention to the restaurants and small businesses that truly need it? Is it braggy to talk about my boyfriend? It feels so transparent to include him ("I, too, am loved!"), but dishonest to leave him out!
Did I mention he's an artist? We take the train into Tribeca and stop by the iconic the Compleat Sculptor to get him some modeling clay for a project. We are starving and a block away from Trader Joe's, so we pick up some premade salads and a peanut-butter-cookie Lärabar. I can already feel the walls of my hard-earned gourmand identity crumbling around me. I vigorously shake my salad in its plastic container to dress it. I consider lying and saying that we were beckoned into "the most unpretentious red-sauce Italian place by its adorable elderly owner." The salad explodes in my lap.
For dinner, we drunkenly pick at a tray of falafel toppings with our bare hands at a reception for a friend's photography show. Damn.
Friday, October 12
I get another cold brew from Primrose and take a Propecia. My boyfriend makes me a smoothie of frozen berries, banana, green apple, and kale for breakfast, and I wonder, Is it 1998? I keep it to myself because the smoothie is truly good, and ultimately I resent diet trends that look down on them.
I pace around the apartment rehearsing what I'm going to say on a very confrontational call that I have to make at the end of the day. I willfully enter into conflict about once every 400 years. A truck could be driving on the wrong side of the road, barreling toward me, and I would not honk. I am so nervous that I forget to eat lunch (so chic), and around 3 p.m. I throw together all that is left of our groceries: a Monsanto apple and banana, and some curried chicken salad that I bought on the previous day's Trader Joe's trip but didn't mention here because of y'all's relentless judgment.
I make the call. No one dies. I go to Roman's in Fort Greene with my boyfriend to $elf $oothe. It's worth the goddamn bill — perfect Martinis, orange wine, gorgeous fava-bean purée, radicchio with anchovy and Parmesan, tortelli with a butter and sage sauce, chicken al diavolo, panna cotta, and chocolate sorbet. I swear to god Keri Russell is eating at the bar just like us. I've heard rumors that she lives in this area. It's definitely not her, but for that split second I feel that life in New York can feel as good as an episode of Felicity.
Saturday, October 13
I am hungover. I pop a Propecia and drag my gay ass to Primrose for a cold brew on my way to shoot a short film by a friend from college. When I get to set, I eat a truly exquisite whole-wheat everything bagel with cream cheese. It helps a lot even though I'm trying to "cut back on grain."
The catering on set is Frito pie with vegan chili, chicken-salad sliders, and other such church-camp delights. The thematic cohesiveness of the meal is a little oppressive, but I soldier on.
After the shoot, my boyfriend and I go to a play called Slash by Leah Hennessey and Emily Allan (of Zhe Zhe glory) at MX Gallery. The show is astonishing and perfect, and we ride our cultural high to Kiki's, a Greek restaurant in Chinatown. We have lemony potatoes, smoky eggplant dip, orange-peel sausage, lamb fricassée, and a waitstaff that doesn't care for my jokes.
Sunday, October 14
I chomp down on a Propecia and head to Primrose where my boyfriend and I collect a free cold brew, having loyally filled our card with the required nine stamps. I playfully tell the cashier that I wish there was a little more ceremony — a siren, confetti, etc. She, too, doesn't care for my jokes, and my boyfriend generously reassures me on the walk home that she's probably a Pratt freshman consumed by her new life in Brooklyn.
We get some groceries and make burgers with pepperoncini, avocado, caramelized onions, mayo, Dijon, and radicchio buns (LOL). I laugh out loud, but they are divine. If you can pull off a radicchio leaf without tearing it, it's very cuplike. And Goddamn it, reader, I swear if you caught me on a different week you'd be shocked by my cooking. I started early. What's nice about being a gay boy is, before you become cripplingly self-aware about your gayness, you have no shame just following your mom around the kitchen and asking her questions.
In the afternoon, we go to the premiere of Can You Ever Forgive Me, thanks to tickets from queen Dolly Wells, who is in the movie and is characteristically genius in it. While sitting BEHIND JUDGE JUDY AND IN FRONT OF JOEL GREY (!!!!!), we eat popcorn and a couple of bourbon-flavored chocolates. At the after-party, we piece together a free dinner of mediocre mushroom and prosciutto cut-up pizza ("flatbread") hors d'oeuvres, and marvel at the grace with which Judge Judy interfaces with her adoring public.
Monday, October 15
The usual cold brew cut with Propecia. I have to work today, but only for a couple of hours starting at 4 p.m. My schedule is so easy breezy this season that I wonder if I'm like Valerie Cherish slowly being phased out of Room and Bored. But I'm secretly loving the domesticity. I pick up some groceries and make some lunch for my boyfriend and me. A baby-kale salad with sunflower seeds and a tahini, olive oil, lemon zest, and juice dressing. I'm so bad at "working with" tahini. Why is it always so fucking chunky? I thought I added enough water to smooth it out. Maybe the citrus curdled it? I can feel the ghost of Kate Berlant, my comedy partner and undisputed tahini queen, cackling over my shoulder as I whisk to no avail. The salad is still pretty good — the flavors are all there, gang! — and I serve it with some scrambled eggs and a side of grilled preserved artichokes.
I go to Search Party to take some sort of photo that will be used as a prop in the show. I get to my trailer and am horrified to find no costume, but sweatpants, a hoodie, and big boxers. This can only mean one thing: partial nudity. I react to the horror by eating half of one of those god-awful RXBARs and some Earl Grey tea with almond milk. I imagine this is what Carey Mulligan does when she's "feeling peckish." As usual with this show, the partial nudity is truly worth the joke. I am made up like a cherub, my body is oiled, and I pose with a lyre. It's extremely funny, and I also leave feeling a stronger sense of connection to Anne Geddes, which is frankly something I've been after my entire Goddamn life.
For dinner, we order ("We … we! I'm still getting used to saying it!") some Neapolitan-style pizza — one with soppressata, the other a classic margherita — from a place that truly does not need my help. My boyfriend makes a salad with the leftover radicchio and a vinaigrette with minced pepperoncini and the juice from the jar. It's really major.
Tuesday, October 16
I should mention that I've been trying to make my own cold brew recently to avoid spending so much money and using so much plastic. I can't figure out the right grind though, so I throw back a Propecia and once again head to Primrose. Love brazenly making choices like these in the face of recent climate science!
I come home, and while absolutely soaring on cold brew, I see that there's a 50 percent off sale on the Criterion Collection website. A mere two feet away from my boyfriend, I order six titles that I will never watch and a $30 Blu-ray player off of Amazon Prime, and I don't tell him because I know this behavior is unhinged. This is why cold brew is bad. Once, while drinking one during a meeting, I told an executive that I was the "Robyn of comedy" with zero irony.
I go to Pequeña for a late lunch after my manic purchase. I love Pequeña so much. They have mastered the frozen margarita, so much so that I order one even though I have therapy immediately after. I also get my favorite menu items: the pork burrito and the chicken soup.
Their margarita truly packs a punch, and I put on a great show for my therapist (that's what therapy is for, right?). I meet the great Nicole Spiezio in Madison Square Park. We share a weed gummy because we are going to see A Simple Favor starring Blake Lively and everyone's favorite Scrappy Little Nobody, Anna Kendrick (or as my boyfriend calls her "Anna Kendricks"). We eat at Shake Shack, naturally. I eat a double Shack Burger with fries and order my cheese sauce on the side. We get to the theater for the 7:45 showing, and the edible kicks in right as we receive the news that the screening is sold out. Maybe it's the edible, but the stakes feel so high that I feel like we're in Argo, which I've never seen. We get in a cab and head to the Kips Bay AMC to try to make it in time for the 7:55 showing, but there is only one seat left. I beg the woman at the box office, "Is there anything you can do?" She looks at me like I'm crazy — obviously, there is nothing she can do. We are stuck in Kips Bay, high as hell, but still wanting to hang. We are beckoned into the most unpretentious Mexican place by its adorable elderly owner. Everyone in the restaurant seems to be on straight Tinder dates that aren't going well. I drink a tequila on the rocks.
I go back home and eat frozen raspberries while relaying this story to my boyfriend. It does not land.