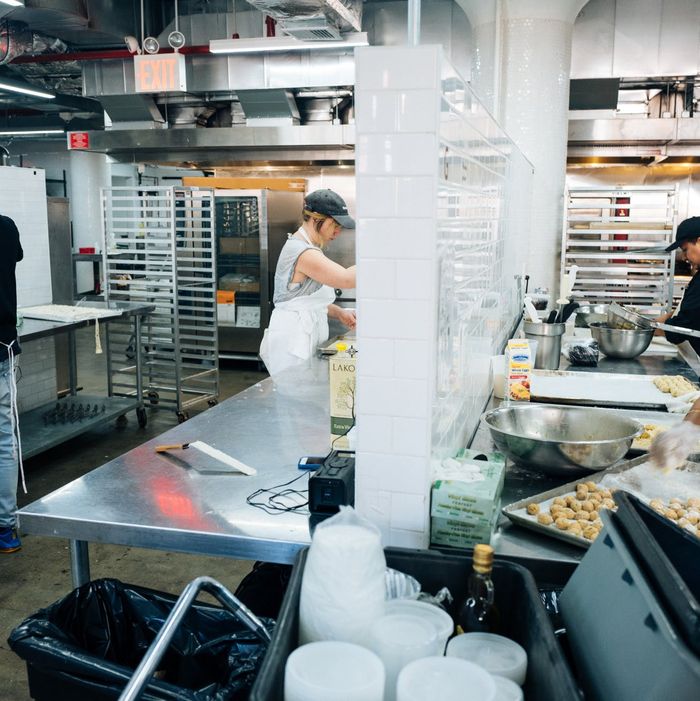 Inside a Pilotworks kitchen.
Photo: Pilotworks
The objective of a food incubator is to empower operators to pursue their culinary dreams without shouldering all of the costs associated with starting a small business from scratch. Resources and space are shared, and a community of like-minded people develops. When it works, everyone wins: Businesses grow, and customers get more choices of great things to eat. But over the weekend, Brooklyn's most prominent incubator, Pilotworks, closed with no warning, leaving almost 200 operators — some of whom quit their full-time jobs to pursue their food projects — scrambling to figure out what they'll do next.
"Our mission was to be a POC-, women-empowered company focused on amazing vegan goods," says Adam Keita, who runs the vegan baked-good company Vagaband Kitchen and joined Pilotworks in June. "Closing so abruptly not only hurts everything we worked for, but it hurts the shops we provide to, and it shows how these kind of big companies can just trample over us."
Located in the old Pfizer building at the border of Bushwick and Bed-Stuy, Pilotworks began in 2016 as Brooklyn Foodworks. The group provided business acumen for first-timers: mentorship, events, networking, and access to a commercial kitchen in exchange for a monthly membership fee​. The 175 small food businesses (which includes favorites like Auria's Malaysian Kitchen, Woldy Kusina catering, Brins Jam, and Brutus Bakeshop) were barred from accessing the kitchen on Saturday afternoon. Pilotworks sent an email that evening to announce its closure "after failing to raise the necessary capital to continue operations." Now, members will have limited access over the next three days to collect their possessions, and after Friday, no one will be able to enter the building. (Pilotworks didn't make anyone available to speak to Grub Street, and its social-media accounts have also been shut down.)
The timing is especially brutal for members who were ramping up for the holidays, which can provide up to 40 percent of their annual income. (The move is also a blow for owners of the specialty food shops that rely on these products to stock their shelves.) Many were also taken by surprise since, as TechCrunch reported, Pilotworks had raised $13 million in funding (which included investment from Campbell's Soup Co.). "Pilotworks last year was a buzzing, flourishing, and community–focused kitchen space for all types of food entrepreneurs," says Thi Lam of the coffee maker Keepers Co., who left Pilotworks before the closure.
Some companies that made shelf-stable products will be able to sell their remaining inventory, but groups focused on fresh food are less fortunate. Many are talking about what they can do together to help struggling businesses. Hot Bread Kitchen has offered its hotline to connect these businesses with new places to work, and Hana Kitchen, another commercial kitchen with a location in Brooklyn, will give discounted rates on space. Meanwhile, Pilotworks members are also looking for reasons that this sudden shutdown happened.
"Instead of using the $13 million to make sure they were operating properly in their existing locations, they decided to expand," says David Roa of Superlost, a CBD-focused company inside Pilotworks. "It was careless and irresponsible for them to do that considering hundreds of businesses depend on their facilities for their livelihoods."