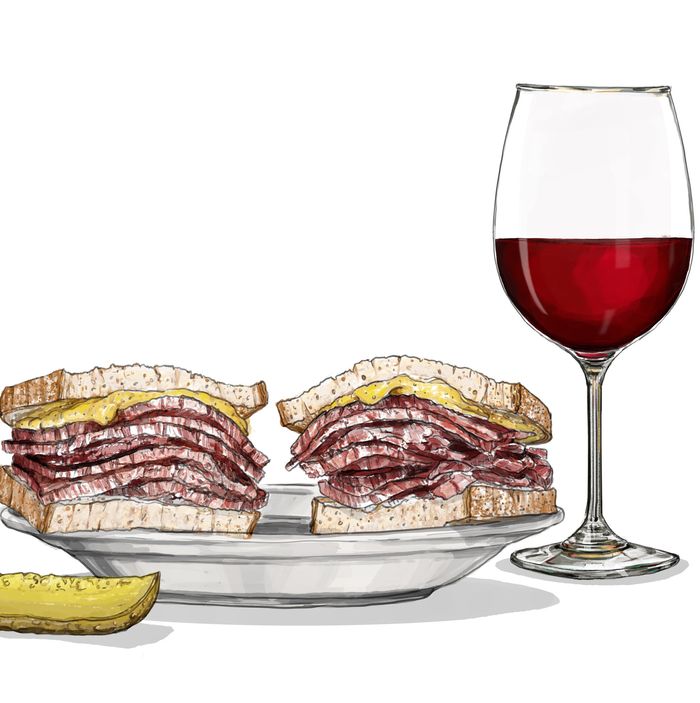 A good excuse to get your sandwich to go.
Photo: The Ellaphant In The Room
There is perhaps no more iconic New York sandwich than pastrami from Katz's. Even in my earliest years as a resident of this city, the glow of the delicatessen's lights was like a beacon, inviting me to be a part of this quintessential Lower East Side experience. The sandwich may be simple — meat and rye bread, maybe some mustard — but Katz's pastrami takes weeks to make, the curing, spicing, and smoking develop deep layers of rich flavor that are, as it turns out, an ideal partner for some wine from South America.
Yes, Dr. Brown's is the classic pastrami pairing, and you will never hear me say one bad word about Cel-Ray, but Chilean Carménère is a wine that's built to match with America's most famous pastrami. Carménère is the forgotten grape of Bordeaux. While it still grows there in small quantities and is used as a blending grape, it has found its own place in Chile where it's the star grape.
Carménère didn't actually get its day in the sun until a century or so after making its migration from France to South America, and until the mid-1990s, Chilean wine growers thought they had a whole lot of Merlot, when it turns out that up to half of it was in fact Carménère. Oops!
But that mistaken identity led to a distinctly savory red. Hallmarked by rich red fruit flavors and a bold splash of green pepper and herbs, the wine is instantly at ease with classic pastrami spice, and the wine's unmistakable herbaceousness shines bright in the form of eucalyptus and green bell pepper.
Really, the only issue you'll have is getting the wine and sandwich to the same place. I don't suggest always taking your sandwich to go, but in a situation like this, it might be necessary, especially if you can grab one of these bottles to go with it:
Chono "Single Vineyard" Carménère ($12)
A great value bottle of hearty, rich, dark red wine. With a little spice from a small oak influence and a touch of spice, this wine offers deep satisfaction without the steep price tag. The Maipo Valley, where the wine is made, is one of the best areas for quality Carménère production.
Viña Villalobos "Lobo", Carménère ($36)
A wine featured in the RAW natural wine fair, this bottle will fulfill the curiosities of anyone new to natural wine, as well as satisfy the cravings of diehards. Coming from the Colchagua Valley, another well-respected region, this wine will have smooth tannins, bright acidity, that herbaceousness I mentioned up top, and a twinge of savory chocolaty-ness to wrap it all up.
Santa Carolina 'Herencia' Carménère ($45)
This is regarded as one of the best Carménères that Chile has to offer. Concentrated, intense aromas of dark fruits, cassis, savory baking spices, and herbal notes are all brewed into an inky, dark potion that is definitely worth the price. Considering the quality of this wine, the price is a steal when compared to more famous grapes or regions.