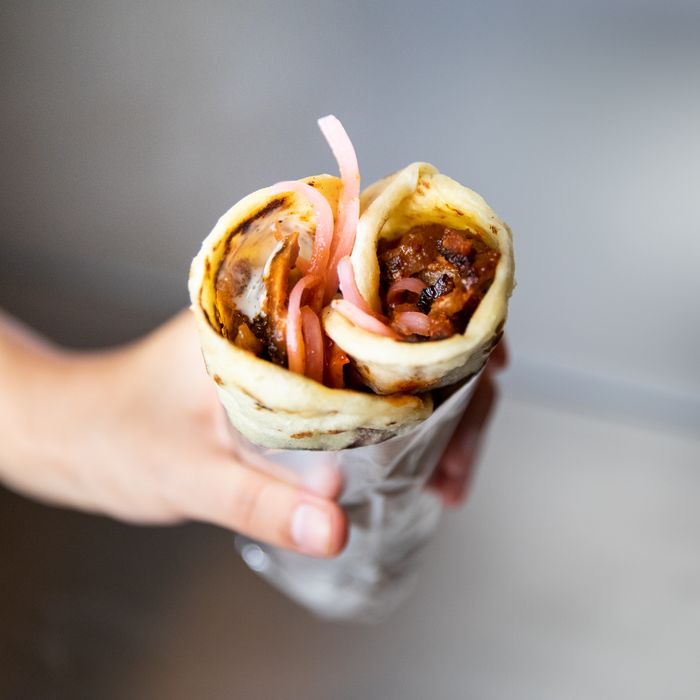 Bāng Bar's lunchtime bāng, the U, filled with gochujang-marinated pork and folded into a U shape.
Photo: Nitzan Rubin
David Chang never aspired to be king of the pork bun, the dish most associated with his ten-restaurant, six-city-spanning Momofuku empire. And fried-chicken sandwiches don't occupy his every waking moment, either, despite the proliferation of his Fuku chain. In fact, it's another handheld snack that has become something like the chef's white whale: We're talking about the Asian burrito, an experiment in fast-food fusion that fizzled out in the early days of his Momofuku Ssäm Bar some dozen years ago. Now, from his new perch on the third floor of the Shops at Columbus Circle at the Time Warner Center, Chang is revisiting the realm of the wrap, albeit in very different form, at Bāng Bar, a takeout spot opening tomorrow for breakfast and lunch. (A new Momofuku Noodle Bar will open directly next door in November.)
Bāng Bar's raison d'être is freshly griddled flatbread (bāng, more commonly spelled "ppang" or "bbang" and pronounced pong or bong, means bread in Korean) to dip in things or stuff with meats carved to order off vertical spits, not unlike the ones you see spinning at the finest gyro and shawarma joints of Astoria and Bay Ridge. "It's bread made to order and meats you can slice in the moment, inspired by Lebanon, Turkey, the Middle East, Japan, Korea, and Mexico," says Chang, citing his far-flung influences for the 360-square-foot space.
Though the roots of Bāng Bar can be traced back to Ssäm's burritos, the concept really took shape early this year, when Chang opened Majordōmo in Los Angeles. Looking for a way to distinguish his first California venture and explore the notion of Asian breads beyond steamed buns, he introduced a griddled-to-order flatbread, inspired by the stuffed-pancake-like Korean hotteok and the breads of northern China. These bing, as Majordōmo's menu calls them, were served fresh from the griddle with mezelike dips, and soon made their way, with slightly tweaked dough recipes, to Momofuku outposts in Toronto; Washington, D.C.; and the East Village Noodle Bar.
Somewhere along the way, Chinese bing became Korean bāng, but bread's only part of the story at Bāng Bar. The heart of the diminutive open kitchen is the vertical spits that glisten with self-basting meats: gochujang-marinated pork shoulder; yakitori chicken glazed with soy, mirin, sake, and garlic; and slabs of mortadella, of all things, layered with housemade lardo to keep it moist. "The vertical spit is consistent, efficient, and delicious — an absolute genius way of cooking," says Chang, speaking as if he were the president of the Society for the Appreciation of Vertical Spits and Gyro Machines.
So is Bāng Bar essentially a shopping-mall kebab joint? In a manner of speaking, yes, if that kebab were flavored like Korean barbecue and informed by the migratory evolution of foods like Lebanese shawarma, which gave rise to Mexico's tacos al pastor, another recent obsession of the bicoastal chef. "No one can lay claim to flatbread," says Chang. "No one can lay claim to marinating meat on a spit." It is doubtful, however, that anyone else has seen fit to shave lardo-basted mortadella off a spit, cradle it with a Kraft single and pickled onions inside a warm flatbread, and call it breakfast.
Here, a look at some of Bāng Bar's other innovations, which can be taken to go or enjoyed, in true old-school Momofuku fashion, at a high standing table in the hallway.
10 Columbus Cir., 3rd fl.; 646-918-8752
Opening hours: Monday to Saturday for breakfast, 8 a.m. to 11 a.m., and lunch, 11 a.m. to 3 p.m.