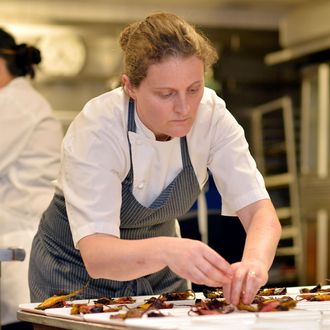 April Bloomfield.
Photo: Dylan Rives/Getty Images
Nearly a year after Ken Friedman was first accused of sexual harassment in a New York Times report, his onetime business partner April Bloomfield has spoken about the abuse in her restaurants. Bloomfield had not spoken much about the allegations in public, issuing an apology shortly after the December report and releasing a statement in June announcing her departure from the Spotted Pig. In a new interview with the Times, the chef says of Friedman's victims, "I feel horrified that I've done wrong by them" but that she has not yet reached out to them.
In the interview, Bloomfield talks both about her own culpability — "I failed a lot of people … That's on my shoulders" — and feeling intimidated by Friedman. Of their power dynamic, she says, "I felt like I was in a position where he held all the cards." This goes back to the very opening of the Spotted Pig, when she says she shared with Friedman that she didn't really like some of the framed posters, causing him to threaten to revoke her work visa.
This dynamic was perpetuated, she says, by Friedman telling Bloomfield that he was the reason that she was famous and rich, and that he had the power to change that. The chef claims that she tried to hire an HR coordinator and that she was not told about episodes in which Friedman groped employees or asked for nude photographs. Bloomfield and some employees say that Friedman asked the waitstaff not to tell her about his behavior; other employees tell the Times that Bloomfield simply didn't want to know. By her own account, Bloomfield agreed to open restaurants in California to get away from Friedman, and she even began consulting with lawyers about how to get out of the partnership.
Chef Gavin Kaysen, a friend of Bloomfield's, tells the Times that she painted the relationship as "very tough" and "not a very fair one." An employee of ten years, Michelle Petrulio, argues that Bloomfield was "as affected by Ken's behavior as everyone else." Others are more critical of Bloomfield, whom in the initial Times report about Friedman was portrayed as looking the other way.
Former Spotted Pig server Trish Nelson, who had said she was verbally abused for years by Bloomfield and sexually harassed by Friedman and Mario Batali, tells the Times that the chef "has always been out for herself." Nelson describes her as a "perpetrator."
According to Bloomfield, she is undergoing psychotherapy and executive coaching. She is speaking and apologizing to staff in the restaurants she has kept since breaking away from Friedman. The division of their restaurant group is still being completed. Friedman is being sued by the Ace Hotel for misrepresenting earnings at its restaurants the Breslin and John Dory Oyster Bar.