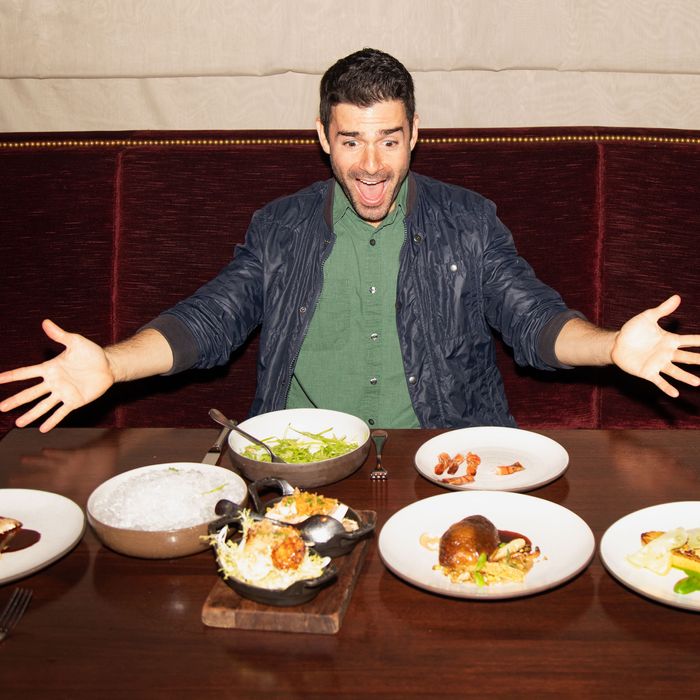 Kantor, at the Nomad.
Photo: Erinn Springer
You might have caught actor Adam Kantor during his stints in Rent, Fiddler on the Roof, or currently onstage as the Telephone Guy in the Tony-sweeping musical The Band's Visit. But food lovers and fans of pop-up dining might be more familiar with his work with Story Course, an interactive musical-theater dinner experience he co-created, which allows immigrant chefs to tell their stories through food. "I got really interested in food as it relates to culture and cultural memory and emotion as I got older and started traveling and experiencing a lot of different foods," says Kantor, who grew up in a close-knit family on Long Island. "I basically said no to nothing." This week, in between grain bowls and chocolate babka, he sampled the work of current and upcoming Story Course chefs, and topped it off with birthday-cake truffles. Read all about it in this week's Grub Street Diet.
Thursday, September 27
Maybe once a week at her apartment, my grandma will make me Russ & Daughters Nova and poached eggs on toasted challah with mayo. Jewish soul food.
Growing up, it was a pleasure to eat, and a lot of it was at home. Food was just a big part of family and family tradition. Of course, all the Jewish holidays revolve around food. My favorite experiences are the ones where you combine food with community and family. Years ago, I had an organization called Broadway in South Africa with a few of my friends, and we would do arts education around townships in Cape Town and Johannesburg and Durban. I had a lot of beautiful meals in these townships — simple local food, from the earth and made with love. I didn't know what I was eating a lot of the time, but I just trusted it. That experience opened up my eyes to the world and made me want to do a lot more travel and trying every kind of thing I could put in my mouth.
Lunch was at Cava, which for me feels like a Mediterranean Dig Inn. I tried everything — the lamb, the brisket, a little bit of the chicken, and all their veggies. It was really delicious.
Dinner was spent with chef Behzad Jamshidi testing some of his dishes for his upcoming Story Course and a pop-up he's doing called Resident. He's Iranian, and his food is so closely linked to his own emotional experience. He makes a tuna with Middle Eastern spices, I think it's ras el hanout, and it's just killer. He also makes a fesenjoon, which is like a duck-pomegranate stew situation. He uses rosewater in a lot of his food as well, which is a very Persian thing, and it's just next-level beautiful. You taste the love in the food.
Friday, September 28
I woke up and ate, baby. Priorities. Breakfast was a Daily Harvest smoothie, and I made my own green açaí bowls with kale, açaí powder, banana, coconut water (mother's milk), a little almond butter, and Purely Elizabeth granola, dates, and goji berries. It was wow.
Then I passed by Breads Bakery, which means I went to Breads Bakery. They do have sandwiches, but you go there for the chocolate babka. Holy fucking balls, give it to me every day. It's nearby, and I always end up buying a whole loaf that I'll, like, split with my cast. Etai Benson, my roommate at The Band's Visit, is obsessed with it, too.
Dinner was a private event for chef Jae Jung's Story Course "How Do You Hug a Tiger?" It's a six-course tasting menu, each course is paired with an interactive chapter of the story of the chef's migration from Korea to New York. After each vignette, a corresponding course is served. The beginning of chef Jae's story is very traditional Korean; it's her as a child in Korea. And as the story progresses and she migrates to New York, the food becomes more fusion. And she's an excellent chef. She worked at Le Bernardin and now she's at the Nomad, so her food is absolutely killer.
In a climactic moment during the dinner, her mother gets emotional that her daughter wants to leave her roots and leave Korea and move to New York and become a chef, which was the very thing her mother was and wanted her daughter to fight against. When she tells her mom — in her mom's restaurant — that she wants to go to America and become a chef, her mom slaps her in front of the guests. So for one course, chef Jae made bibimbap with a tuile cracker on top, that the guests were directed to slap over an egg yolk, which bleeds all over the dish.
Saturday, September 29
Clean Market to get the Blue Smoothie bowl. It's a wellness market and it has everything: CBD oil, bee pollen, E3-Live, glitter dust, I don't know. The bowl has banana, pineapple, cauliflower, coconut oil, almond milk, turmeric honey, toasted coconut chips, mulberries, and granola, plus E3 Live, which turns it this crazy blue color. I ate half of it and spilled half of it all over myself while Citi Biking to the theater, so my clothes were this crazy shade of blue, but my wonderful costume crew helped me clean it up. Only a Broadway costume crew could clean off the blue of an E3 Live stain out of clothing.
Green Symphony, which I love, for lunch. It's like an actor's go-to in midtown. It's this little hole-in-the-wall that really caters to performers who really care about what they are putting in their bodies. It has all these smoothies and call them by Broadway show titles, like the American Idiot — even though American Idiot's been closed for years. I got a New Yorker bowl delivered to my theater, with veggies, chicken, brown rice, and dumplings. So good and filling.
Then Gramercy Tavern with grandma, storied New York in a neighborhood we love. You can do the tasting menu or you can do a more à la carte thing. We just had fish: some crudo, some halibut, and some sea bass, all of which were just beyond. The presentation, the vibe, the flavors, everything. I had a flight of kombucha. Grandma had Prosecco.
Sunday, September 30
Forager's cashew yogurt with granola and goji berries, and raw manuka honey. I've been trying to do less dairy. I thought, Let me try this cashew yogurt. It sounds gross. It was actually really good!
I had some dear friends in town from San Diego and they asked for some recommendations for lunch in midtown. I recommended Nougatine or Marea, and they chose Marea. We had a five-course tasting menu with three different kinds of crudo, lobster with burrata, seafood pasta, scallops, then tiramisu for dessert. It was all good, but the combination of the creamy burrata and the chewy lobster was a melt-in-your-mouth, melt-in-your-seat moment.
Dinner was from Miznon in Chelsea Market, an Israeli spot. They have this rib-eye steak in pita with pickles and an incredible white sauce. It's out of control. I go with one of the Israelis in my cast, Etai, my roommate who also loves the chocolate babka. He told me about it, "Oh, this great Israeli chef has opened up this place in Chelsea Market," and now anytime I'm in that area I'll go. I'll even bike down in between shows just to get that pita.
Monday, October 1
Russ & Daughters at grandma's again. Tradition!
I love the juices from Pure Green, and had their Grapeshot, which is ridiculously hydrating, with grape, lemon, probiotics, and Himalayan salt. Equally delicious (and good before a show for vocal inflammation) is their Golden Girl, with turmeric, carrot, pineapple, lemon, and ginger.
Contrary to what I've written, I can cook. Simple things. I've also learned some things from chef friends. But it's like, when you live in a city where access to food is so wide and good, with a very busy lifestyle, it's more about time. That plus all of the other bullshit that people spout out for not cooking. I leave it to the professionals, and there are so many good ones.
My friend Nikki just opened up this place West~bourne in Soho with really good, really healthy bowls. It's sort of all-purpose in that you can go for a casual, business-y kind or lunch, or it has these magnums of rosé, so you can stay a while. It has an elegant design inside, and the food itself is beautiful. It has these Sunset Grains, which is vegan risotto infused with almond butter instead of cheese and topped with roasted maitake mushrooms and chili oil. It's amazing. But it also balances it out with the Four & Twenty Blackbirds pie. We had this honey-lavender pie, which was the best dessert I'd had all month.
Tuesday, October 2
I made a smoothie and turned it into an açaí bowl. I poured it over granola and goji berries. That, plus matcha.
Lunch was at the Nomad, where I got to say hi to chef Jae. The chicken stuffed with foie gras and black truffle sauce, which you can get at lunch, is one of my favorite dishes in NYC. The first time I had it was with my immediate family, and we were celebrating a big birthday with my dad. First, they present the whole chicken to you, which just looks like the most succulent chicken in the world, kept moist while it bakes by piped-in foie and truffle, which also crisps the skin. Then, they take it and carve it into the most beautiful piece with truffled sides, then a side with the dark meat and a hollandaise sauce. The crispness of the skin is just perfect, and the whole thing is just incredibly decadent. I also love the design of the space. The room is gorgeous: dark red, plush chairs and curtains. The whole experience was beautiful.
Dinner was Red Poke delivery to my theater. It's a poke bowl that I get, with everything in it: tuna, salmon, veggies, everything to power through. Recently, Audra McDonald and her husband, Will Swenson, came to see our show, and the next day they delivered Momofuku Milk Bar, including my favorite birthday-cake truffles, compost cookies, and cereal milk. I had that for dessert.