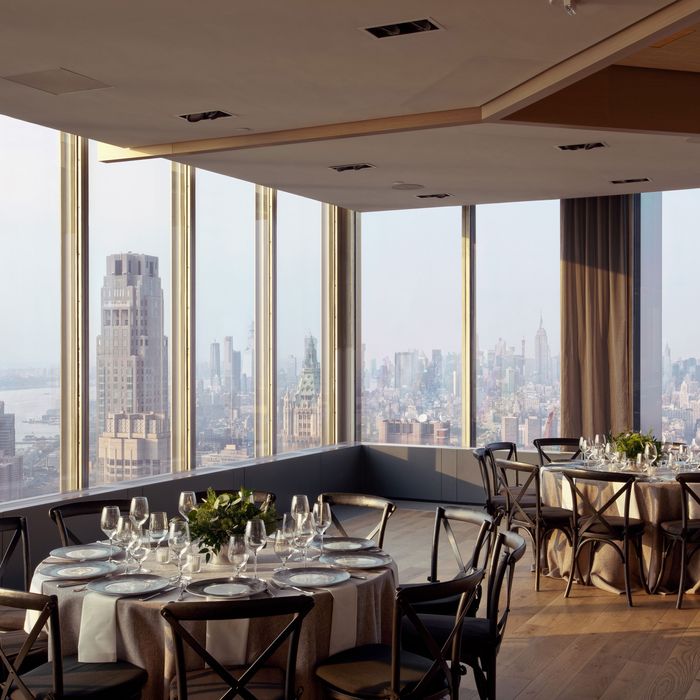 The Bay Room is Union Square Hospitality Group's first dedicated events space.
Photo: Peter Garritano
This year has brought a lot of great, new restaurants, but it's also brought a staggering number of new private-events spaces that are not only perfect for the impending holiday-party season, but wedding receptions, corporate hobnobbing, and fancy birthday parties. These venues stretch from Bushwick to the Financial District and Midtown East, but Grub has created a handy guide with descriptions of each of these new spots, how much it costs to rent them out where available, and how many people, standing, can squeeze into the room. Here are 12 happening new private-events spaces in New York City.
Bay Room
Price: Custom
Capacity: Up to 580 people
With all the hype surrounding the opening of Manhatta, it's easy to have missed the opening of the Bay Room, Union Square Hospitality Group's first dedicated events space. The Über-ritzy venue is located on the same floor as the restaurant, but with views of the Statue of Liberty and the Hudson River, compared to Manhatta's uptown and eastward vantage point. The entire space and its floor-length tablecloths can be rented for soirées or by section (west, south, or east), which can hold 150 and 300 guests. Depending on the time of year, USHG offers a spring/summer or fall/winter catering menu or food stations themed around pasta, flatbreads, and South American food.
Olmsted
Price: $95 per person
Capacity: Up to 30
If you want something done on the cheap, do it yourself. And call your dad in to help. That's what chef Greg Baxtrom did to create the new private dining room at Olmsted, featuring a quaint, mid-century look and year-round access to the restaurant's backyard garden. (Thank God for heat lamps.) The best part, local florist Michelle Double has put together a floor-to-ceiling forest installation of preserved plants that guests won't soon forget — or stop taking pictures in front of.
Rype Studios
Price: $2,000 per day
Capacity: Up to 75
For events where all of the food will be made in-house, Rype Studios in Williamsburg is the place to go. This sunlit, 2,600-square-foot space features a fully equipped kitchen with professional-grade cookware, a stainless-steel prep table, a huge gas range, plus stylish dishware and a long oak table straight out of a food-magazine spread.
The Castle
Price: Starts at $5,500
Capacity: Up to 100
The Castle is the latest addition to Andrew Tarlow's restaurant-group empire and his first-ever events space. Located at the intersection of Dwight and Van Dyke Streets in Red Hook, expect lots of hanging plants and rustic furniture in a vaguely industrial space. For an additional fee, Marlow Events will cater everything from cocktails with canapés and a raw bar to a multicourse dinner with dessert.
Indoors at Nowadays
Price: Starts at $1,000
Capacity: Up to 300 people
Nowadays is probably best known for its gigantic outdoor space, but this year, the bar/nonprofit finally came in from the cold and opened Indoors at Nowadays, a laid-back 5,000-square-foot space with a full bar and kitchen that can accommodate both rowdy and more staid events in a room that reads Bushwick-chic. The best part: The revenue created from the events space goes toward Nowadays's community-based work.
Legacy Records and Ada's Place
Price: Custom
Capacity: Up to 200 people
When choosing between these connected Hudson Yards spots, it helps to know that Legacy Records is best suited for professional events of the corporate and fine-dining variety while Ada's Place, equipped with a full AV kit, makes it the better location for cocktails, dancing, and light bites. For more intimate gatherings, there's also a 34-seat test kitchen and 14-seat drawing room.
UpNorth
Price: Custom
Capacity: Up to 120 people
The basic premise of Bushwick's UpNorth is that it's all about Canadian culture. That includes seven different poutines, Canadian snacks like ketchup chips and Aero chocolate bars, and a space outfitted entirely in maple wood imported from Canada. The end result is a space that's both rustic and industrial, with a full bar that allows you to bring in your own food if you have some kind of vendetta against unlimited gravy fries with cheese curds.
The Polynesian
Price: Upon request
Capacity: Up to 400 people
Major Food Group's ode to all things tiki can also hold an impressive amount of people. On the lower end, there's the Polynesian's 12-seat private dining room as well as three other vaguely tropical rooms of varying capacity, all named after Pacific Islands, including Kiribati, Easter Island, Tahiti, and Tonga, which can hold 80 to 300 people standing. For drinks, the Polynesian sports a full bar as well as a lot of rum-based cocktails, while the food menu is geared more toward snacking than filling up, featuring ahi tuna poke, crab rangoons, and pork spring rolls.
Freehand New York
Price: Upon request
Capacity: Up to 300 people
Compared to the other locations on this list, the Freehand is a jack-of-all-trades. Within its walls, visitors will find five distinct venues for events from the small Gallery and Game Room and the George Washington Bar, both a fit for small gatherings of 25 to 50 guests, to restaurants Simon & the Whale and Studio, which can accommodate up to 70 and 150 standing guests, respectively, and a few less for sitting dinners. Literally at the top of this chain is Broken Shaker, the Miami-born cocktail rooftop bar, which can hold up to 225 guests, and with four different bars, it can be broken into smaller spaces. None of it is cheap, but you definitely won't have to worry about the venue not being cool enough.
Chicha Cafetín
Price: Custom
Capacity: Up to 75 people
From the minute it opened, Chicha's fresh, modern look stood out to many a design lover, which also makes it a great venue for those who love aesthetics as much as they love a good party. Just a hop and skip from the Jefferson L stop, the Nicaraguan restaurant's menu truly lends itself to parties where small bites are the order (quesillos, anyone?) while boasting highly photogenic cocktails and one of the city's deepest rum lists.
Ophelia
Price: Custom
Capacity: Up to 175 people
Among all of the places on this list, Ophelia easily has the most history. It's located on the top floor of the Art Deco Beekman Tower (formerly known as the Panhellenic Tower because people were really into Greek mythology back in 1928) and used to house a women's-only club for sororities. Today, the space has been slightly modernized, outfitted with plush seats, a full bar, exposed brick, and checkered floors. The aforementioned bar serves complicated, highbrow cocktails with names like the Flapper and Purple Tuxedo while the bites are a little more straightforward: think grilled cheese, hummus, sliders, and lobster rolls, which are more or less the types of things you'd expect to eat at a private event.