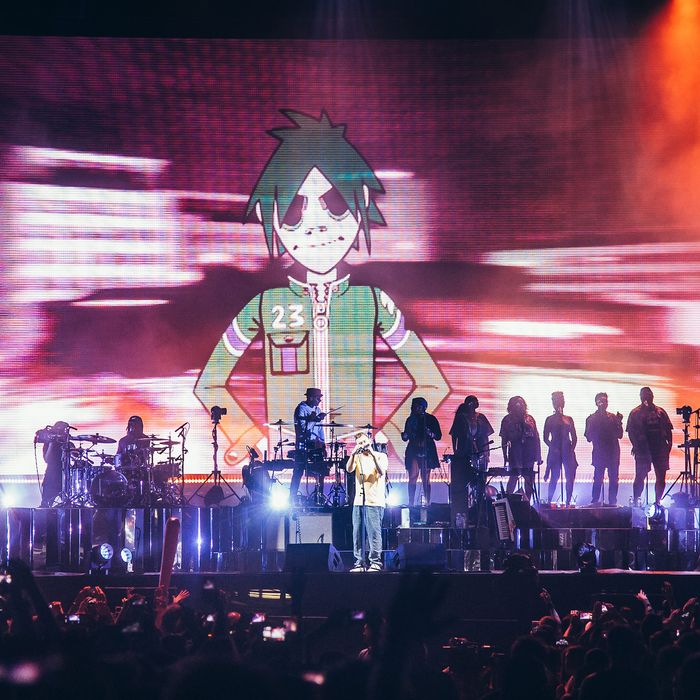 Photo: Joseph Okpako/Getty Images
Events to check out this holiday weekend, October 11 to 14.
1. Get spiritual.
Kick off the weekend with the weightlessness of space, when Brit rockers Spiritualized perform at Kings Theatre tonight with the Wordless Music Orchestra and the Brooklyn Interdenominational Choir. Come back on Friday and Saturday for a dose of indie-pop nostalgia with Death Cab for Cutie, in support of their latest album, Thank You for Today.
2. Indulge your inner architecture buff.
This weekend is Open House New York, where a couple hundred sites and projects open their doors to the public. Some require reservations, but most are open access and free. Stroll through the Brooklyn Army Terminal, the largest concrete structure in the world when it was designed primarily by architect Cass Gilbert of the Woolworth Building; take a guided tour of the circular Castle Williams on Governors Island; see where in the Bronx Edgar Allan Poe spent his last years; and much, much more. This month is also Archtober, NYC's architecture and design month, which features hundreds of events, tours, and exhibitions organized by more than 60 partners across the five boroughs. Pick a day like Thursday and pick an event like a panel on balancing historic preservation and public engagement, or Friday and an architecture cruise around Manhattan. It's choose your own adventure, design-style.
3. Overindulge.
Hope you're hungry. The New York City Wine & Food Festival takes place through Sunday, with tastings and panels, hangs with chefs, and a special pet food "Yappie Hour" for four-legged friends (no word on whether you can attend without a pet). On Saturday, the free Mr. Dips Block Party brings county-fair vibes to Williamsburg with cornhole, cotton candy, face-painting, performances, and more. And pizza lovers should rejoice, as the Museum of Pizza opens on Friday at the William Vale, with visitors this weekend also copping a slice of pizza and a special savory Hawaiian-pizza doughnut contribution by Wylie Dufresne and Du's Donuts. When you're done with that, New York Coffee Festival pumps you full of caffeine, and the free Lower East Side Pickle Day on Orchard Street on Sunday hits that sour spot with the products of picklers, plus a themed mascot. Guess what his costume is.
4. Have a literary lunch.
Maybe you'd like to expand your brain as you expand your stomach? In one of the fanciest book clubs we've heard of, Georgette Farkas of Rôtisserie Georgette revives her "Author! Author!" lunch series the next two Saturdays in conjunction with Literacy Partners. This weekend, have a three-course chicken or vegetarian menu and Bordeaux wines paired with Meryl Gordon, author of, most recently, Bunny Mellon: The Life of an American Style Legend, in conversation with William Middleton. The presentation is followed by a Q&A and book signing.
5. Dream of caviar (and then eat it).
Food tastes great on land but even better on water, provided you don't get seasick. For the next three Sundays, Hudson's at Pier 81 celebrates fall with a caviar-focused Sunday dinner cruise, featuring the California-based Sterling Caviar, while taking you on a spin over to Lady Liberty. This Sunday, dine on the modern American dishes of wunderkind Flynn McGarry of the restaurant Gem. Next Sunday, Alex Atala of the two Michelin-starred D.O.M. in São Paulo shows off Brazilian ingredients. And on the 28th, hometown (now Hudson-based with Fish & Game) favorite Zakary Pelaccio rounds out the series with foraged and fermented fare. Plus a smoked lamb shoulder.
6. Warm up for Halloween. 
The countdown to Halloween continues. This weekend, take the kiddies to Boo at the Zoo, where the Bronx Zoo is set up with haunted hayrides, magic shows, an extinct-animals graveyard, a spooky bird meet and greet, and much more. This Friday, there's also a treat for adults: a Spooktacular Night Walk, with wine, beer, and creepy guests that come out after the sun goes down and the gates close.
7. Take theater to the edge.
The first lady of musical-comedy theater is back, baby, and played by actress and Broadway impressionist Carly Sakolove in the Book of Merman, or what happens when two Mormon missionaries ring the doorbell of Ethel Merman. (Hilarity.) And after a hiatus, the experimental Fringe Festival is back in New York, this time split in two parts. FringeNYC takes place in venues in the West Village through the 28th, and the second FringeBYOV happens all around town (BYOV: Bring Your Own Venue). This weekend, see a dance interpretation of Oscar Wilde's surrealist Salome, or a reimagining of Romeo and Juliet where Tybalt and Mercutio are the star-crossed lovers. Plus much, much more.
8. Check out some butterflies!
Soothe yourself with pretty things at the American Museum of Natural History with the "Butterfly Conservatory: Tropical Butterflies Alive in Winter." See the iridescent blue morpho butterflies, large owl butterflies, zebra longwings, and much more brought in from farms all over the world, including Costa Rica, Kenya, Thailand, Malaysia, Ecuador, and Australia. It's like taking a tropical vacation.
9. Stop by animation station.
Life can get pretty cartoonish these days, so why not go all-in and see the Damon Albarn–led (and Grammy-winning) Gorillaz this Saturday at the Barclays Center. The band, which has been recognized by the Guinness Book Of World Records as the planet's Most Successful Virtual Act (narrowly beating out Milli Vanilli, probably), plays in support of this summer's The Now Now. And while you're at it, scream it out with Nine Inch Nails at Radio City on Friday and Saturday (and Kings Theatre on Tuesday and Wednesday), and back at the Barclays Center on Sunday is Phil Collins, favorite of American psychos and Brooklyn parade enthusiasts alike. He's on the Not Dead Yet Tour.
10. Fill your weekend with funny ladies.
Want sketch comedy? Characters? Stand-up? Improv? Podcasts? Get all of them and more this Saturday and Sunday at the She Makes Me Laugh festival at the Pit, a series which has come a long way since its first show a few years ago in a yoga/dance studio in Murray Hill. Buy a festival pass for $36 or tickets to individual shows with comedians like Jessica Kirson, Emmy Blotnick, and Nikki Glaser. Plus a business-of-comedy panel, a writer's panel, and more, with $1 of each ticket going to support Safe Horizon, a nonprofit victim services agency.