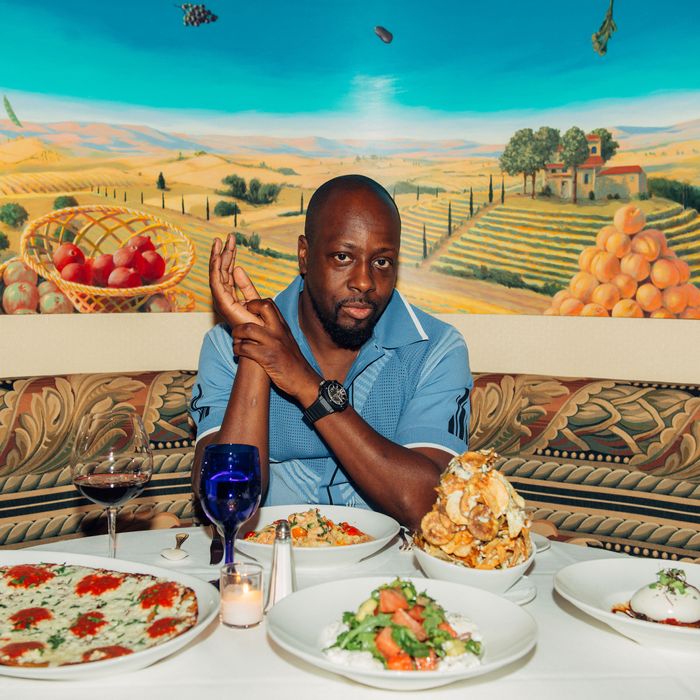 "I mean
everybody
goes to Fresco's. It's like a movie."
Photo: Christian Rodriguez
Wyclef Jean's love of Haiti reverberates through everything he does, from the music he makes to the food he eats. "It's part of my DNA," he says about the country's cuisine, talking up his love of conch, sauce Creole, and all kinds of fish. This year the musician, record producer, and actor has gone on a full U.S. tour for the first time in a decade. He has shows for the Carnival Tour coming up this month and in October, and his latest project, Wyclef Goes Back to School, comes out October 3. While he eats healthy to stay primed for the stage, he still indulges in his love of seafood, filet mignon, and … apple Martinis. Read all about it in this week's Grub Street Diet.
Thursday, August 30
This was my day to eat! I call it my cheat day. Everybody needs a cheat day, don't let nobody fool you, man. If you don't have a cheat day, you'll go crazy.
I knew I was going to have a very strong lunch, so I just had a light, healthy breakfast at home. Egg whites, broccoli, and then I had some tuna on the side, too. Along with aloe. I drink a lot of aloe vera, but I have it with fruit because I don't always like the taste of it raw. This time I had a strawberry aloe vera.
So, we were talking about my cheat day. I love pizza; I love red wine. For lunch, I went to Fresco by Scotto and I had all that and more. Some seafood, some fish. You will find fish in everything that I eat! I go to Fresco, like, every week when I'm in town. I love the place. I've been going to it since back in the Sony days. I mean everybody goes to Fresco's. It's like a movie. I want a place that feels like I'm in my own neighborhood. 'Cause I'm an island man, I like that natural familiarity.
I think the food there is dope, and you feel connected to the owners and the chefs. But here's the thing I like most about Fresco: You know when you go to a restaurant and it really feels like you're in a restaurant? That's not how it feels here. It feels like I'm chilling in my kitchen. I'm talking to the owners, talking to Anthony, the vibe is just right, and it feels like the food is cooked out of love. I always say that when you can feel that, it's the best food.
Dinner was back at my studio, we ordered it from a spot close by in Jersey called Café Panache. We kept it very light because I had a big lunch. I had incredible foie gras and some salmon with vegetables. You ever had foie gras? I don't know some people might not like it; there's a whole law about foie gras.
Friday, August 31
I started my day off at home with the same routine. The egg whites, vegetables, aloe with fruit, and I had a whole bunch of tuna, which tasted really good. I was doing this because I had a show later on that day. Whenever I'm six or seven days out, I start to reel myself in. I go back to the regimen, you know.
I'm a serious coffee guy, too. Always have it. My coffee of choice, of course, is Bustelo. I'm a booster, you know what I mean?
I was recording music that day. For lunch, I had a baked potato with steak, 'cause I was working out. The steak was at home. My wife cooked it Creole-style. What made it different was more the sauce: the tomatoes, pepper, the mixture of seasoning, hunk of parsley. It's more, like, the preparation of the sauce was more Creole.
I prefer the filet mignon, 'cause it's like, for me, when you eat the steak, bro — you have to eat the steak. I love a filet mignon, of course medium-rare. That's Wyclef.
That day, I had to fly down to Tennessee for a concert. I just chilled out down there, and later that night we had a pretty interesting show in, I'm not kidding, a cave. Like, in the middle of Tennessee. Yeah, dude, it was pretty nuts. They built it.
Thing is, we were on the outskirts — just out there — so the options for food were pretty limited. We crossed our fingers and just requested whatever seafood they could pull off. It didn't turn out so bad. We got grilled salmon, vegetables, and chicken breast, which ended up being perfect.
Saturday, September 1
It was the same routine. Because, you know, when I'm going to be working back to back, when I have shows, everything goes into the seafood regime. Touring is 100 percent like a marathon because of the physicality, and when I'm on the road I have to stay healthy. So, yeah, even in Tennessee I had my egg whites for breakfast.
If I wasn't touring, my weekend would be different, but you literally have to adjust your eating. What you put in your stomach can make you lazy, or pick you up. I'm usually onstage for two hours, burning a lot of energy.
I came back to New York later that day. On my way home from the city, I made a diversion and picked up some food for the fam. I went to Mr. Chow and got the chicken lettuce wraps, the crispy duck, and green prawns. That's the order. I love duck.
So, my friends always laugh at me because I'm not really a drinker drinker. Because when I go to these places if I'm not getting red wine — I love Bordeaux and Merlots, also I love Champagne, rosé, all that — what I do is literally order apple Martinis. And I rate the ones I drink from different places to see where the best apple Martini is. I really like them, and I've gotten to where I've rated my No. 1 place for them: the Oceanaire. I've had them at quite a few places. That's where I stand. You have to have one there. It's big, you can walk out the club, and you're good.
Sunday, September 2
We don't need to talk anymore about egg whites, but I'll tell you what — my wife cooked snapper Creole-style. Like the steak, what made it different was really the sauce that she makes. There are a lot of tomatoes, which she crushes; a lot of herbs; a lot of pepper.
I have, like, two "seasons" when it comes to what I eat. When I'm constantly moving around, like right now, it's seafood season. I love all kinds of fish, calamari, oysters, and clams. It's all perfect for me. I like my cooked oysters, right, but I love my sushi and the taste of yellowtail and things like that when they're raw. I'm starting to get hungry right now. When I want to put on a little weight because I'm doing a little more, I shift over and then maybe have red meat twice a month.
I don't cook much myself. But my wife does. She's a crazy fashion designer; she makes great food. She's Caribbean, from Haiti, and we both grew up with that Haitian cuisine. Oh yeah, baby, it's part of my DNA. I would say her speciality that I love the most is probably her yellow rice with shrimp. Oh, and then this turkey she makes with sauce Creole-style.
Whatever her mom used to cook, she passed on to my wife. In my family, we've got some real, real super, super, super great cooks who take the old-style tradition and modernize it.
In Haitian cuisine, you have all kinds of dishes. Seafood was my upbringing, though, and I like the white fish we call le poisson con de Julie, red snapper, you know. One of the best Haitian dishes ever is conch; we call it lambi. A good conch with hot pepper, red pepper, is incredible. The thing that's crazy about the island's food is it's a lot of farming, people living off the island but also living off the ocean. You get the best of both worlds. Think about the person whose food for the day is determined by what you caught that day. This was my dad. Can you imagine?
Monday, September 3
All right, you know what it's like when you eat the same thing over and over? The whole week was just … egg whites. So I try to alternate it a little bit to keep it somewhat interesting. So, I had my egg whites with a grapefruit. Yeah, man, grapefruit, mango, and tangerines: my guilty-pleasure fruits.
I was recording again, so for lunch that day, I had Japanese food near my house from this place called Moshi Moshi. I got the chicken teriyaki with broccoli. I stayed in the studio and ate dinner there, too. Got it from Café Panache again; it's a regular place of mine when I'm in Jersey. I had grilled salmon. There's lots of salmon in my life, man.