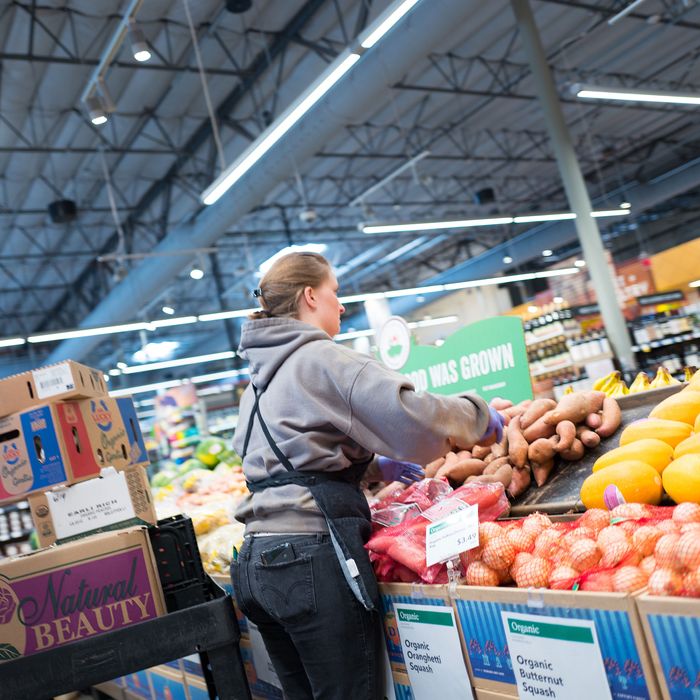 Whole Foods employees have had enough.
Photo: Smith Collection/Gado/Getty Images
It's been a year since Amazon took the reins at Whole Foods and, all-in-all, the takeover has been an unmitigated disaster for both customers — who've complained about empty shelves and the end of Whole Foods' loyalty program in favor of Amazon Prime — and employees, who've reportedly been miserable since the switch.
Now, The Wall Street Journal reports that disgruntled Whole Foods employees are beginning unionizing efforts. Organizers are calling for better benefits and pay and a new policy around profit-sharing in response to the end of a program that gave even lower-level employees stock options. Employees are working with the New York–based Retail, Wholesale, and Department Store Union and will send out an email today asking employees at Whole Foods' 490 locations to join the effort.
Both Amazon and pre-Amazon Whole Foods have previously resisted unionizing efforts among employees, with the former drawing ire for its mistreatment of warehouse workers. Just this week, Senator Bernie Sanders introduced the Stop Bad Employers by Zeroing Out Subsidies, or Stop BEZOS bill, which would impose a tax on large corporations equal to the value of the social spending on Medicaid, food stamps, rental subsidies, and other programs collected by their workers.
"Amazon is worth $1 TRILLION," Senator Sanders wrote in a Facebook post on Tuesday. "Thousands of Amazon workers have to rely on food stamps, Medicaid and public housing to survive. That is what a rigged economy looks like."