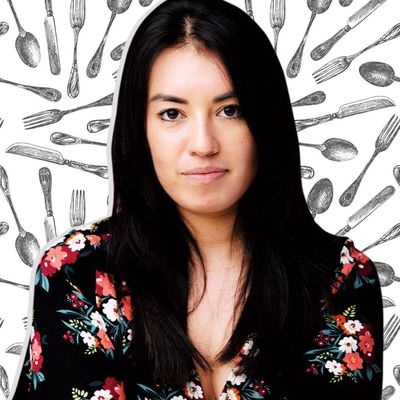 This week, New York Fashion Week kicks off its 75th year, and the historically uptown event will mostly take place south of Canal, at Tribeca's Spring Studios, starting Thursday. Fashion Week means a lot of running around, and no one understands that like Ella Cerón, the deputy editor at Teen Vogue. "My biggest thing with food if I'm busy, it's either gotta be fast or it's gotta be delicious," says Cerón. "And bonus points if it's both." Here are her suggestions for where to grab a quick bite (or a really good one) in lower Manhattan during Fashion Week.
Sarabeth's
339 Greenwich St., nr. Jay St.; 212-966-0421
It is so great for breakfast and morning meetings especially, which is a nice way to start the day. It's usually really quiet in the mornings before the Tribeca moms take over at lunchtime. And being able to sit there with coffee or grab an omelette is a little indulgent.
Ground Support
399 West Broadway, nr. Spring St.; 212-219-8722
It's a really nice coffee spot and it's independent. They have really good flat whites. There are good sandwiches and you can just work out of there, which I used to do a lot when I worked at the Cut.
Dante/Liquorette at Genuine
191 Grand St., nr Mulberry St.; 646-726-4633
It's the perfect upstairs/downstairs situation depending on what you want. I love the potatoes at Dante, they're so crispy, and there was a jalapeño-and-cantaloupe salad they had the other day, and I will buy anything with jalapeño on it. Liquorette is downstairs if you want a livelier night and want to get rid of the Fashion Week energy. It's a cute spot and it's extremely Instagrammable. And they have French fries if you need them.
Brookfield Place
230 Vesey St., nr. North End Ave.; 212-417-7000
Brookfield has so many options and so much to choose from. I got to Chop't all the time. I go to Dos Toros all the time. It's also really great for people-watching, whether it's the tourists or the banking bros. There's so much variety there and it's so much fun to get swept up in the mania. Just be sure to time when you go so the lines aren't ridiculously long. If you need to grab a bag of something and go, you really can't do better.
Barry's Bootcamp Fuel Bar
1 York St., at Sixth Ave.; 646- 569-5310
I go here more for the smoothies than the workout, and because people are intimidated by this gym, they're more likely to go to another juice bar somewhere else. That means there's never a huge line. For Fashion Week, when you're running around looking for protein or fuel, you can go in and out here. And one of my key things for Fashion Week is also making time to work out, and this is a great place for that.
Epistrophy
200 Mott St., nr. Spring St.; 212-966-0904
This is a little out of the way, but that's why I love it. It's just really, really chill and there's a couch; it's kind of rustic and homey. They've got great pasta, and I always get the quinoa salad. It's really easy if you need to go somewhere and reset, and it's far enough away from the office where it feels like I'm doing something to segment those parts of my life, but it doesn't necessarily become daunting to get out there. It's a stress-free haven.