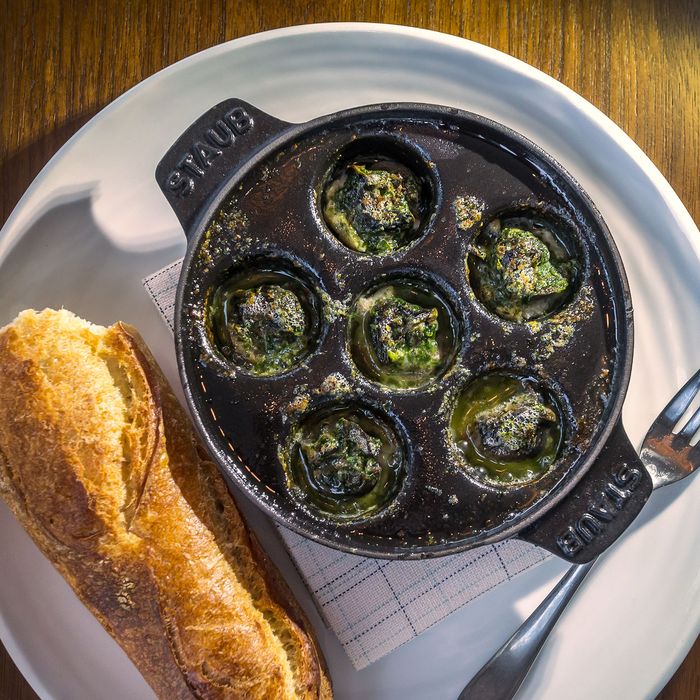 At Manhatta, escargot with pork sausage and fresh baguette.
Photo: Noah Fecks
Taylor Knapp's snails are like the Wagyu beef of escargot. Just as the cows for the famed Japanese delicacy are pampered and massaged before being turned into the world's most coveted steaks, Knapp's petit gris snails are raised on a diet of spent beer grain and foraged greens among the bucolic farms and wineries of Long Island's North Fork before being sent off to some of New York's best kitchens. "Taylor's escargot are delicate and vegetal, fed great ingredients, and super local," says Ryan Angulo, the chef at Brooklyn's French Louie restaurant. "It's insane, and awesome, that he's the only one doing this."
At his restaurant, Angulo serves the so-named Peconic Escargot with goat-cheese grits and pork-belly lardons — a far more modern preparation than the traditional dish of snails drowned in parsley-garlic butter. But, in fact, Angulo is just one chef who has made a point of breathing new life into an ingredient that most diners probably associate with stuffy French restaurants from the '70s (a grim, dark time when the snails available to U.S. chefs were precooked and canned in Europe).
In Tribeca, the most famous dish at Frenchette may very well be the ridiculously labor-intensive barely scrambled eggs that emerge from Lee Hanson and Riad Nasr's kitchen, each plate crowned with a garlicky little pile of Knapp's snails. At Eleven Madison Park, the Peconic Escargots are de-shelled, skewered, and grilled tableside, then served — it's worth noting — with morels and ramps. In Brooklyn, Colonie's kitchen makes the snails the main attraction of a campanelle pasta dish that includes garlic, mint, and Pecorino.
"I don't think anything really says French bistro more than escargot," says Angulo of French Louie. And, of course not every escargot dish in the city has to be modernized. At Bistrot Leo, chef Brian Loiacono serves his Burgundy snails — sourced, in the can, from importer Paris Gourmet — with a decidedly old-school herb butter. Manhatta chef Jason Pfeifer has also opted for Burgundy snails, but prepares them with housemade pork sausage, spiced with chili, and serves the finished dish with a generous hunk of baguette. (Better, of course, for dipping.)
"When most people think of escargot, they think about the classic preparation in the shell with garlic, parsley, and butter with their own custom serving dish and shell clamp," says Frenchette's Hanson. "But take all that hardware away and you have a very versatile, nutty protein."