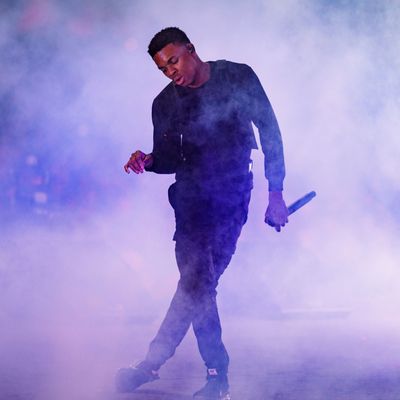 Catch Vince Staples at OctFest this weekend.
Photo: Christopher Polk/Getty Images
Events to check out this weekend, Sepetmber 6 to 9.
1. Find a new artist to love.
New Delhi native and NYU grad Prateek Kuhad has gained quite a following in India, with his soft, indie-folk songs performed both in English and Hindi. Now he's ready to conquer the States and his latest EP, cold/mess, just might do the trick. Catch him tonight at the City Winery Loft for just $15.
2. Pair a cold one with some tunes.
Summer hasn't quit and neither should you. This Saturday and Sunday is OctFest, two days of craft beer and cool bands on Governors Island, presented by Pitchfork and their beer magazine, October. Brew samples are included with your ticket, which will pair well with an above-average food lineup including Island Oyster, Mission Chinese Food, and Colonia Verde. And oh hey, and there's music too, including Vince Staples, the Flaming Lips, Yo La Tengo, Jeff Tweedy, and Nile Rodgers.
3. Drink in New Jersey.
As long as we're crossing rivers for booze, make your way to the land of Springsteen and Bon Jovi on Saturday for the Jersey City Distillery Festival, where you'll be given a souvenir glass to sample over 150 spirits including Widow Jane, Aviation, and New York Distilling Company. Two sessions are available, from 2 to 5 p.m. and 7 to 10 p.m. And if you're just there to corral your friends, a Designated Driver ticket is $15 ($70 for regular admission, use code HARBORSIDE for $20 off).
4. Count your piggies.
How many piggies can you eat? Find out this Saturday when the 9th annual Pig Island goes down by the Red Hook waterfront. Choose from dishes by more than 20 purveyors including Arrogant Swine, Fletcher's, Kimchi Smoke, and the Kingsley, plus beer, cider, spirits and live music by Dusty Wright & the Bush Hogs. An all-inclusive ticket is $85, and now that you won't have to wear a swimsuit for much longer, you can go crazy.
5. Wave to tugs.
Tugboats work so, so hard and they never get the credit they deserve. That changes this weekend at the 26th annual Great North River Tugboat Race, where the little guys get to shine, first with a parade on Sunday at 10 a.m., followed by competitions. It's all free to watch from Pier 84, or purchase tickets for the spectator boat to get close to the action.
6. Dream on.
Fall is the time for innovation, and the Theater for the New City in the East Village agrees, with their Dream Up festival happening through September 16. See 27 new works of adventurous theater by emerging artists, plus premieres, that may inspire you to dream up something of your own.
7. Catch a free play.
This week the Public Theater and the Onassis Foundation USA present six free performances of The Gospel at Colonus, in honor of the 35th anniversary of the original production. A re-telling of Sophocles' Oedipus at Colonus set in the context of a black Pentecostal service, the musical runs through September 9 at the Delacorte Theater in Central Park with tickets distributed at the Delacorte beginning at 12 p.m. on the day of the show, or by mobile lottery on the TodayTix app. A limited number of vouchers for that night's performance will also be distributed at the Public through a lottery, or you can donate $75 or $150 for a reserved seat.
8. Believe in magic.
Ever wanted to get into L.A.'s exclusive Magic Castle? Now there's no need, because for the price of admission through Sunday you can see magician Siegfried Tieber from the Castle this weekend in Greenpoint. In his show See/Saw, presented by Atlas Obscura, the illusionist and close-up card manipulator (who stumped Penn & Teller on their show "Fool Us") will baffle. And that's all we'll say for now.
9. Snack on some seafood.
Sustainable seafood joint Seamore's helps to prolong summer with a new weekly patio party launching this Saturday at their 250 Veasey Street location. Show up from 11 a.m. to 6 p.m. for $50 pitchers of Palomas or Kentucky Mules, tiki cocktails and food specials. Because wherever there are lobster rolls, there's a party.
10. Take a trip to Gowanus.
The always-excellent Bell House turns ten this year, and they want to share it with you. Get in the mood to celebrate on Friday with Mary Timony & Co. as power trio Ex-Hex, come back on Sunday for Katie Crutchfield's Waxahatchee, and sandwich it on Saturday with a free block party, with games, food, and activities for the whole family. Don't forget to tell them happy birthday!