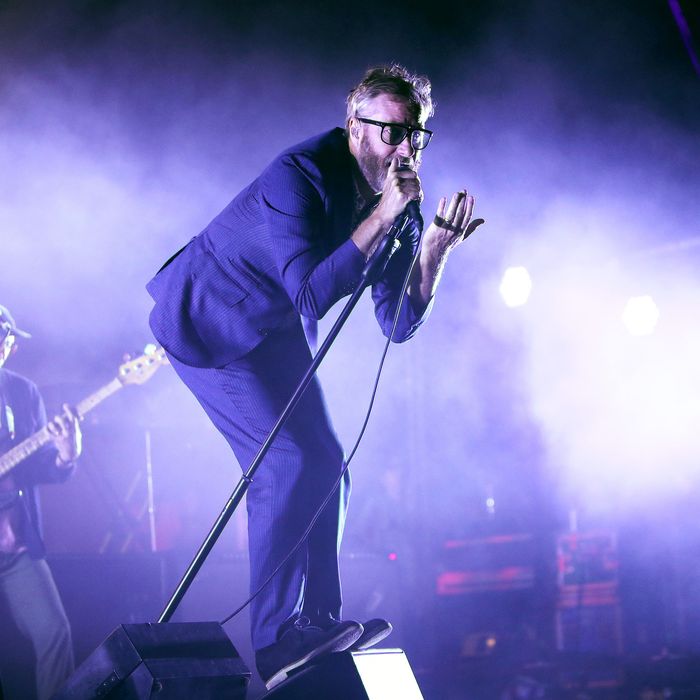 The National throw themselves a festival at Forest Hills Stadium.
Photo: Pedro Fiuza/NurPhoto via Getty Images
Events to check out this weekend, September 27 to 30.
1. Go Lenny Kravitz's way.
Find your best oversized scarf and head up to United Palace tonight, as Lenny Kravitz performs in support of his latest album, Raise Vibration. It's his 11th album and man, the guy still has more energy than all of us. Meanwhile, it's no longer summer but we still have the last of SummerStage: Tonight in Central Park see Grammy-winning songwriter Angélique Kidjo close out the season with the Resistance Revival Chorus, for free, in anticipation of her cover album of the Talking Heads' Remain in Light. Then cap off the weekend with glamour at Pier 17, when Miss Diana Ross herself plays the rooftop on Sunday.
2. Immerse yourself in some vivid storytelling.
Pop-Up Magazine's events are akin to art happenings: The multimedia storytelling adventures are geared to live audiences and feature true, never-before-heard tales that are not recorded or posted anywhere. In short, you have to be there. Tonight at BAM see works by writers Ed Yong, Ann Friedman, Rebecca Skloot, and Rowan Jacobsen, filmmaker Meg Smaker, photographer Lara Shipley, and much more.
3. Be a Global Citizen.
If you've not done your good deeds to earn a ticket, or bought your way in through Ticketmaster, there still might be resale ways to catch the Global Citizen Festival at Central Park this Saturday, with a lineup featuring Janet Jackson, the Weeknd, Shawn Mendes, Cardi B, and Janelle Monáe. It will also be livecast and livestreamed on MSNBC should you rather just stay home on your couch. In other political fare, this Friday at the Knockdown Center is Flip These Houses, promoting protest and unity through song, with performers including Spoon's Britt Daniel, Urge Overkill's King Roeser, actor Michael Shannon, Caithlin De Marrais of Rainer Maria, and much more. Proceeds benefit Power to the Polls and other organizations working to win Congress back from Republican leadership this fall. Don't forget to register to vote!
4. Stay in New York (with the National).
This Saturday and Sunday, your older brother's favorite band, the National, throws a mini-festival of their own called There's No Leaving New York, headlining two nights at Forest Hills Stadium with acts including Future Islands, Phoebe Bridgers, Cat Power, and Bully. More music? No problem. Producer and DJ Tokimonsta is at Brooklyn Steel through Saturday with Zhu, and Joan "One of Us" Osborne is at the Iridium on Friday and Saturday.
5. See some thought-provoking art.
And so it ends. This week is your last chance to catch the transcendent David Wojnarowicz show at the Whitney Museum, described by our critic Jerry Saltz as an "astonishingly relevant, urgently important retrospective." Hear audio recordings, see videos, and immerse yourself in a struggle to be human, in a time of political gloom. The show closes this Sunday.
6. Try out Iceland.
Try the food and culture of Iceland without leaving New York, beginning tonight through the 30th. A Taste of Iceland encompasses food, design, and music through events like a tasting menu at Norman in Greenpoint, an Icelandic short-film festival at Film Noir Cinema, a free Reykjavik Calling concert at Knitting Factory Brooklyn, and impromptu discussions about Björk (which you'll have to lead if you want them).
7. Appreciate some shimmy shakers.
You can catch the work of choreographer and Juilliard alum Austin McCormick onstage at the Met Opera's Samson et Dalila, but it's best to see the wild and sexy dance romps he's made his staple with his own Company XIV. They're currently performing Ferdinand: Boylesque Bullfight in their opulent burlesque style, jeweled codpieces and all. You'll find all of it at their theater in Bushwick.
8. Take a chance on Chance.
Spotify seems to be all over the place these days, including up in your DNA. This Saturday they're also presenting RapCaviar Live featuring Chance the Rapper, at Ford Amphitheater in Coney Island. Tickets are still available for a lineup including Sheck Wes, Tierra Whack, and DJ SpinKing.
9. Eat lobster like it's 2009, and more.
Remember when lobster rolls cost less than your paycheck? Luke's Lobster does, and to celebrate its ninth anniversary, the chain will lower the price of their signature lobster rolls to their 2009 price of $14, through October 1. And because they own their own supply chain and can pass the savings on to you, they're permanently lowering the price to $16 after that, $1 less than the current cost. And this weekend bacon fans can get in on the action as well, with the Bacon and Beer Classic this Saturday at the USTA Tennis Center, with tickets running $65 to $115. And test your coffee palate on Sunday at Chefs Club Counter by illy with a tasting of Arabica coffees that have been determined to be the best in the world for the 2017–2018 growing season, in contention for the Ernesto Illy International Coffee Award. A $15 ticket includes a tasting, a vote, and a food pairing from Italian two-starred Michelin chef Alfio Ghezzi.
10. Make the case for America.
It's easy to get down these days about the state of our democracy. Luckily performer and 2 Broke Girls writer Justin Elizabeth Sayre is here to help us through it with his cabaret blend of music, comedy, and storytelling, and possibly, we're told, fried chicken. We hope there's enough for the whole class.