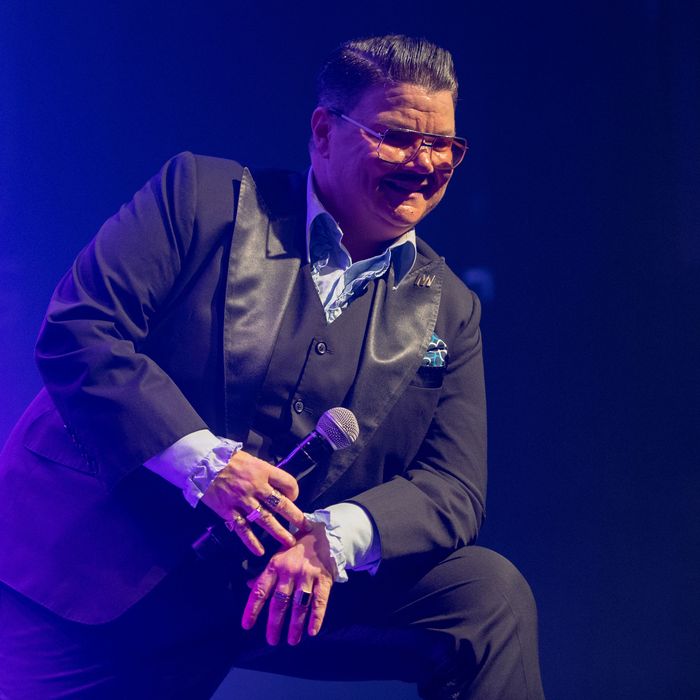 Let Murray Hill delight you.
Photo: Roberto Ricciuti/Getty Images
1. Get blinded by science.
It's been ten years since TV on the Radio's iconic Dear Science, and they're doing it up right, playing the entire thing tonight at the Knockdown Center. Tickets are sold out through traditional venues, but there is something called the Lyte Fan Exchange that you might have luck with. Also tonight: A symphonic celebration of Prince at Kings Theatre. Don't forget your purple.
2. Get your chuckles in Brooklyn.
Do you like to laugh? Great, because through September 23 is the Brooklyn Comedy Festival, taking over the boroughs with funny people, some you already know, and some you should keep an eye on. Tonight catch SNL writer Nimesh Patel and the Kevin McDonald Show with Julie Klausner and Tom Green; tomorrow see Chris Gethard and catch an animation panel with H. Jon Benjamin; and Saturday see people get things off their chest in Las Culturistas: I Don't Think So, Honey! Plus much, much more.
3. See a downtown staple.
It's a shock to find out that drag king Murray Hill, a life-affirming staple of the downtown New York performance scene, has never had his own major solo run. That changes through September 29 with Murray Hill: About to Break, a new show which will show off his "Mr. Showbiz" comedy chops perhaps with some appearances by his now-famous cohort like Bridget Everett.
4. Visit a museum.
Art and books go so well together, there's a whole fair dedicated to them. The Art Book Fair (appropriate name!) takes place this Friday through Sunday at MoMA PS1. Admission is free, with a $20 admission fee to the preview tonight, with performances and proceeds benefiting the endeavors of Printed Matter. And if you've got an itch for museums, this Saturday is Museum Day, where many institutions around the city will be free. Pick out a museum on the website, and download a ticket admitting two people, and culture yourself.
5. Cheer on some racing pigs.
Who says you can't have the traditional county fair experience if you live in NYC? The Queens County Fair — held Saturday and Sunday at the Queens County Farm Museum —has everything you could want: pig races, carnival rides, hayrides, competitions in livestock and (giant) produce , a pie-eating competition, a corn maze, and so much more. Plus a Bavarian beer garden with live music and dance and other craft and food vendors.
6. Check out the Vendy Awards.
This Saturday is the annual Vendy Awards on Governors Island — and a celebration of the diversity of the city's street-food purveyors. Vendors will vie to be recognized as the best in the city in categories like dessert, breakfast (new this year), and the coveted best rookie award. But you're the real winner, because a ticket entitles you to unlimited food from all 25 vendors, plus unlimited beer, wine, soda, and water.
7. Celebrate innovation.
On Saturday and Sunday is World Maker Faire, the East Coast's largest annual celebration of creativity and innovation, bringing together everyone from robot builders to crafters to woodworkers for a two-day expo at the New York Hall of Science, packed with presentations by folks like Adam Savage and Mythbusters Jr., concerts, and family-friendly activities. Costumes encouraged.
8. Get plucky.
Through Sunday follow the banjo to the Brooklyn Americana Music Festival, with nine stages of free shows, with over 50 artists including Alex Battles and Dan Zanes and his wife, Haitian-American jazz vocalist Claudia Eliaza. Venues include Brooklyn Bridge Park, Sunny's, and Powerhouse Arena.
9. Live in a world of imagination.
You may never have heard of Lisa Hanawalt, but if you've seen BoJack Horseman, you've seen the work of the production designer and producer. She has a new graphic novel out called Coyote Doggirl, a Western adventure about a half-dog, half-coyote equestrian. Hear all about it at Books are Magic this Friday.
10. Dance, dance.
When all else fails, shake your stuff. This Friday and Saturday the weather should cooperate when St. Lucia churns out some bops at the Pier 17 rooftop, China's Modern Sky Festival returns to Central Park on Saturday with performances including South Korean hip hoppers Dynamic Duo and Taiwanese synth-soulsters Sunset Rollercoaster, and on Saturday dance-punks !!! (Chk Chk Chk) riles up Sunset Park when they play the courtyard at Industry City.