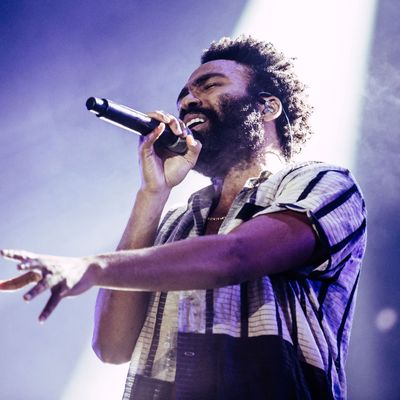 See Childish Gambino this Friday and Saturday at MSG.
Photo: Scott Garfitt/REX/Shutterstock
Events to check out this weekend, September 13 to 16.
1. Find some time to dance.
The glittery synth-pop of Rina Sawayama might just be what you need to shake off the rain today. The Japan-born, London-based singer-songwriter has collaborated with Shamir and performed with Charli XCX, with tonight's live show at Bowery Ballroom promising wigs, outfit changes, and dance breaks. Tomorrow and Saturday, let Donald Glover sing to you at Madison Square Garden in what he says is his last tour as Childish Gambino, with Rae Sremmurd opening. And for another visual stunner of a show, hit the OG David Byrne at Forest Hills Stadium this Saturday. The ex–Talking Head art rocker is as passionate for satisfying stagework as he is for riding bicycles. Tune-Yards opens.
2. Photos, photos everywhere. 
Through Sunday and September 20 to 23 is everyone's favorite shipping-container paean to creativity Photoville in Dumbo's Brooklyn Bridge Plaza, with over 90 exhibits and installations, plus talks, workshops, and tours, all free. Celebrate New York magazine's 50th anniversary with us, with our booth featuring 50 photographs with interesting back stories and interviews with Milton Glaser, Carl Fischer, Barbara Kruger, Henry Benson, and more, in addition to commissioned works by artists on what New York City means to them. Then swing through this Saturday 15 at 7:30 p.m. for a conversation exploring NYC through the lens of New York, with photo director, Jody Quon leading a conversation with luminaries like Harry Benson, Amanda Demme, and Christopher Anderson.
3. See some stars in Dumbo.
The immersive play Stars in the Night, that is. Travel across the cobblestone streets of Dumbo in groups of 12 as you witness an original play about the fallout that happens when a young woman goes missing. Staged in four locations with nine actors, the production was already a hit in Los Angeles, and is presented in Brooklyn in partnership with Van Brunt Stillhouse.
4. Catch some actors who sing.
They say life is a cabaret, and whether or not that's true for you, through September 22 it's true for old friends Jane Lynch and Kate Flannery, who perform throwback songs (and one cover of "Anaconda" by Nicki Minaj) at Café Carlyle in their new show Two Lost Souls. The pair also has a Christmas album, so expect some out-of-season yet still delightful tunes.
5. Pad your tummy.
Can't make it to Italy? Try Little Italy, where through Sunday 23 is the beloved Feast of San Gennaro street fair, the annual salute to the patron saint of Naples. Stuff your face, then on Friday at 2 p.m. watch others do the same at a cannoli-eating contest, with the Grand Procession on Saturday at 2 p.m. Then on Sunday head to the East River State Park for the Taste Williamsburg Greenpoint festival, with samples from Pies 'n' Thighs, Du's Donuts, the Meatball Shop, Maison Premiere, and more available for the price of a ticket, with proceeds benefiting the Firehouse North Brooklyn Community Center.
6. Woo-Ha! Party with Busta for free. 
The Brooklyn Army Terminal is turning the big 100, and this Saturday it's doing it up with an all-ages block party with performances by rapper Busta Rhymes and songstress Justine Skye, a beer garden with local breweries, food, art, an augmented-virtual-reality room (!), and more. Tickets have all been claimed, but there's still a chance to get in if you show up before 2 p.m. Maybe try putting them all in check.
7. Get literary.
Plan your schedule now for the free Brooklyn Book Festival on Sunday, with 300 authors taking the stage, plus 250 booksellers in an outdoor Literary Marketplace. See sisters Ingrid Rossellini and Isabella Rossellini, authors like Martin Amis, Jennifer Egan, Joyce Carol Oates, and Alexander Chee, and author-actors like Omar Epps and Justine Bateman, and much, much more. Bonus points if you prominently display your New Yorker tote.
8. Bee curious.
Do you really catch more flies with honey than vinegar? Test the theory out this Saturday at the honey festival in Rockaway Park. See extraction demonstrations, visit a bee marketplace, meet someone called the "NYC Bee Cop" taste honeys, and vote for the best NYC honey vintage. Should make for a sweet day.
9. Learn a new and useful skill.
You're already a pro at slurping down oysters, but if you've ever wanted to learn how to properly and safely shuck them, beginning this Friday Greenpoint Fish & Lobster Co. brings back its weekly hands-on oyster classes at its Long Island City market, where GM and restaurant partner Peter Juusola leads enthusiasts in a lesson on nuances of the tasty bivalves. Wine, beer, and light snacks are provided.
10. Take a trip up the Hudson.
This Friday and Saturday even more lovely than the train ride to Hudson is what greets you at the end of it. The arts and music festival Basilica SoundScape, held at Basilica Hudson, a 14,000-square-foot industrial-arts and performance venue co-owned by Melissa Auf der Maur (Hole, Smashing Pumpkins), welcomes a lineup that includes Grouper, Miho Hatori, Lightning Bolt, Photay, and Nick Zinner of the Yeah Yeah Yeah's. Immerse yourself.