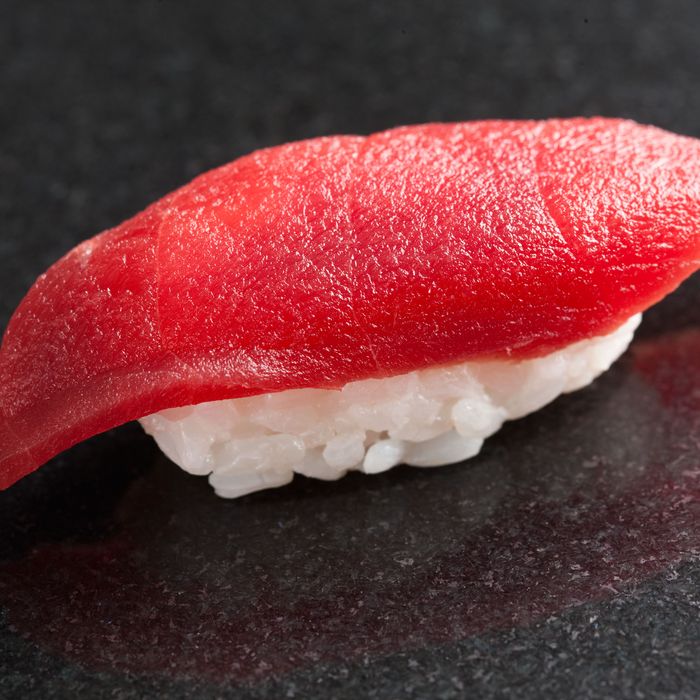 Nigiri from Sushi Nakazawa.
Photo: Melissa Hom.
Sushi Nakazawa has been one of New York's hottest (and priciest) tickets since it opened here in 2013, but according to one critic, business hasn't followed the toro down to the Washington, D.C., spinoff. In her review for Washingtonian, Ann Limpert says that when she visited during the prime time of Thursday at 7:30 p.m., there was only one couple in the dining room and another pair at the bar.
While she finds the sushi "stunning," she's clearly distracted by the lack of customers at the very buzzy restaurant. The staff who spoke with her didn't mince words. One boasted about all the leftover fish for the staff meal. (Hey, somebody has to eat it!) Limpert says that when she insisted on eating in the dining room, general manager Cody Nason, who worked at the New York location, told her, "You will literally be the only people in there."
The crickets might be because the restaurant is located in the city's Trump International Hotel. Business has been good at that hotel, which has controversially become a hive for lobbyists, diplomats, and dignitaries. But news of Sushi Nakazawa's expansion into the hotel was not received warmly by everyone, and owner Alessandro Borgognone didn't exactly ingratiate himself when he immediately trashed D.C.'s dining scene. In an interview with Grub Street, Borgognone said, "I had reached a point where I saw so much bad that I was actually looking for the good. I couldn't find it."
What does Team Sushi Nakazawa have to say about Limpert's characterization of an empty dining room? Reached for comment, a representative provided a statement from Borgognone saying, "We were thrilled with the review!" They also said that this was just, no big deal, slow summer business, and that they, "internally, contributed to some of that by limiting the amount of seats available, in an effort to perfect all aspects of our service." Owners do soft-openings all the time, but you'd think a near-empty dining room isn't the best way to "perfect service" for when business amps up!