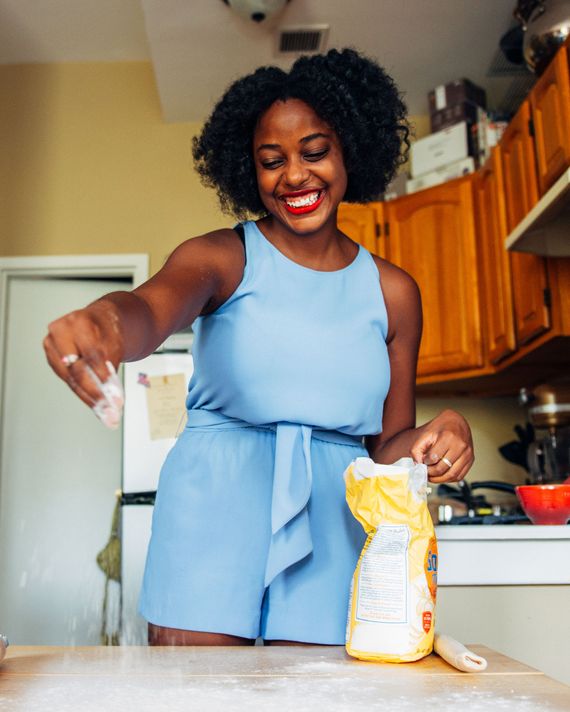 Vallery Lomas, at home in Harlem.
Photo: Christian Rodriguez
When The Great British Baking Show arrived on Netflix last week, the show's legions of American fans rejoiced. There would be more perfect sponge, more perfect Britishisms, and more of Paul Hollywood's perfectly gelled hair. It's a show that basically everyone loves for its big heart and docile vibes, but when Vallery Lomas saw the news, she says she felt a pang of sadness.
The show's American return was an unintentional reminder that, a year ago, she had been in the famous tent herself, where she was named the winner of the third season of The Great American Baking Show, the franchise's American spinoff. She returned home to New York, unable to tell even her closest friends that she was poised to become a breakout baking star. She'd have to keep her secret until the finale aired, which never happened. After one of the show's judges, pastry chef Johnny Iuzzini, was accused of sexual harassment and abuse by multiple women, The Great American Baking Show was unceremoniously canceled by ABC, along with Lomas's shot at fame. Now, nine months later in her Harlem apartment, she's working to gain back the recognition that she should already have.
Lomas, who is 33, grew up in a family of bakers in Baton Rouge, Louisiana. After moving to New York she struggled to find a job, and spent her time baking, Instagramming, and blogging about her creations. Even after she began working full-time as an attorney, she kept at the baking, waking up at four in the morning to style scones and pies in her 300-square-foot apartment. She would edit the accompanying posts during her subway commute downtown.
A casting agent saw her Instagram account, and urged her to apply for The Great American Baking Show. The show wouldn't offer a cash prize, but victory would mean exposure and plenty of opportunities to grow her own personal baking brand. After an audition in L.A., Lomas was in.
She didn't exactly breeze through the competition: In one particularly unfortunate challenge, she attempted to model a gingerbread house after a classic Harlem brownstone. "You know those abandoned brownstones?" Lomas asks, laughing. "That's what it looked like. The walls were falling down." But noble failure is part of the Great Baking brand, and Lomas did eventually make it to the finale, where she won by preparing perfectly crisp mille-feuilles with eggnog pastry cream, pecan praline cheesecake, and choux pastry with lemon cream. "To know that I did it, and I did it well, it's still kind of hard to believe," she says.
What happened next was also hard to believe. On a Wednesday night, just before the third episode aired, she got a call from the production company to let her know that accusations against Iuzzini had recently come to light, and the rest of the season wouldn't air. "I was just at home, getting the logistics together for the watch party I had planned for the next evening," Lomas says. "Minutes after I got off the phone, there was a press release about it."
ABC did eventually send her a watermarked copy of the unaired episodes, which she hasn't watched, and keeps in a box with the Bubble Wrapped plaque she was given upon winning. She never heard anything from Iuzzini, either. "Not even an apology," she says. "And this is someone who has my email address." In December, a 90-second clip was posted to the show's Facebook page, congratulating Lomas on her victory. It wasn't exactly the fanfare that ABC's publicity machine typically lays out for its reality-show winners. The network, it seemed, just wanted to make the show disappear, along with Lomas's big break.
She says she still wonders what she'd be doing right now if the finale had aired, but the show did give her some continued visibility: She presented the Outstanding Baker Award at this year's James Beard ceremony, and she's made a handful of TV appearances. The victory also convinced her it was time to quit her job and focus full-time on baking. "I looked up one day," Lomas says, "and thought, I can't do both of these things anymore." She still wakes up at 4 a.m., and she's working on a cookbook, plus preparing a pitch for a TV show centered around her. Winning the show in the first place, Lomas says, required "a perfect storm of events." Now she's manufacturing another chance. "It happened," she points out. "I just need it to happen again."
And anytime people ask her what happened to that show she auditioned for last year, she just shrugs, smiles, and tells them the truth: "I won."