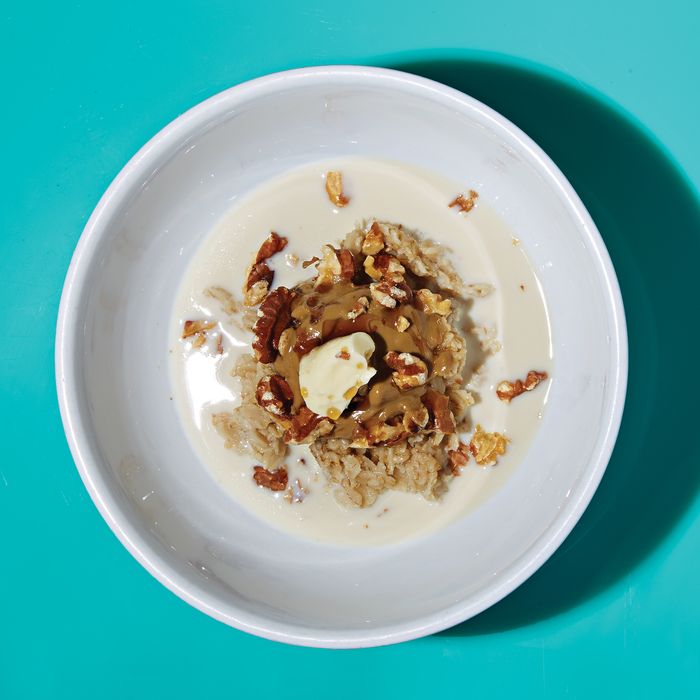 Llamita's oatmeal.
Photo: Hannah Whitaker
Every now and then, the Underground Gourmet takes stock of all the excellent (and not so excellent) grub we've shoveled down our gullets to bring you this — our slightly random, completely subjective, 100 percent delicious top-ten new things to eat and drink.
1. Oatmeal at Llamita
80 Carmine St.; $7
Oatmeal is often more like penance than breakfast, but the stuff being dished out at Erik Ramirez's Peruvian counter-service spot is sort of the anti-oatmeal. First of all, it's satisfyingly clumpy rather than smooth. Second, it's doused with milk and further enriched with gobs of melting butter. The deeply flavored unrefined cane syrup called chancaca drips down the slope of grain to sweeten the deal, like some postgraduate-level version of Christina Tosi's cereal milk. To finish it off, an abundance of toasted walnuts and a superrich blob of sunflower-seed butter. Some might say this is dessert, not breakfast; we see it as porridge achieving its full potential.
2. Pork Buns at Bào Tea House
140 W. 4th St.; $5.50
These sugar-crumbed mouthwaterers come two per order in flavors like cumin beef, buffalo chicken, and a barbecued pork that could give the celebrated sweeter specimens at Tim Ho Wan a run for their money.
3. Bing at Momofuku Noodle Bar
171 First Ave.; $7 to $8
Griddled to order on the plancha, these piping hot flatbreads have a Chinese name, the pleasing aspect of pancakes, the irresistible flavor of fried dough, and the dip-friendly function of pita. They have infiltrated the Momofuku organization from L.A. to D.C., and having arrived in New York, they're being paired with either butter and thick-as-frosting carrot purée, or eggplant and an alt-hummus made from Hozon, David Chang's proprietary ferment.
4. Boudin Blanc at Frenchette
241 W. Broadway; $24
At just-launched lunch, the light in the bar is lovely, the mood much mellower than at dinner, and the classic boudin blanc is served with pommes purée bolstered by an amount of butter that would do the late Joël Robuchon proud.
5. Negroni at Sofreh
75 St. Marks Ave., Prospect Hts.; $15
Who orders Negronis at Persian restaurants? Well, we did, and we did not regret it. In fact, it was a freaking revelation. The recipe: Genius bartender, Plymouth Gin, original 1:1:1 Negroni-booze ratio, and good ice. The secret: superior balance achieved through advanced stirring technique. Count Negroni would do backflips over this stupendous tipple.
6. Gnoccho alla Romana at Leonelli Taberna
7 E. 27th St.; $23
There is Roman comfort food that comforts (spaghetti cacio e pepe). There is Roman comfort food that cures what ails you (stracciatella). And then there is Roman comfort food that induces a not-unpleasant stupor, like this supersize semolina-flour dumpling topped with braised oxtail baked and served in a Staub roasting dish.
7. Lamb Barbacoa Tacos at Oxomoco
128 Greenpoint Ave., Greenpoint; $16
Beautiful housemade tortillas fairly bursting with meat cooked down to an unctuous essence of lamb. To contrast the richness, there's raw onion, peppery watercress, and salsa cruda spiked with the indigenous Mexican herb pipicha.
8. Iceberg-Wedge Salad at Bernie's
332 Driggs Ave., Greenpoint; $14
Classic blue-cheese wedge with all the fatty fixings and a touch of innovation: Instead of bacon bits, it comes with a single slabby slice sprawled over the top like an outside linebacker piling on after the whistle.
9. Djolof Fried Rice at Berber Street Food
35 Carmine St.; $17
The tomato-based djolof rice is probably the best-known African dish outside of Africa, and the smoky, stir-fried, altogether excellent version here gives you a good idea why. Get it with grilled chicken and dab it with the eye-poppingly hot condiment called kani sauce.
10. Pastrami Sandwich at Randall's Barbecue
359 Grand St.; $16
A good pit-smoked pastrami on rye right there on Katz's home turf. Comes with a Pickle Guys pickle.
*A version of this article appears in the October 1, 2018, issue of New York Magazine. Subscribe Now!