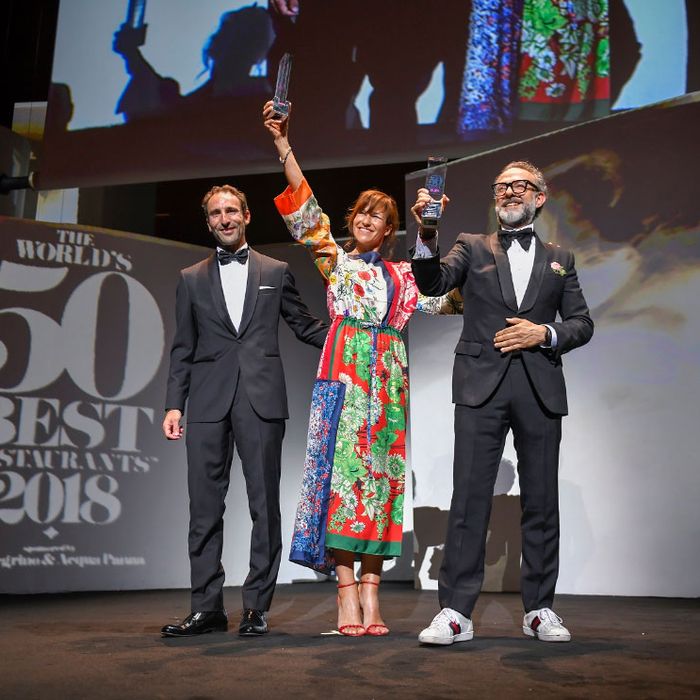 The World's 50 Best Awards has been criticized for featuring very few women.
Photo: Courtesy of World's 50 Best Restaurants
The annual World's 50 Best Restaurants list is controversial for a number of reasons, with its lack of representation of women being perhaps the biggest. Only four restaurants on this year's list are headed squarely by women, and in the case of Bangkok's Nahm, the chef Pim Techamuanvivit only took over from a man in May. The equally controversial Best Female Chef list is also still published, and its winner, London chef Clare Smyth, raised questions about representation. Now, after years of criticism, the people behind the World's 50 Best say they're going to do something about this.
In a blog post, World's 50 Best director Hélène Pietrini writes that they are joining "in calling for an industry where equality is a reality." She also writes that the group aspires "to highlight and celebrate a culturally and ethnically diverse mix of restaurants and chefs," such as Ultraviolet, a French restaurant in Shanghai. Addressing the issue of gender parity, however, requires more thinking. Pietrini writes that while the group cannot alter which restaurants its voters wish to include, it will make an effort to update the makeup of that voting body. She writes:
Were we actively to manipulate the make-up of the list (which is the result of the votes of over 1,000 experts worldwide), then we would instantly alter its central principle: that the voters select what they judge to have been their best dining experiences. As a result, the authenticity and credibility of the list and the 50 Best brand would undoubtedly be diminished. We cannot — and should not — control how people vote. Furthermore, we reflect the gastronomic world as it is, rather than as it should be.




However, we can help foster an environment where expert female voices are heard and where female chefs are identified, valued and invested in on an equal basis to their male counterparts.




We begin with a commitment to gender balance where it remains within our control — the priority being in our voting panel. From now, 50 Best is committed to achieving a 50-50 gender balance across its 1,040-strong worldwide Academy of voters. Prior to the next round of voting for The World's 50 Best Restaurants, Academy members will also be encouraged to look beyond the current list, to explore a diverse mix of restaurants during their travels and to take issues of representation into consideration in their voting choices. With a minimum of 25% of the panel renewed every year, we have the opportunity to recruit more female experts into the voting Academy.
She also suggests they'll recruit more women going forward, and says that the gender parity will also apply to academy chair appointments, and points to new initiatives, including bringing in more female speakers for its #50BestTalks on September 12 and creating an informal advisory board comprised of leading chefs like Elena Arzak, Smyth, Daniela Soto-Innes, Pia León, and others.
However, the much-criticized Best Female Chef Award will not be going anywhere. It will be interesting to see if these supposed changes do make a difference, or if the same handful of food-bro-centric kitchens continue to dominate the entire list.