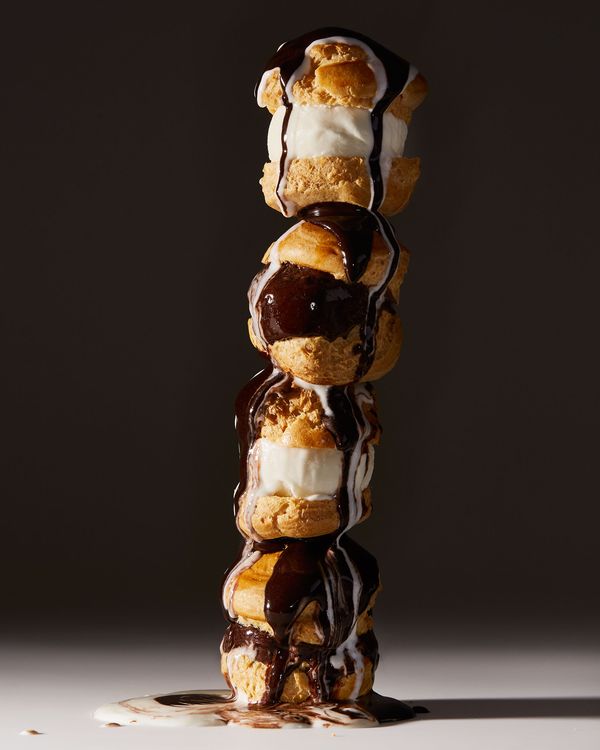 Morgenstern's Finest Ice Cream's black-and-white profiteroles.
Photo: Hannah Whitaker
When Nick Morgenstern opened Morgenstern's Finest Ice Cream on the Lower East Side four years ago, you'd've thought the former Daniel and Gramercy Tavern pastry whiz had done just about everything a man in a paper soda jerk's hat could do to change one's perception of the all-American ice-cream parlor. Although the place looked like something Norman Rockwell would paint, beyond the gleaming white surface lurked innovation. Morgenstern made each of the 45 flavors from its own unique recipe. He served five nuanced varieties of vanilla, plus five chocolates, three coffees, and three caramels. He whipped cream to order in a quart-size plastic takeout container, shaking it like a can of Sherwin-Williams paint to make it smoother. He did a hot-chocolate-bone-broth pop-up with Marco Canora. He created a Wu-Tang-inspired chocolate deluxe sundae and served it to Raekwon, who adjusted the seasoning with a drizzle of caramel sauce and gave it a hearty thumbs-up. There were fund-raisers for homeless shelters and nutritional-education centers, collaborations with indie mags. This was ice cream as social commentary as much as it was dessert.
And yet now, with a new flagship shop on the way this month, it seems that this master of the cups and cones was just scratching the surface. The new Morgenstern's Finest Ice Cream is four times the size of the original, with five scooping stations versus two and 88 flavors available in cone or pint form at any given time. There's a full-fledged production kitchen in the service of a whole new slew of ice-cream concoctions (pies, cakes, and sundaes), from black-and-white profiteroles made with labne and chocolate sorbets to a lemon-meringue ice-cream pie torched à la minute. This kitchen faces a ten-seat luncheonette-style counter reserved for tucking away these outré treats, while an adjoining retail nook–cum–party space will be the place to go for prepacked pints, spur-of-the-moment customized birthday cakes, and jars of the housemade jams, jellies, and sauces used in the ice creams. With this 2,200-square-foot expansion, Morgenstern aims to anticipate every frozen-dessert appetite and desire, spoken and subconscious, nostalgic and nouveau — and, in the process, he says, "define what it means to serve American ice cream in the 21st century."
88 W. Houston St.; Sept.
*This article appears in the September 3, 2018, issue of New York Magazine. Subscribe Now!