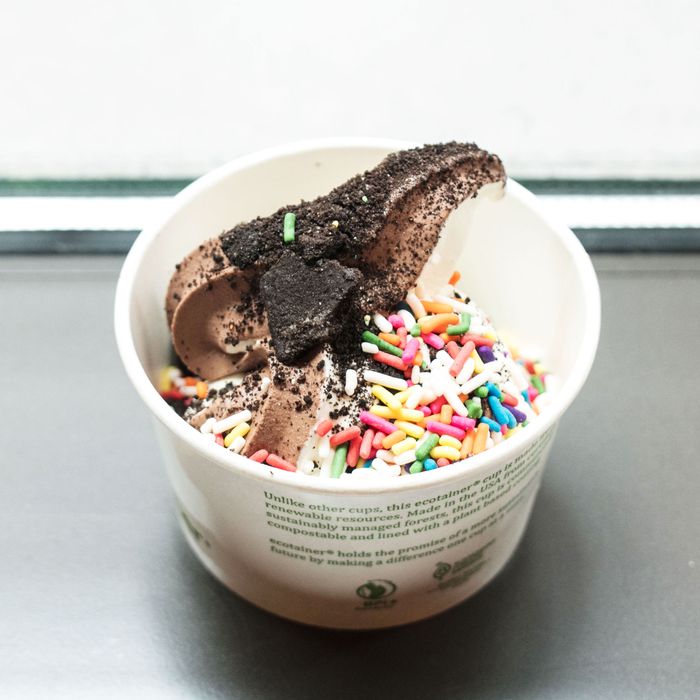 Does soft serve from a vending machine compare to soft serve prepared by human hands?
Photo: Melissa Hom
Robots, with the assistance of humans, have been angling to take over the food industry for quite some time. There's Spyce, the robot-run restaurant backed by Daniel Boulud, Chinese restaurants with robotic waiters, and now a highly Instagrammable, fully automated soft-serve machine on the second floor of the Moxy Hotel that requires no human interaction. It's simply a big pink box that spits out ice cream.
As fans of both novelty and ice cream, Grub Street decided to brave Midtown West to see if soft serve from a vending machine is worth the trek.
It's relatively easy to use.
First, you'll be confused because the machine will say the card reader isn't working, but it does once you put in your order on a small screen. The machine runs 24/7 (take that, humans) and using it requires very little intuition. First, you select small, medium, or large ($3, $5, and $7, respectively), and then choose between two flavors: dairy-free chocolate or Mike's Hot Honey vanilla — or a swirl of both, naturally. But know this, fans of many toppings: There are currently only four — Blackout cookie crumbs, rainbow sprinkles, Greek-yogurt chips, and Mini M&M's. The supply is limited, but the toppings don't cost extra, so let's call it a draw.
There are a lot of flashing lights and not much else once you order.
The vending machine's flashing lights are a nice touch, but the actual presentation of the ice cream is nothing compared to the swirls you'd get from skilled human hands. The soft serve comes out a little crooked — perhaps the biggest sin you can commit with soft serve — and the toppings were thrown on haphazardly, as if the robot that made this barely cared about the final quality of its work. Take some pride in your work, robot.
Still, it tastes really good!
The dairy-free chocolate could have fooled us. It was rich and a little salty. Meanwhile, in the world's slowest burn, the vanilla didn't deliver on the hot-honey feature until the very end when a small tingle took hold. As for the toppings, we'd easily eat the Blackout cookie crumbles forever (because they're very likely crushed up Oreo cookies), while the rainbow sprinkles managed not to taste like chalk, a feat in itself.
It's no better than a Mister Softee truck though.
For the price and novelty, the soft-serve vending machine is worth checking out if you're in the neighborhood, but if you believe in good human jobs, you're better off hitting up a passing Mister Softee truck where you know the swirl will be perfect and the toppings will abound. Sorry, robots, you lose this round.