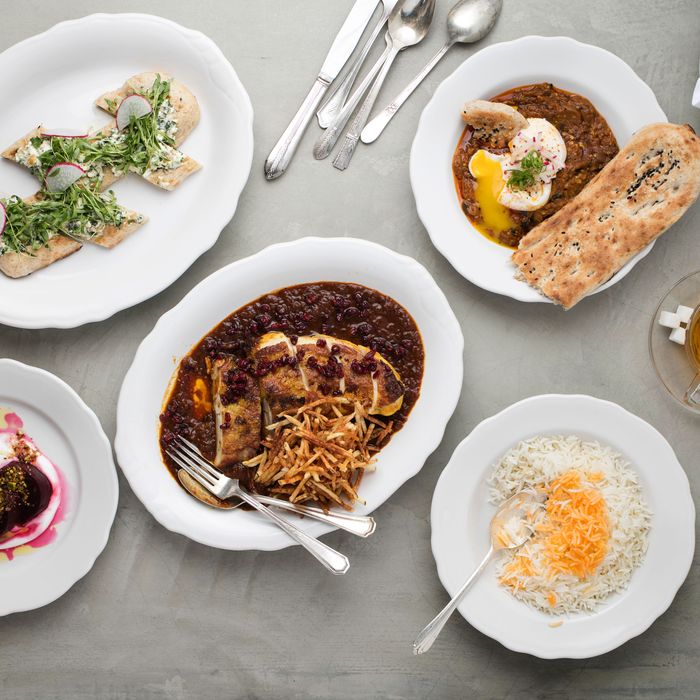 A Persian feast at Sofreh.
Photo: Melissa Hom
We critics figure out which restaurants to review in various predictable ways — by listening to the overheated chatter of other food professionals, by trawling the endless torrents of information online, and sometimes even by wandering the streets and avenues ourselves looking for something new and interesting to eat. Occasionally, however, something comes along that you hear murmurings about from people who live in the neighborhood, from lovers of a certain kind of cuisine, from everyday eaters you happen to sit next to at dinner who talk your ear off about this fabulous place they visited the night before. Often these murmurings fade to nothing (restaurant critics are always being told of fabulous places), but sometimes they grow louder and louder until you're finally impelled, after a month or three, to go see what all the fuss is about.
Sofreh, which opened in June at the bottom of a tall townhouse just off Flatbush Avenue, south of Barclays Center, is one of those restaurants. The menu is Persian, which is not a cuisine you hear about very much in the city these days. The long railroad space has a stylish, clean whiteness that reminded me of the dining room of an exotic health spa somewhere far away from sweltering Brooklyn, in the hills of Northern California, say, or in one of the trendier neighborhoods in Iran's ancient city of Isfahan, which, of course, is a place I've never been. The bar at the front of the house sits under a pair of curved white arches. Many of the tall, decorative house cocktails are rose-colored and seem to feature gin; if you're in an abstemious, teetotaling mood, you can sip a traditional kind of nonalcoholic cooler called a sharbat, flavored with mint or ginger, along with cups of black Persian tea.
The chef-owner of this tidy little operation is Nasim Alikhani, a genial old-school restaurateur who co-owns the townhouse (her brother lives upstairs) and likes to wander among the tables, greeting customers and dispensing bits of wisdom about the hidden glories of Persian cuisine. When she dropped by our table one evening, she said that although it's unlikely that Hendrick's features much in the cuisine of dry Iran, she thought its riot of botanicals complemented the sneaky underlying spiciness of the food in all sorts of interesting ways. She'd been working on her restaurant concept for many years, she said, and her idea here was to mimic the home cooking she'd grown up with in Tehran (the sofreh is a kind of ceremonial Iranian tablecloth), which she left in the late 1970s, after the law school she'd been attending was closed down.
As you would expect, there's an emphasis on small shared plates at Sofreh, like decorous little bowls of meatballs garnished with sour cherries (or, more lately, a tomato-and-saffron broth), and soft slices of roasted beets flavored with olive oil, honey, and crushed pistachios and set over a spoonful of cool, freshly strained yogurt. Alikhani and her staff make the yogurt every other day, and it appears throughout the meal, folded with chopped shallots or cucumbers or swirled into dishes like a lavishly spiced eggplant spread served with warm slabs of house bread that are close in style to Iranian sangak. We worked our way through a couple of servings of sesame-speckled bread as we ate the appetizer portion of dinner, which included a salad tossed with chunks of feta and a lentil-and-noodle stew called ash, which contained in its hearty depths a mix of garlic chips, crispy onions, and little shreds of fried mint.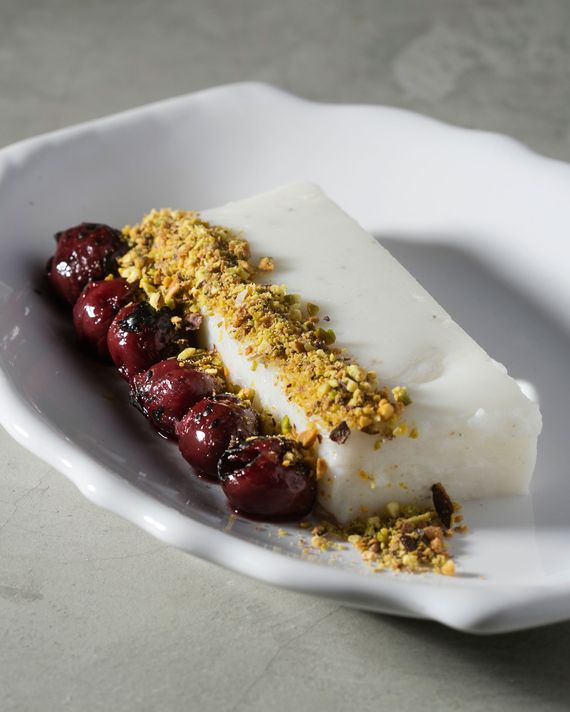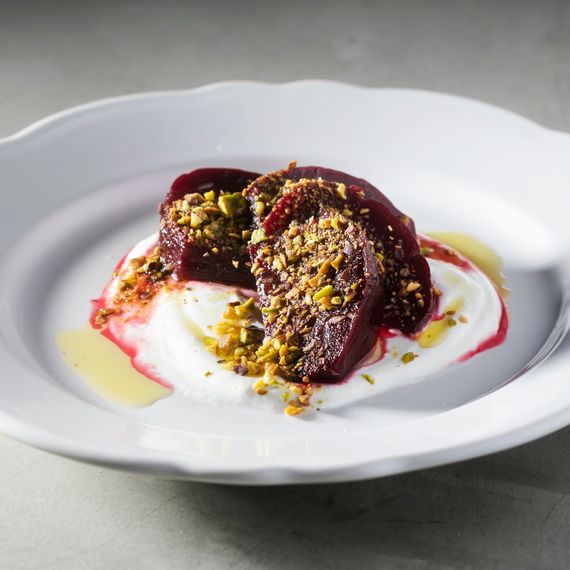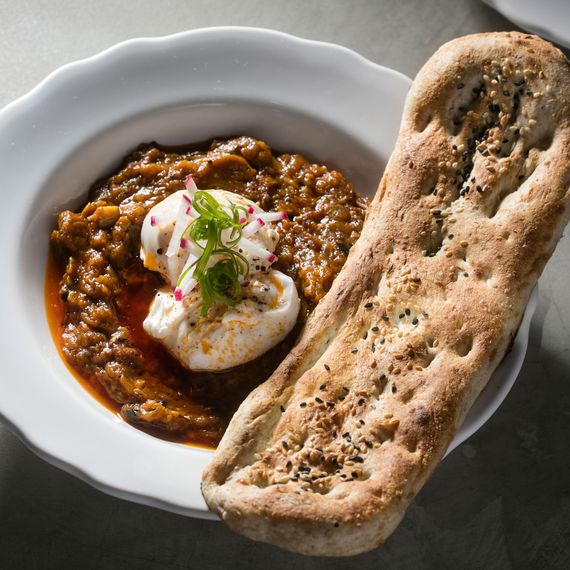 Similar exotic combinations keep popping up in Alikhani's cooking, mingled with touches of locally grown largesse. The "catch of the day" was that most local of all seafood treats, black sea bass, cut in a thin, ivory-colored fillet and set in a thick, faintly sweet tamarind sauce. The house roast chicken is half of a plump, deboned, crisp-skinned bird from Bell & Evans, which Alikhani and her cooks smother in another complex, savory-sweet sauce mixed with saffron and a mash of Persian plums and serve, as is sometimes the custom in Iran, with little sticks of fried potatoes on the side. The burger-shaped beef kebabs I ordered one evening were touched with pomegranate sauce, which went nicely with strips of sangak and more yogurt, although if you're in the mood for a serious rib-sticking dinner, call for the great bone-in lamb shank, which is plated in a scrim of delicate beef broth containing fava beans, frizzled onions, and cloves of garlic.
You can complement your traditional feast at Sofreh with fluffy helpings of basmati rice tossed with green herbs or saffron or cut into crackly triangles of an addictive delicacy called tahdig, the rice scraped from the bottom of the pot. Tahdig was one of the things I couldn't stop nattering about when I returned from my Persian adventure in Prospect Heights, although I probably nattered more about the desserts, which tended to be uniform in color (creamy white), texture (smooth and soothing), and taste (delicious). They included scoops of lightly melting pistachio-and-rosewater ice cream; a strange form of sorbet from Shiraz called faloodeh, made with frozen vermicelli and a spritz of fresh lime juice; and one last yogurt specialty, heaped with a kind of elemental marmalade that tasted like it came from a time before candies and pastries were invented, when the absolute height of luxury was an orange picked from your own garden.
Sofreh
75 St. Marks Ave., nr. Flatbush Ave., Prospect Heights; 646-340-0322; sofrehnyc.com
Open: Dinner, Tuesday to Sunday.
Prices: Appetizers, $7 to $14; entrées, $19 to $30.
Ideal Meal: Eggplant spread, honey-roasted beets, cucumber or shallot yogurt dip, chicken or lamb shank, tahdig and/or saffron basmati rice, strained-yogurt parfait.
Note: For the maximum gin-and-rosewater experience, call for the Isfahan gin fizz.
Scratchpad: One hearty star for the ambience and the drinks and another for the elegant home-style Persian cooking.
*This article appears in the September 17, 2018, issue of New York Magazine. Subscribe Now!