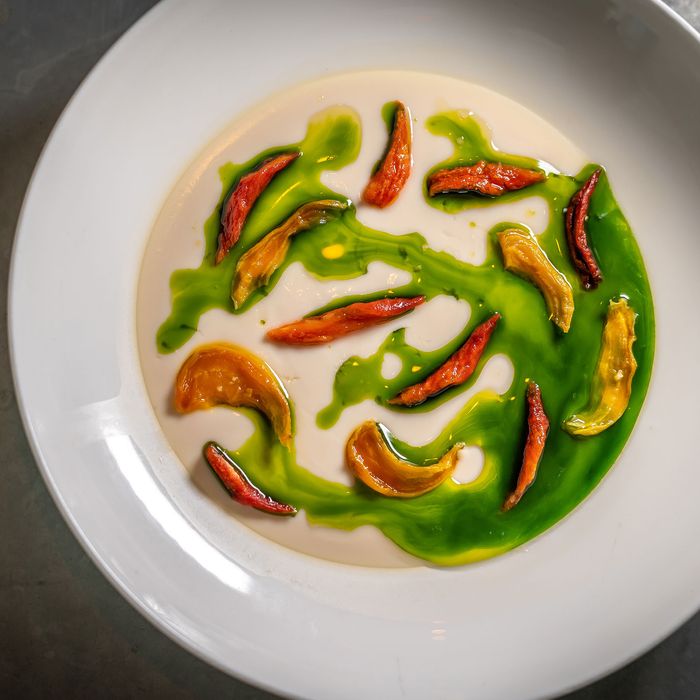 Soft-set tofu with demi tomato, golden beet, and olive oil.
Photo: Noah Fecks
Champ Jones's new vegan restaurant, Sans, won't be a paragon of virtuous eating. "We want to appeal to the plant-based crowd," Jones says, "but at the same time, we're avoiding being healthy. We're trying to go for tasty food that's satiating."
Today, Sans opens in Carroll Gardens in the space most recently occupied by Rob Newton's, Nightingale Nine. When Jones — who has spent time in the kitchens of Eleven Madison Park and the NoMad — heard that the restaurant space was available, he leaped at the opportunity to try out an idea he'd been mulling over for a while.
"We want to appeal to people outside of the vegan world," Jones explains. "The mission is to be delicious, pleasurable, and accessible to all people, if they're open-minded to go for what we're doing."
For snacks, there's a crispy potato lattice with chive dip, and bread with malt and garlic "butters" that are actually made with palm fat. Among the appetizer-size small plates, diners can expect sea vegetables (dulse and wakame seaweed with smoke and fat); tarte flambée with maitake mushrooms; "parm" cream made with smoked olive oil, yeast extract, and soy milk; and plum terrine with pickled plum, jam, and plant-based brioche that employs chickpea water and soy milk. Jones believes the plum terrine, especially, exemplifies everything he wants to do, re-creating the satisfyingly rich flavors typically found in meat-based versions.
Larger dishes include porcini-mushroom risotto, lasagna, and even a revamped "TV dinner" that features mushroom farce, pea and carrots (of course), and vegan pommes purée. In everything, Jones aims to avoid mass-produced vegan substitutes, opting instead to make the creamy elements of his dishes in-house with ingredients like soy milk and carrageenan.
Over at the bar, Jones's business partner and sommelier Daniel Beedle (formerly of the NoMad) offers gently priced wines by the glass (ranging from $9 to $13), and house cocktails like the Last Drink I Had (tequila, gentian, and celery shrub) and One More, which employs peach, mint, and pineapple-skin rum. It's that last ingredient that really excites Beedle, as he'll aim to repurpose kitchen scraps throughout his drink menu.
All that said, Jones knows that what he's doing is relatively unheard of, so he's only planning to pursue the Sans project for one year, a caveat that he believes will free him up to experiment as much as possible. (That said, if it's a runaway success, Jones concedes it's "quite possible" they'll keep Sans going.) "Most investors or people in general are skittish about this concept," Jones says. "And we're a little skittish, too. But we're also really passionate about what we can do and what we can bring as a new form of dining. We want to create more optimism for dining in this mode."
Sans, 329 Smith St., nr. Carroll St.; 929-337-6292