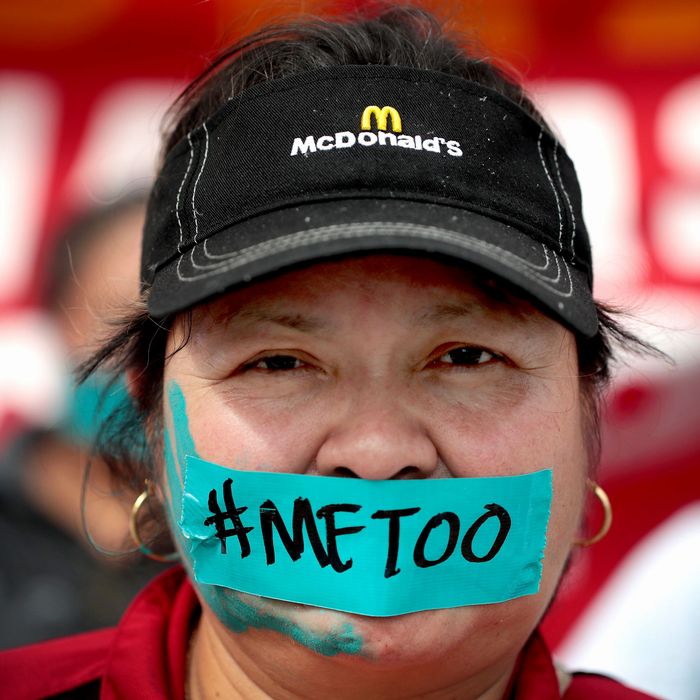 A protester in Chicago during yesterday's ten-city McDonald's strike.
Photo: Scott Olson/Getty Images
Yesterday, protesters in ten cities organized the first nationwide strike in U.S. history focused on sexual harassment, specifically targeting McDonald's. As the lunch rush began, hundreds of workers walked out of stores in markets such as L.A. and Milwaukee. They shouted with megaphones from the parking lots, and even flew a plane over Chicago headquarters with a "Stop Sexual Harassment" banner. The New York Times reports that a suburban St. Louis location filled with chants of "Hold your burgers, hold your fries. Keep your hands off my thighs," and Vox declared the strike "what's next for #MeToo."
The event was organized by Fight for $15 and workers who, in May, filed EEOC complaints alleging a culture of harassment at the chain. Asked about this week's strike, a company spokesperson told Grub Street, "We have strong policies, procedures and training in place specifically designed to prevent sexual harassment." In fact, at least 27 women have filed charges against McDonald's over the last two years.
Yet the problem is hardly unique to McDonald's. The entire restaurant industry is at a tipping point — abuse runs rampant and several groups are fighting to make sure that changes as quickly as possible.
According to the Data, the Entire Restaurant Industry Is Plagued by Harassment
Exact numbers are difficult to come by, but an often-quoted Hart Research Associates survey from 2016 cites that 40 percent of female fast-food workers experience unwanted behavior in the workplace. Troublingly, it's one of the more conservative estimates.
In 2017, data put Carl's Jr.'s sexual-harassment rate at an astounding 66 percent. McDonald's has faced its litany of complaints, and Papa John's has been accused of creating a culture where female employees feel objectified and harassed.
One commonly cited 2014 report found that 80 percent of women and 70 percent of men in the broader restaurant industry say they've experienced harassment while working, and a full 90 percent of female workers claim they've encountered unwanted come-ons. Fifty-two percent say that at least once a week they get harassed at work by managers. Forty-two percent who experience harassment feel they have to "accept the behavior" in order to keep their jobs, and one in five women who do report it face retaliation. In December, BuzzFeed added another important layer of data-crunching: It took the 170,000 sexual-harassment claims that the EEOC received between 1995 and 2016, and catalogued them by industry. By far, the worst offender was "Full-Service Restaurants," a category accounting for 10,057 claims, which comes to 1.3 claims per day for 21 years.
"When the EEOC was created back in 1965, the commissioners thought they'd be dealing with racial discrimination," explains Annelise Orleck, author of We Are All Fast-Food Workers Now and a Dartmouth history professor. "It was mostly women of color at first, but they were filing harassment complaints." An analysis of all complaints filed between 2005 and 2015 found that the food service and hotel industries accounted for almost 15 percent of them.
Yet even these numbers don't tell the whole story. Researchers have long acknowledged this trouble, and even the EEOC estimates that only 6 to 13 percent of victims ever lodge formal complaints. "Good data on this just doesn't exist," says Stefanie Johnson, a University of Colorado Leeds School of Business professor who wrote a Harvard Business Review paper earlier this year on sexual harassment in the industry. "As a researcher, you can say, 'Have you ever been sexually harassed?' and a person will respond, 'No.' But then you ask them, 'Has anyone ever forced you to have sex with them to keep your job?' and they'll say, 'Yes.'"
What Are Companies Doing to Fix This Problem?
Critics say the fast-food industry's response to these alarming figures is not enough. Of course, all fast-food companies have anti-harassment policies in place, but the effectiveness is questionable. Some Papa John's employees have told Grub Street that they received no on-the-job training. And McDonald's remains vague about its procedures, but Fight for $15 believes that only supervisors get official instruction. The group goes on to say that some employees don't even know they have a legal recourse if management fails to respond to a complaint.
McDonald's, meanwhile, continues to reaffirm the effectiveness of its own internal anti-harassment training, and announced that experts from RAINN, the country's largest anti-sexual-violence organization, will work alongside Seyfarth Shaw's legal-compliance arm to "evolve" the company's procedures. However, the choice of Seyfarth has also met criticism. The group represents the Weinstein Company in court, and has defended at least 200 other clients accused of sexual harassment, including big corporations like Domino's, Costco, and United Airlines. It has also been called one of America's most infamous anti-labor law firms. Organizers of yesterday's strike argue that employing Seyfarth seems "simply designed to protect the employer's interests."
One Chain Shows Promise
The Dallas-based chain Mooyah Burgers, which operates over 100 locations in 20 states, started conducting its own comprehensive anti-harassment training back in 2015. Employees have a third-party hotline to call, and Mooyah warns employees that it'll take action for harassment that occurs even online. "We don't differentiate anymore between harassment on social media and harassment in the workplace," says VP of training and people development Dennie Laney. She adds that a complaint's validity often gets borne out by a Facebook comment these days: "It's almost easier to prove now that we have texts and emails and screenshots." While the chain would not share numbers about how many complaints it receives, the efforts show promise.
What Do Some Other Solutions Look Like?
For full-service restaurants, one labor group, ROC United, has won several notable victories: Its One Fair Wage initiative — which aims to "require the restaurant industry to pay all of its employees at least the regular minimum wage" to reduce the need for tips — is now law in eight states; Washington, D.C.; and Flagstaff, Arizona. "Our 17 years of research shows the most effective way to eliminate harassment is to pay workers a full wage, rather than forcing them to rely on a tipped income," president Saru Jayaraman tells Grub. "States that pay the One Fair Wage have half the rate of sexual harassment."
The restaurant-worker advocacy group also runs Sexual Harassment/Assault Response & Prevention training, a program that got its start at the Upper East Side restaurant Amali. In the aftermath of the #MeToo movement, ROC has trained staff at hundreds of restaurants, held closed-door meetings with chefs, and worked with the James Beard Foundation to facilitate conversations.
Finally, Kim Lawson and Tanya Harrell are two organizers of yesterday's strike that were tired of waiting for McDonald's to update its procedures, so they have introduced their own anti-harassment training. The sessions discuss appropriate versus inappropriate workplace behavior, and include cards with a hotline number workers can call anytime. "We're giving the training our employer should have given us a long time ago," Lawson explains, adding she was not trained after she got hired three years ago. (When Grub asked McDonald's about this worker-led training, the company declined to comment.)
Lawson recalls one Chicago anti-harassment protest where a worker "cried nonstop," but couldn't talk about it. "I let her know, 'It's okay, you being here is enough courage for us.'" That same worker then showed up at a St. Louis training session. "I asked if anyone wanted to share their story," Lawson says. "She stood up and started crying again. But she said she found the courage to do it because workers like me and Tanya told her nobody was going to blame her or put her down. That stuck with us."