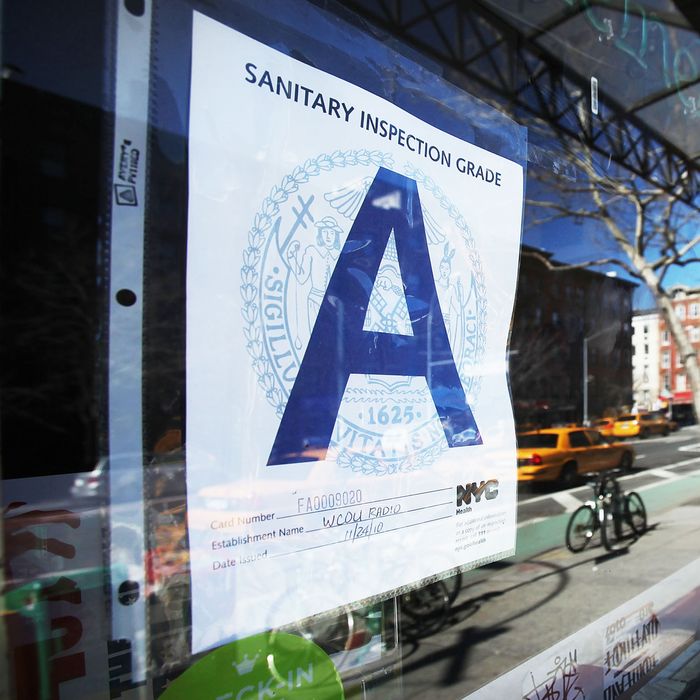 Nearly 94 percent of the city's restaurants have "A" grades.
Photo: Mario Tama/Getty Images
Eight years after former mayor Michael Bloomberg tasked the Department of Health with completely dismantling and rebuilding the city's restaurant grading system, a record amount of restaurants have "A" grades, and that's despite the fact that said grading system is as confusing and arbitrary as ever.
In this year's Mayor Management Report, data shows that in fiscal year 2018, 93.7% of 24,000 restaurants received "A" grades compared to 93.3% of restaurants last year and 85.4% of restaurants in 2012. Meanwhile, the DOH continues to ding restaurants for violations that don't relate to food safety, creating a system in which owners and chefs must pay fines and place "Grade Pending" signs in their windows while they contest their initial grade.
When the system was first implemented in 2010, it was so strict that just 57% of restaurants received "A" ratings in the first six months. (Within the first year, the city collected $46 million in fines, compared to $31 million in fines in 2008.) In 2013, City Council passed a law that significantly reduced these fines after complaints from restaurant owners throughout the city. Last year, City Council speaker Corey Johnson introduced a new law that would keep minor violations from affecting a restaurant's final letter grade, but the measure has not been reviewed since December 2017.